Top 10 Halloween Classroom Parties Snack Ideas
Halloween is a great time to party and have fun with your family, friends and other loved ones. If you have your costumes and decorations ready to be ogled at, one thing now you have to take care of is food. One of the main reasons why we consider Halloween as a super fun one is that it gives us a great opportunity to be creative with costumes, decorations and most importantly food. For people who love to cook as well as eat, this time of the year is a fun time. After all this is the only time when your guest will not get offended if you serve them nachos dipped in bloody sauce or eyeball tarts. If you are a parent of a teacher looking for fresh ideas for halloween's scary snacks and recipes, this year go beyond the usual fish and chips and welcome your kids with a cold, bloody, spooky, gory surprise menu. Here is the ultimate list of a menu full of creative, fun-filled, spooky food items.
Soul Cakes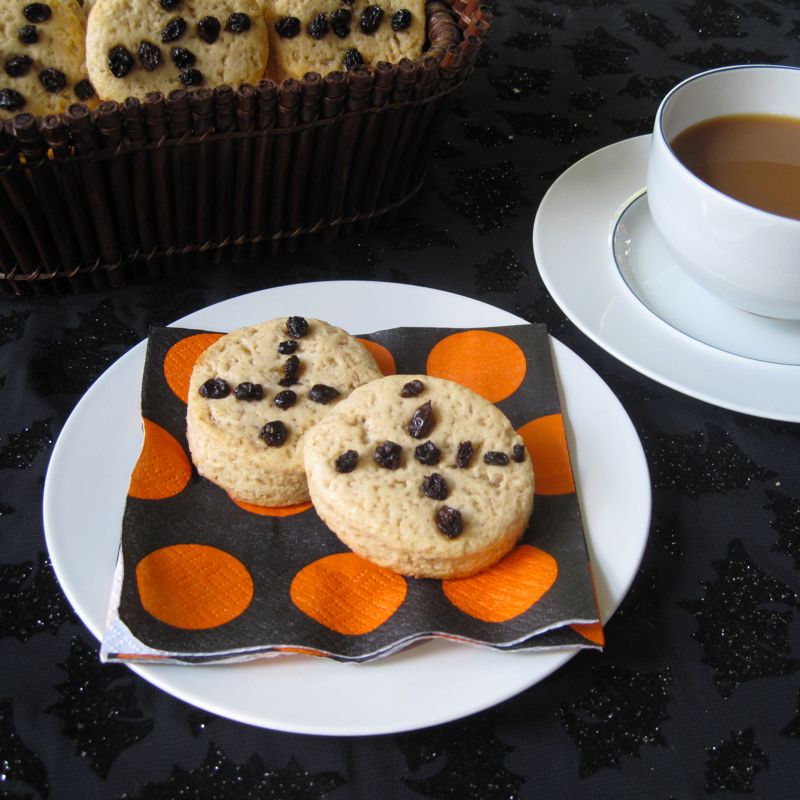 There is an intricate connection between food fiesta and the culture and celebrations of a particular country. The Irish immigrants in America during the 19th century brought with them the festivities of October the 31st. Halloween or the day of Samhain, the Lord of Death was the festival of 'All Soul's Day', related to the ritual of gathering around the bonfire and passing around sweets. One of the customs was to offer 'Soul Cakes' to the guests visiting households in exchange of praying for the host's dead relatives. Sometimes the cakes were used to be tossed around to appease the hunger of the evil spirits who were believed to wander in animal forms. There are several recipes available for the soul cakes and these come in several shapes.
For the recipe check out this site: https://www.npr.org/templates/story/story.php?storyId=15536354
Colcannon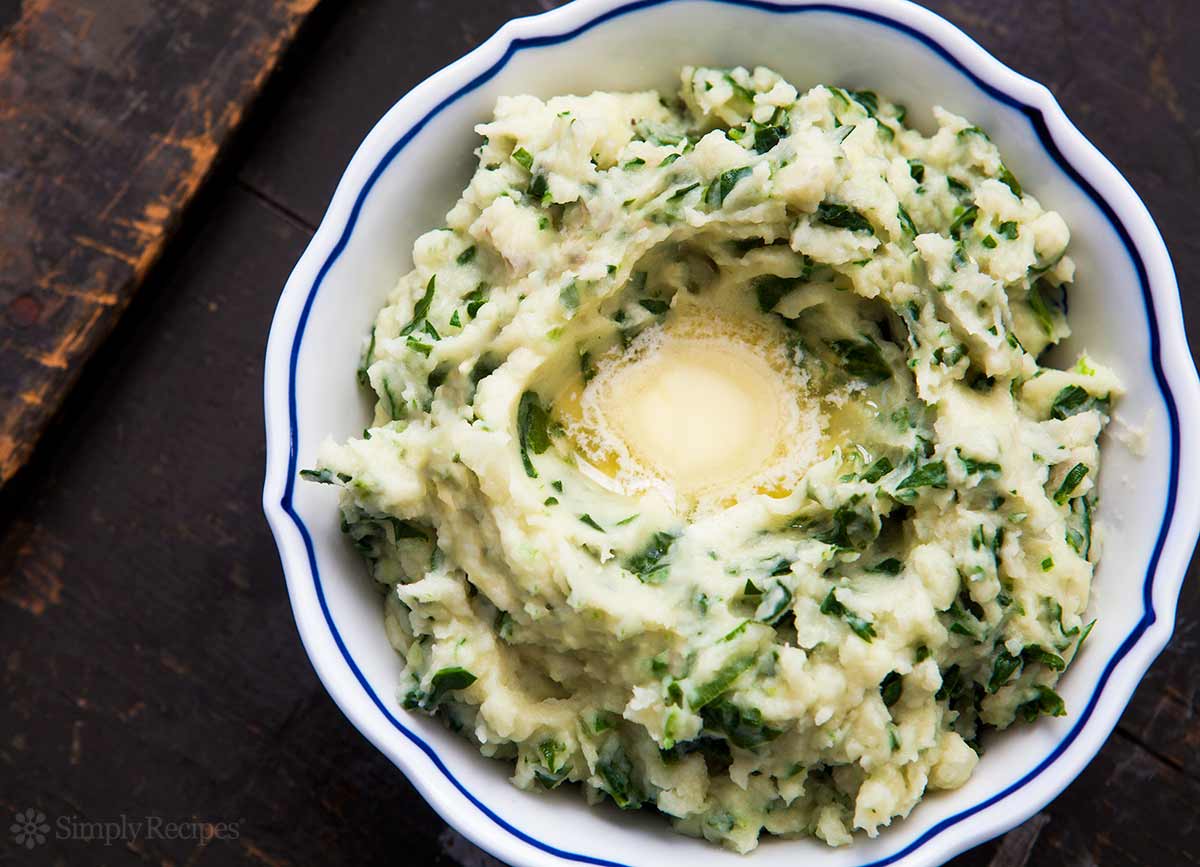 Initially this day was considered to be a day of abstinence as according to the church no fleshy meat was allowed. However, during that period of time colcannon, apples and cakes were significant parts of the festivities. 'Colcannon' is an Irish dish meaning 'white-headed cabbage', cooked along with mashed potatoes, cabbage, milk or cream, butter, salt and pepper. Apart from this it can include other ingredients like scallions, leeks, onions and so on. The dish was so popular that songs were written based on the dish. Sometimes the dish is eaten with boiled ham and Irish bacon. According to the old Irish tradition, this dish is to serve with a ring and a thimble hidden in the dish. Three or six penny was also hidden within the dish. Initially it was cooked in a pot with a round bottom, three legs and two handles which looked like ears.
For the recipe look at this one: https://www.bbcgoodfood.com/recipes/colcannon
Pumpkin Cheddar Cheese Ball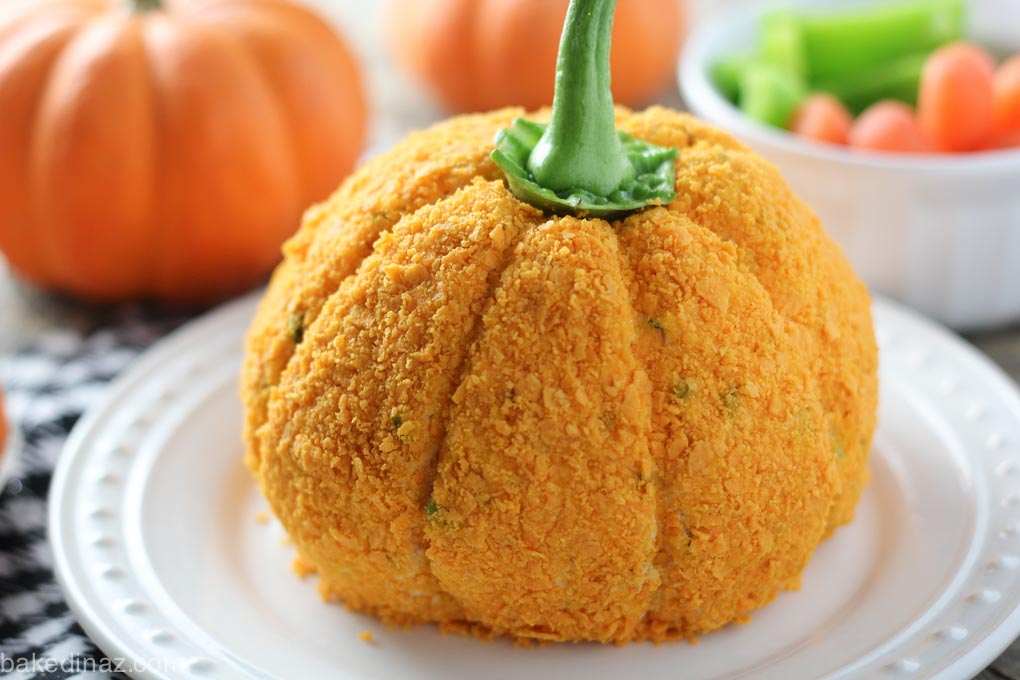 There are lots of stories about the close connection between pumpkin and Halloween. The Irish legend tells us that once there was a miser named Jack who one day tricked the Devil into turning himself into a sixpence. After that he snatched the money from him and made the Devil promise not to meet himb for a year. After one year when the Devil came again he was tricked into climbing a tree. When he climbed up, Jack hurriedly carved a cross in the tree's trunk so that the Devil couldn't come down. The Devil again had to promise him not to come for another 10 years. Soon after Jack died and when he went to Heaven he was not allowed there because of his nature. When he tried Hell the Devil was not ready to allow him either. He was allowed to walk the earth forever along with a lantern made from a carved turnip and a coal. Upon their arrival in America, the Irish immigrants found the pumpkin easier to carve and thus the story of 'Jack-o'lantern' came up.
Among many dishes made with pumpkin, 'pumpkin cheddar cheese ball' is very popular, tasty and easy to make. As it's obvious the necessary ingredients are shredded cheddar cheese, cream cheese, pepper, pretzel, crackers and vegetables.
For recipes check out this site: http://www.myrecipes.com/recipe/great-white-pumpkin-cheese-ball
Guacamole Puking Pumpkin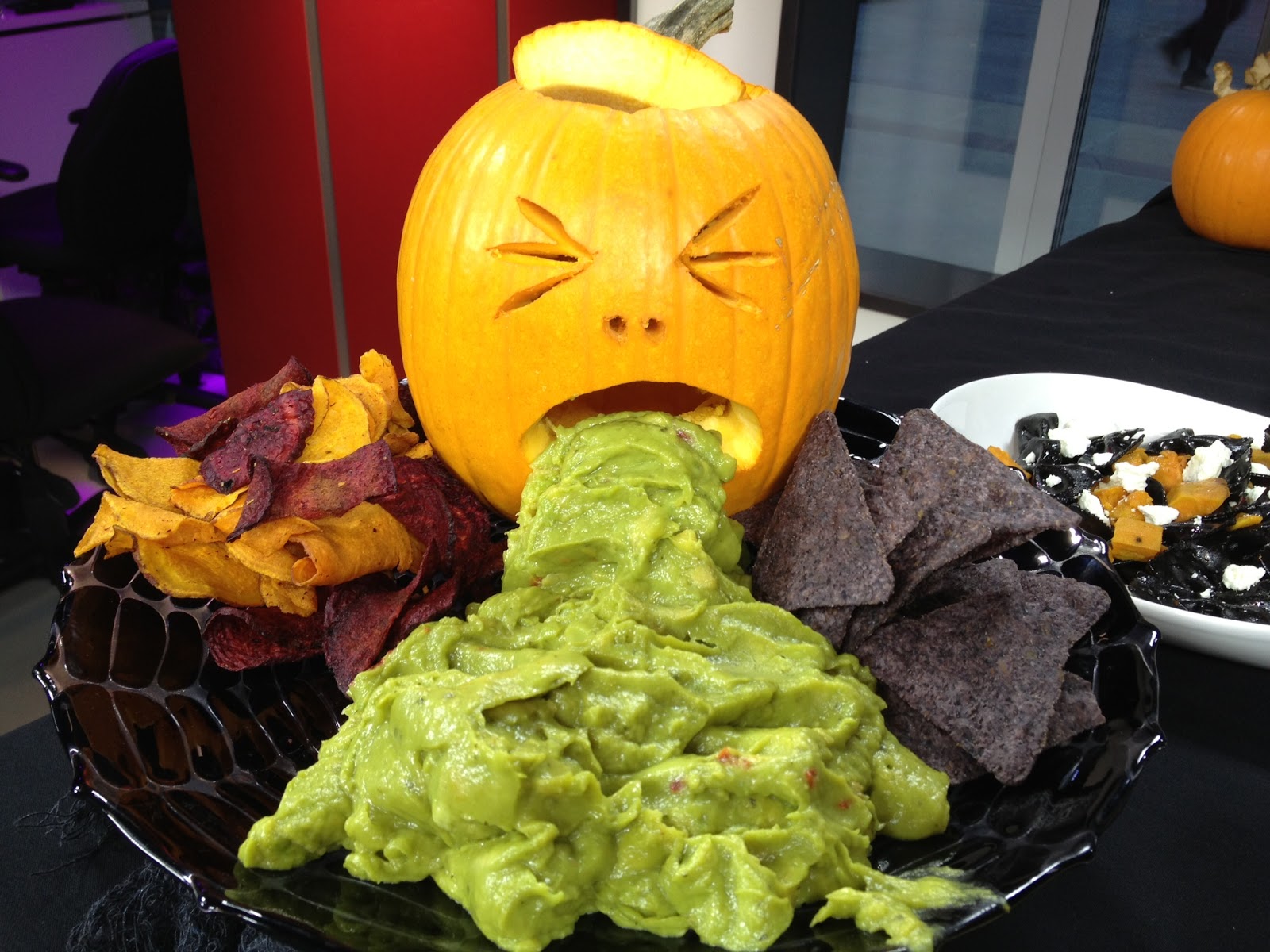 With pumpkin you can also prepare a really creative looking dish named 'Guacamole Puking Pumpkin'. 'Guacamole' is a sauce or dip made mainly by avocado along with several other ingredients like sugar, salt, white onion, Serrano chilies, tomatoes, cilantro, some lime juice and so on. The dish was originated from the ancient Aztec civilization. They referred to as 'ahuacamulli' meaning avocado sauce or mixture. They used to believe the fruit to have aphrodisiac qualities. Avocado is always tasty no doubt but at Halloween what can be better than a dish that just looks like a Jack o'lantern puking guacamole?
Check out the recipe here: http://www.eazypeazymealz.com/halloween-pumpkin-puke-guacamole/
Apple Smiles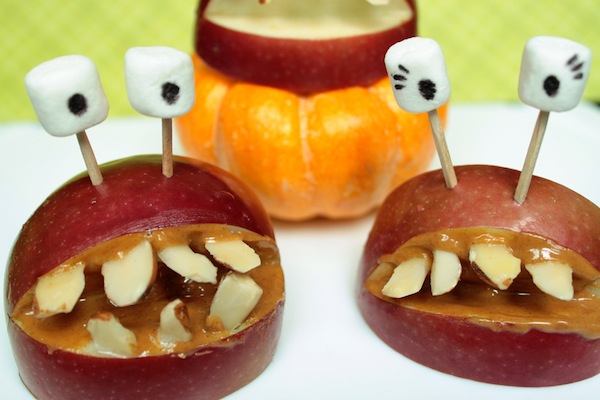 Apples are also closely connected with the Halloween. In old Celtic folklores, apples along with nuts were used in several Halloween games. People from Britain, Ireland, and Scotland used to celebrate 'All Hallows Day' with these fruits. In some parts of Britain, the night of October, 31st is still known as the 'Snap Apple Night'. The name originated from a game which was played by tying the hands of the players behind their backs and having them try to bite an apple suspended from string. Americans also used apples to find out who will get married first. According to the rules, whoever can pick up an apple from a bucket full of water while his or her hands tied behind the back, will get married soonest.
In order to make 'Apple Smiles' all you need are apples, peanut butter and some mini marshmallows and you can follow the recipe, described here: https://listotic.com/64-non-candy-halloween-snack-ideas/48/
Potato Apple Fadge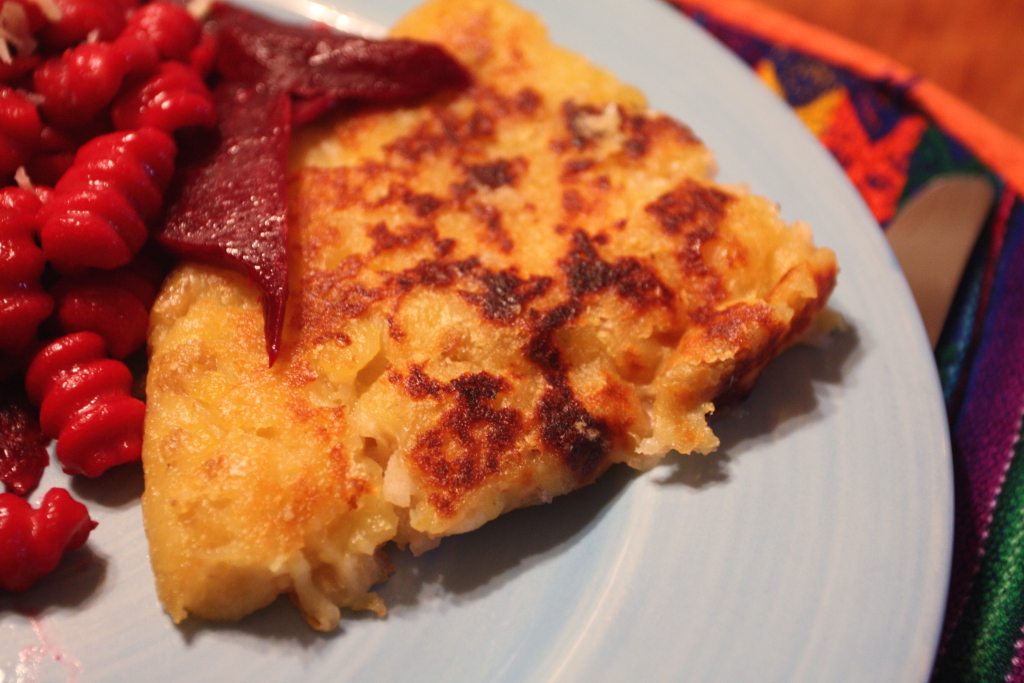 Another dish that involves apple is 'Apple Potato Fadge'. Initially this was a very popular dish in the North-eastern regions of the country. Generally it is made with potato cake mixture of boiled potatoes, little bit salt, melted soft butter, flour. Initially the mixture was divided into two parts. Pieces of apples were laid on the basis of the cake and the lid was placed on the top of the item. It was cooked in a pot-oven on a red hot turf. When it was almost ready, the top turned back and brown sugar and butter was added on the top of the apples. The fadge was then again returned to be cooked until the sugar and butter melted and made thick sauce out of them. According to the ritual a ring was placed inside the cake and it was believed that whoever found out the ring would get married within the year.
Here is a link of the recipe: http://www.foodireland.com/recipes/potato-and-apple-fadge/
Eyeball Cup Cakes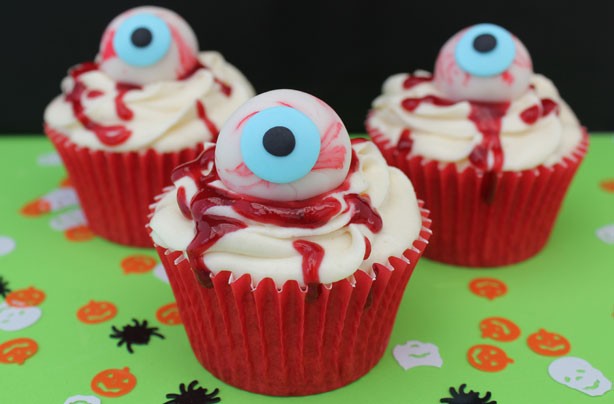 As I have mentioned earlier, cakes are closely associated with Halloween. People used to offer soul cakes to the spirits of the dead relatives. Earlier the people from the Ainu tribe in Germany and Australia used to leave cakes on graves, just like the Egyptians used to place those inside the tombs. Having cakes on the 'All Soul's Day' has been a common custom.
'Eyeball cupcake' is a yummy dish for Halloween. As the name suggests, the dish is not at all disgusting to look at, on the contrary it can be considered as a sweet delight. This is a perfect nibble to serve at Halloween parties, especially to the kids. All you need are eggs, sugar, a little bit oil, vinegar, cake flour, baking soda, cocoa powder, food colour, cream cheese, unsalted butter, vanilla, black button shaped M&Ms chocolate and you are ready to make the delightful dish.
Take a look at the recipe here: http://www.annies-eats.com/2008/10/31/eyeball-cupcakes/
Hotdog Mummies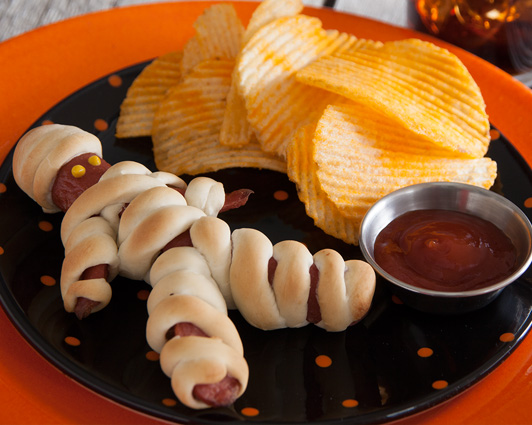 Everybody loves hotdogs. If you are a hotdog person and want to make something out of this in order to serve at Halloween parties, this can be your golden opportunity. With the help of Pillsbury dinner rolls, sliced cheese, hot dogs and mustard you can make easily 'Hotdog Mummies', following this recipe: https://www.tablespoon.com/browse-all-recipes
Strawberry Ghosts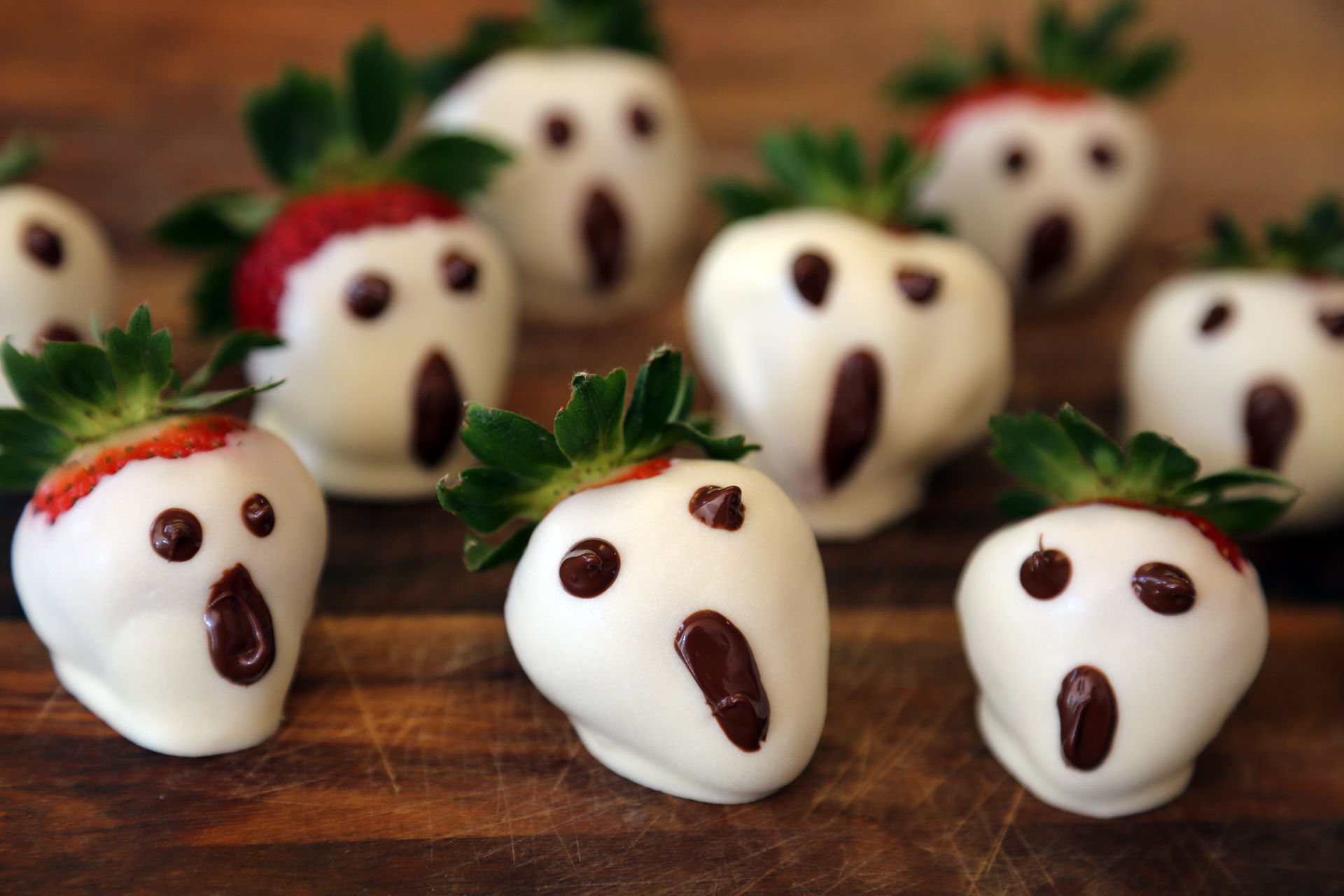 One of the main attractions of Halloween is of course the haunted tales of ghosts and spirits. This often includes haunted houses, mazes, mad clowns and what not. If you are a creative host, this Halloween you can easily make strawberry ghosts with a little flavor of almond following this amazing recipe: https://www.tasteofhome.com/recipes/strawberry-ghosts
Orange Punch with Worms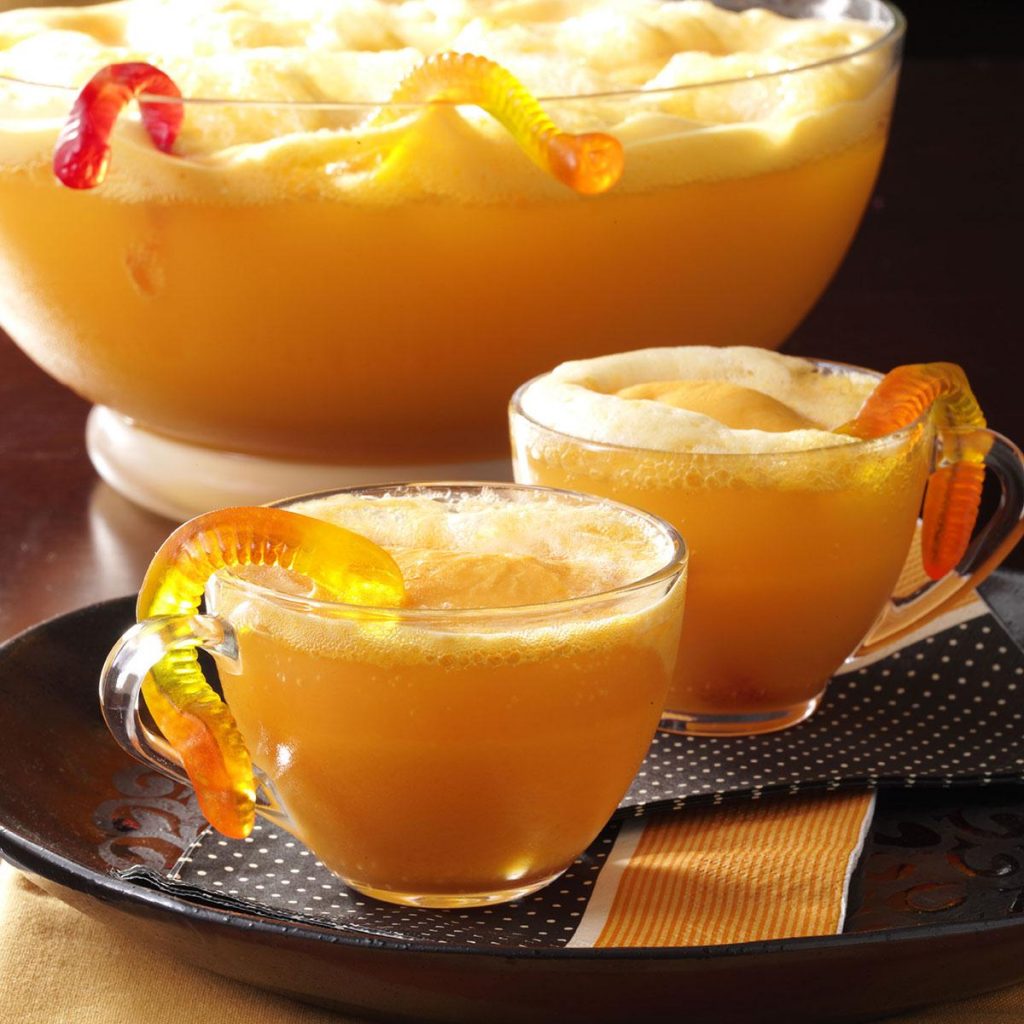 In order to make a perfect drink for Halloween parties, you can make your regular punch bowl look scary as well as super fun one. Following an easy recipe and using gummy worms, pineapple or orange juice, lemon soda you can make the worms scrawl out of your punch bowl.
Here is the link of this awesome recipe: https://www.tasteofhome.com/recipes/wormy-orange-punch
So what are you waiting for? Just get hold of all these ingredients and surprise your kids and students at this year's classroom Halloween party with lots of yummy, gory, scary and mouth-watering dishes.