5 Major EdTech Highlights From Apple Keynote 2016
In its annual September event's 2016 edition, Apple unveiled some great new hardware and software updates and upgrades. As apple devices such as Macbook, iPad, Apple TV, iPhone and iOS apps form a great part of currently used educational technology tools and apps, it is really essential for educators and teachers to keep abreast with all the latest techniques, technologies and devices that Apple unveiled in its San Francisco event.
Here are the 5 major education technology and classroom learning announcements that were concluded from the Apple's Keynote address. All these can have tremendous utility in the new school year, giving teachers and educators great new education technology lineup to look forward to.  
ConnectEd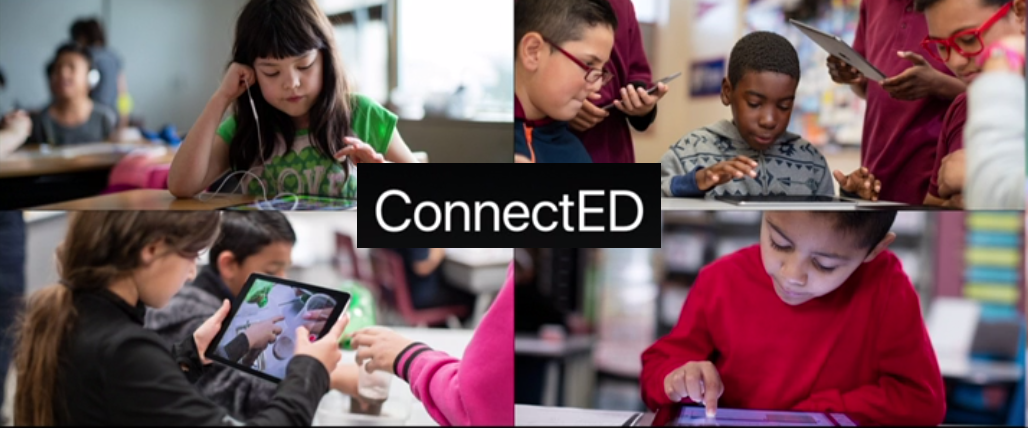 Since its 40 years of inception, Apple has been involved one way or the other in education. Apple products have long been a part of education technology's DNA. Whether it is an iOS App, the MacBook, an iPad or the Apple Pencil, Apple products, both hardware and software have had a tremendous positive impact on teachers and students. However, affordability still remains a troubling issue when it comes to apple devices and software in classroom, especially on a 1:1 basis. Not every school can afford it.  That is why apple has been a part of the ConnectED initiative. ConnectED is a national initiative combining government and leading technology companies such as Apple, Microsoft, and Verizon to bring technology to under-served schools. ConnectED aims to upgrade connectivity by bringing access to next-generation broadband by 2018 to 99% of American students. Also, under ConnectED all educators will receive support, training and better education technology tools to help them transform classroom learning experience with real-time assessments of student learning, provide faster feedback to drive professional development, and enable the creation of interactive online lessons. This will adequately help teachers to understand each student's strengths and weaknesses and design interactive and engaging lessons and activities and to collaborate with other educators worldwide. With the connectED grant, Apple has pledged to donate $100 million in iPads, MacBooks, and other products, along with content and professional development tools to enrich learning in disadvantaged U.S. schools. Apple has selected 114 high-need schools, where 96 percent or more students are eligible for free or reduced-price lunches, to receive a ConnectED grant. In the Special event of Keynote 2016, Tim Cook, Apple's CEO, iterated Apple's key achievements with ConnectED initiative. Over 32,000 students in public schools are now engaging and learning like never before with iPads. ConnectED teachers and students from Santee Elementary in San Jose and Stege Elementary from Richmond, California schools were also present in the audience.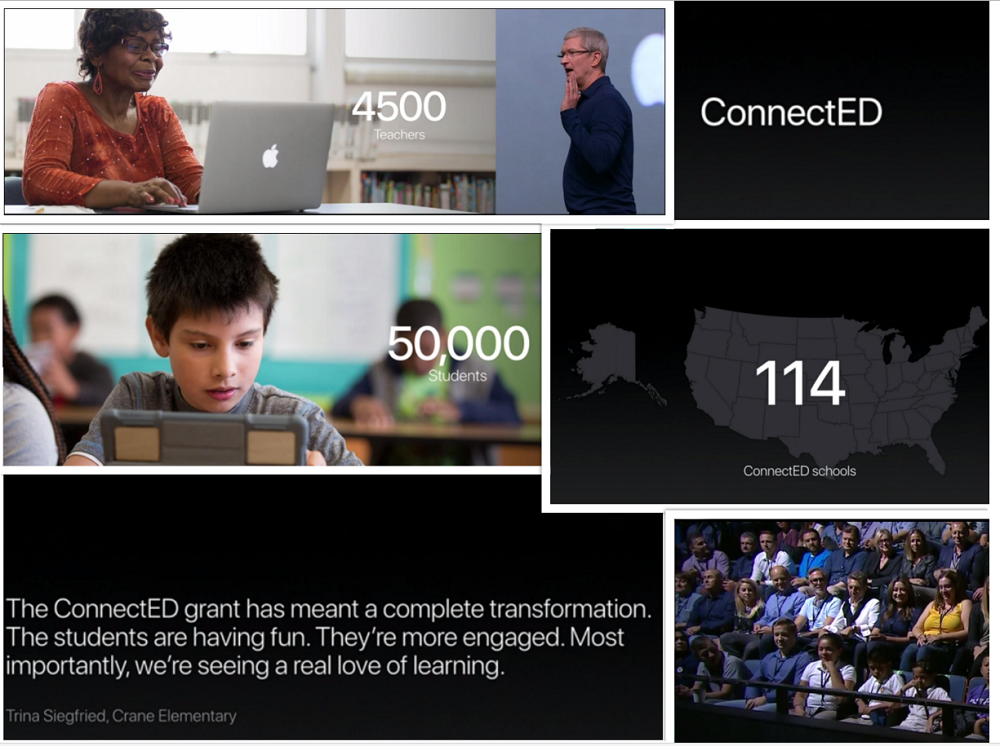 This fall all 114 schools that Apple supported will be up and running. Over 4500 teachers have been given Mac and iPad. There will be Apple TV installed in every classroom to support e-learning and interactive learning. iPads have been donated to more than 50,000 students. We hope Apple's ConnectED grants get a keen response with more engagement, more fun and more love of learning.
Everyone can Code
Apple's initiative to teach coding in every classroom and to every child is another cornerstone of the ConnectEd mission. In the 2016 Special Event, CEO Tim Cook emphasized the need to learn coding and pined for a revolutionary approach that can teach every child to code. This starts with an amazing iPad app Swift Playground that will impart coding literacy, primarily to kids, by teaching them Swift, a popular programming language created by Apple.
In WWDC 2016, Apple announced Swift Playgrounds for the iPad, a new iPad app with the motive to teach kids to code in a fun, engaging and interactive manner. Swift Playgrounds combines the power of iPad and fundamentals of Swift programming language to instill basic coding literacy in kids as well as to allow them to master the trades of Apple's Swift programming language to advance levels and translate it in real-time on the iPad.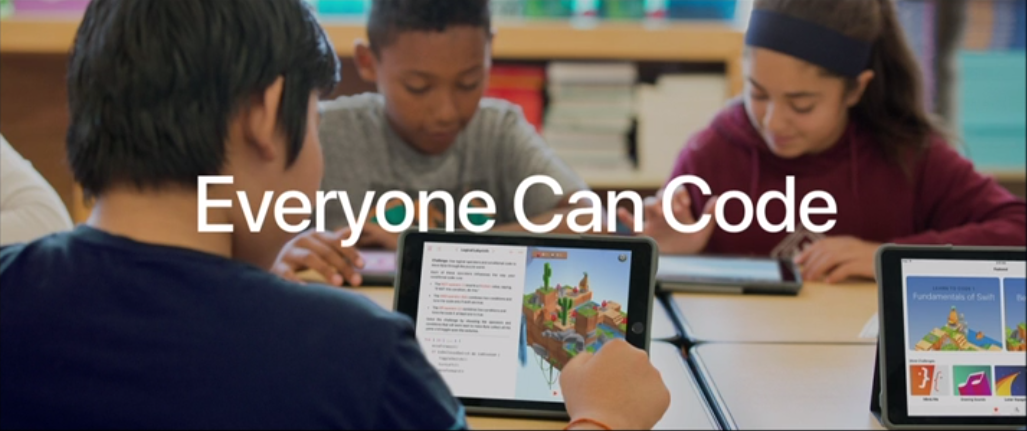 Swift Playgrounds contains lessons ranging from fundamentals of coding and Swift programming for beginners to advance coding possibilities, all done through an interactive playful and graphical interface with games and animations. There are also challenges to help students put theory to practice as well as to solve coding problems, puzzles.
There is also a special-programming keyboard, inbuilt in the app which contains numbers and special characters frequently used in Swift programming, making it easier for students to write error-free code commands. Swift programs can be created with touch features such as Quick type for code, essentially a shortcut bar that intelligently predicts code commands contextually. Common code snippets such as loops statements can be dragged from the in-app library of snippets to create code easily with lesser typing. There is also a feature to identify possible code errors and offer correction suggestions to correct code errors.
Swift Playgrounds contains templates and access to thousands of APIs in the iOS SDK to create new playgrounds and let your imagination and creativity run wild, by exploring web, experimenting with physics, generating 3D images and much more by editing, extending, mixing or even inventing new playgrounds individually or over collaboration with friends and teachers.
Swift Playgrounds will give students access to iOS frameworks such as UIKit, SpriteKit, SceneKit, Bluetooth, and Metal. And because students will be coding and running Playgrounds on iPad, their codes can respond to touch gestures or interact with iPad and Mac hardware such as the camera, accelerometer, and gyroscope. The playgrounds can be seamlessly shifted from iPad to Mac through the iCloud to leverage idiosyncratic hardware features across both devices.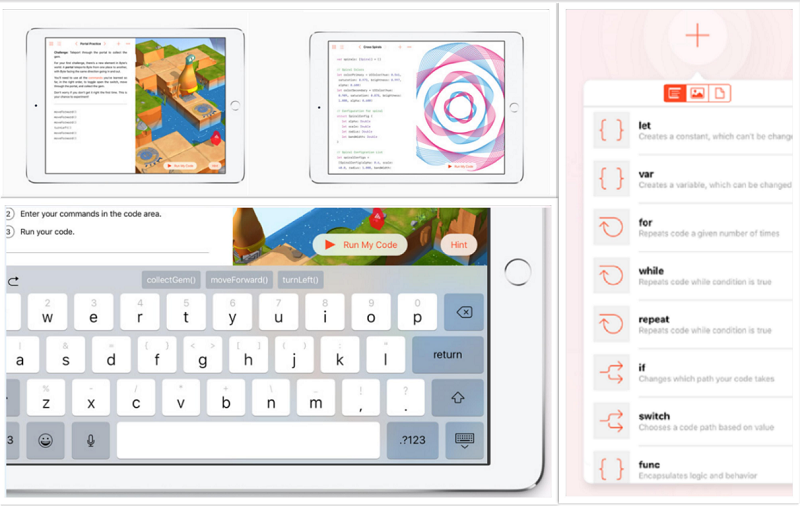 Swift is an open source programming language and swift playgrounds app will also be a free app so that all students can easily download it and every child can learn to code. The app will be publicly available for all to download with the launch of iOS 10 in the fall.
Swift Playgrounds will also offer an exciting opportunity for teachers to become developers by easily creating incredible playgrounds that can be shared with all learners whether they are looking to just begin learning to code or advanced level coders seeking fresh challenges every day to hone their skills.
Swift Playgrounds can easily be utilised to teach coding to kids in classroom combing iPad capabilities and Swift programming language by creating a playful and engaging learning experience with full-screen animations for topic introductions, assessment checks, and always-on live views. Swift Playgrounds requires no coding knowledge, so it's perfect for beginner-level students. This new app for iPad seems promising to profoundly impact the way kids learn to code. While the app was opened for Developers in June, more than 100 schools around world will teach Swift this fall.
Real Time Collaboration on iWork
iWork is a suite of productivity tools consisting of Pages, Keynotes and Numbers, iOS equivalents to create documents, spreadsheets and presentations. Although pages, keynote and Numbers are built to take advantage of apple OSes and Apple devices to make beautiful and engaging documents, presentations and spreadsheets, till now they did not allow any solution for users to collaborate in real-time. This was particularly problematic in a classroom setting which requires students to work with their group-members, their friends or even for teachers to collaborate with students, especially over project-based learning tasks.
In the 2016 Keynote, Apple unveiled the real-time collaboration feature for iWork suite geared towards students and professionals who require creative productivity solutions with collaborative possibilities. This addition will be a key feature to enabling Collaborative Education spaces in classroom and further Project based learning. Students will be able to easily work with classmates to create projects together. Students and Teachers will be able to edit slides right in real-time live in classroom from their Mac, iPad, iPhone or even web with inquiry-based applications.
In an onstage live demo, Apple's Vice President (Worldwide Apps Product marketing) Susan Prescott demoed how breathtakingly simple it will be to edit the slide deck on the go and in tandem with other participants in real-time.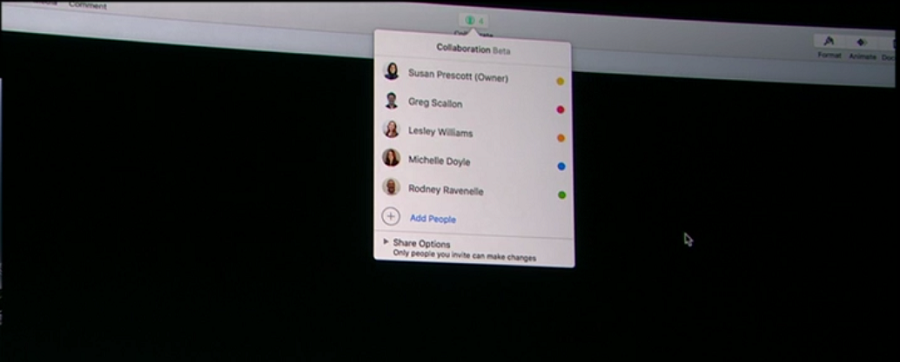 The edit mode shows a list of participants who have been invited by the user to work on the deck. They each have a color associated with them.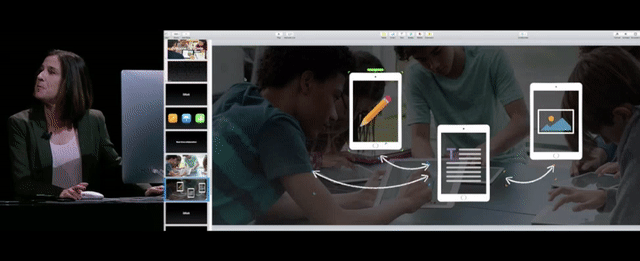 A color bubble comes up with their name every time they edit anything. With iWork, users can add images, graphics, text and even animation in real time to documents, spreadsheet and presentations.
The interface is super responsive with beautiful visuals and interoperability feature which allows participants to collaborate across Mac, iPhone, iPad and even on the web with iWork for iCloud. Users can easily track what each are doing. The real-time collaboration was a long-due feature which will allow students and teachers to create amazing visuals in collaborative learning spaces. This will be a key change to collaborative project-based learning experiences to work with classmates and friends.
The-real time collaboration features will not only enable cooperation and collaborative learning but will also put Apple iWork shoulder to shoulder with Google documents. This real-time collaboration feature announcement, just in time for the start of the new school year, can disrupt the user base of Google-Docs, the go-to option for most educators and learners to share and collaborate in real-time. The updates for iWork suite for real-time collaboration will be available on September 13th for iOS and on September 20th for MacOS Sierra.
Apple Watch Series 2 & Pokémon Go on Apple Watch
In the new product lineup, a new edition of Apple watch was also announced. Apple watch is an excellent tool for educators who are always losing their iPhones or are tired of fishing for their iPhones in their bucket bags beneath piles of documents. It's the best way for teachers to get notifications without taking out their mobile phones in classroom and without distracting students as well as without missing urgent phone call or messages. However, since its inception Apple watch has been a health technology focused gadget and can be an interesting way for educators/teachers to maintain a more active and healthy lifestyle.
The new WatchOS 3 will bring new features like the Breathe app which can be used for calming meditation and Deep Breathing exercises for often overworked and stressed out teachers.
Pokémon Go will soon be available on the Apple Watch. The new Pokémon app will not only let users enjoy the game but will also blend it with health metrics from their walk/run activity. Pokémon Go for apple watch will be a perfect way for teachers to break free from their sedentary lifestyles and enjoy outdoor field activities with their students. Pokémon Go is an augmented reality game in which players explore the real world on their mobiles with an app to virtually 'catch' hidden Pokémon creatures. These creatures appear on the augmented reality enabled map in the app and can be collected, trained, evolved and also used in battles. With over 20 million worldwide downloads, this game can be used as an interesting manner in classroom and active field learning in different subjects. With Pokémon Go on Watch OS, teachers will be easily able to maintain an active lifestyle while teaching students on the go. Take for example Pokéstops. The Pokéstops are built on popular public places and areas of historical interest. Taking students to such places with engaging tactics of Pokémon Go will make it easy for teachers to relate the historical specificity of these places and share information about related historical places and events, with students, which can be easily accessed by a tap on the wrist as well.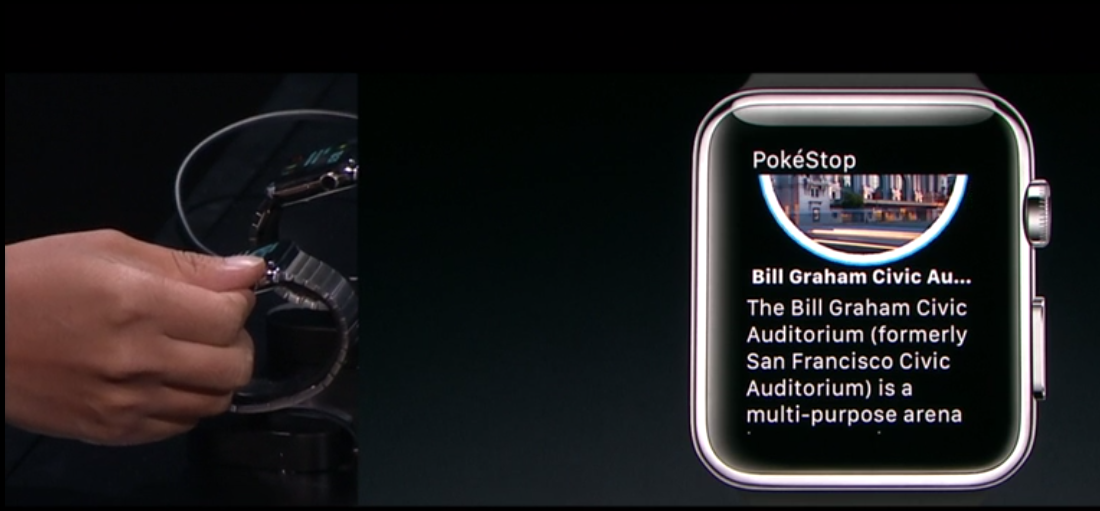 Apart from the community and history discussions, teachers can engage students with lessons on data and statistics on recording and analysing data such as how many Pokémon they've caught or whether their Pokémon have evolved. Or they can create easy creative writing prompts in English/Language Arts classes based on students' explorations, hunts and battles and is well suited to sparking a student's imagination.
iPhone Upgrades
With the launch of iOS 10, Apple's HomeKit for automation will become available for public use through a new app called Home. Although the app is geared towards home automation, it can be equivalently used for creating Internet of Things enabled connected classrooms. Home will be easy to setup and can help to manage and control all the devices in your classroom (or home). Ranging from your classroom's thermostat, sensors, fans, and window shades to audio and video systems, monitors and the entire iOS classroom devices ecosystem, teachers will be able to manage and control them easily from a single control center and through Siri.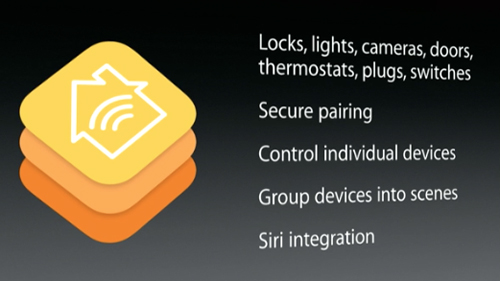 Schools willing to explore this smart, connected IoT classroom can upgrade to Home-supported hardware, available with all major home automation providers. With secure pairing structure, teachers will be able to harness powers of Touch ID and fingerprint lock devices in classrooms which they do not want students to use without permission and supervision.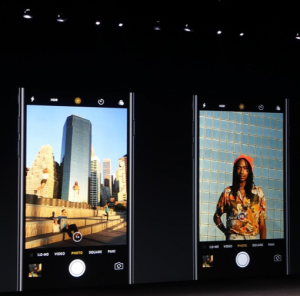 Apart from this, the hardware on the new iPhone 7 and iPhone 7 Plus will have advanced new cameras with a 7 MP Facetime HD camera and a 12MP wide-angle and telephoto camera with powerful optical and digital zoom features. This will improve the use of iPhone for project based learning, media literacy tasks as well as Facetime-based e-learning discussions.
Looking to learn more about using iPad Pro as an education technology tool? Check out our blog post on why iPad Pro is the most revolutionary EdTech tool.
Have you been using Apple devices such as iPad, Macbook, Apple TV and more in your classrooms, share your reviews with us in comments. What do you think of the latest upgrades and announcements from Apple's Keynote address, share your views with us in comments.
Here is a small infographic to sum up all edtech announcements from Apple's Keynote Address 2016 in under 5 minutes.
If you wish to embed and share this infographic on your website, simply copy and paste the code given below:
[snippet id="1993″]