38 Reasons Why Every Educator Needs an iPad Pro
The Apple Keynote 2015 edition happened on 9/9/15 in the legendary Bill Graham Civic Auditorium in San Francisco. Monster announcements were made across several of the Apple products. However, the unveiling of an all new iPad Pro got every spectator on the edge of their seats as one-after-another Apple demonstrated the glory of their tablet device. When it comes to devices for learning and teaching in classroom, I am a big fan of the iPad. The excellent quality display features, graphics, anywhere, anytime truly mobile learning solutions offered by this tablet with a lucid, highly responsive MultiTouch experience and App Store's unlimited productivity, creativity and teaching-learning oriented solutions have made iPad an irresistible education technology tool for all educators.  When Apple released its first ever iPad it might not have the huge diversity and potential that this tablet device could offer. Tim Cook himself admitted to being amazed at the diverse ways in which people had used the iPad. He called it Apple's vision for the future of personal computing.
Since its five years of inception, iPad has truly transformed the way we create, the way we learn, and the way we work. And the all new iPad Pro is all set to take the create-work-learn paradigm to an all new level.
Well there are 38 reasons why it's the "biggest news in iPad since the iPad."
At an incredibly light weight of 1.57 Pounds, the new iPad Pro can lend a true sense of portability and anywhere, anytime mobile learning experience with e-books, electronic reading materials and e-learning content, an enviable sleek thickness of 6.9mm, might just make it the thinnest portable library of e-content.
The new iPad Pro has a 12.9 inch display screen, bigger than the traditional iPad. This naturally means a better display experience for e-textbook reading students, teachers, educators and e-learning professionals.
In the same category of displays, the iPad pro also features the Slide Over and Split Screen view which will help students to study on the iPad Pro with better focus and lesser distractions. No in-between social media distractions while hoping from app-to-app.
Or they can Work on a sketch with reference photo next to it.
Or they can copy citations for their term paper from an e-book easily.
The display technology in the iPad Pro is the same as that of iMac retina 5K display which means it has 5.6 million pixels more than any iOS device. This will make deliver excellent visual learning solutions with enhanced picture quality that can bring the textbook images to life.
A 64-bit A9X processor will make iPad Pro 80 percent faster in performance and 90 percent faster in graphics over portable PCs, allowing users to run apps such as iMovie with desktop-class performance. This will allow teachers to bring explore visual learning technology and game-based learning in classrooms. Teachers will be able to create and use better quality infographics, data visualization tools (esp. for STEM, social science and business students), graphic novels (esp. to complement rigorous text in Language and Literature Studies), 3D models with stereo- and spatial modes (esp. in STEM classes).
Rich visuals display and faster graphics will allow teachers to offer assessments based on visual graphics and images, invoking critical thinking responses not just from all students; but also being able to successfully differentiate visual learners in their classroom.
Teachers can integrate media-literacy in their instructions with ease, using rich media elements such as animation, movie making and simulation in their classroom teaching.
The iPad Pro comes with an all new and incredibly powerful iOS 9. For starters, iOS9 for iPad Pro will feature an inbuilt keyboard which will be able to scale up to a larger size and become a true fit to screen. This will make text typing and text editing much more convenient for educators, teachers and students, making it a suitable device for doing homework.
If the in-built keyboard is still not your thing, and you crave the comfort of an actual physical keyboard, you are in for a treat. Apple also unveiled two incredible input accessories, exclusively for the iPad Pro. The first is an all new SmartKeyboard and the second (but truly the first of its class) is the Apple Pencil. These devices up the notch for the iPad Pro, taking it from 'suitable' to 'An Ideal EdTech Tool' for teachers, instructors, online tutors, students as well as e-learning companies.
The Smart Keyboard can be connected to the iPad Pro via a new magnetic port, called the Smart Connector, which can power this keyboard as well as simultaneously transfer data across iPad Pro. The Snap-&-Go technology with no hassles of switches, plugs, data cables, separate batteries, Bluetooth pairing, will provide an unparalleled flexibility not only to learn anywhere, anytime; but also the ability to teach anywhere, anytime.
Plus, the SmartKeyboard perfectly complements the portability features of the iPad Pro as the keyboard itself folds into a Smart Cover, creating no additional baggage for either the learner or the instructor.
The SmartKeyboard will have allow the QuickType features for quick access to word predictions and auto correct which can immensely benefit the English Language Learners.
"Who wants a stylus?" "You have to get them and put them away and you lose them. Yeuch. Nobody wants a stylus." This remark by Steve Jobs in 2007 resonates well with people like myself who keep losing their stationary. And with Apple's incredibly responsive MultiTouch experience, I was convinced that the best pointing device was the natural one, the Finger. But using only fingers limits iPad's utility and productivity as a teaching-learning tool. But Apple has found a way to get around this restriction. They after all did not introduce a stylus.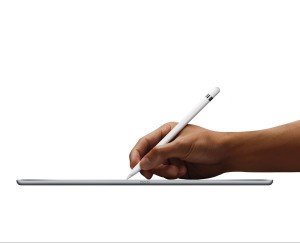 Yes, Apple presented the APPLE PENCIL! And this is in fact the most Natural Education Technology Tool that any classroom can have. Pencils are so natural to a classroom. They are the most natural input device that mankind has known. Writing with a pencil always delivers a joy and a style that no stylus can replicate.
However, the Apple Pencil not only has style, but it has some of the coolest tech abilities that can absolutely transform the way we use iPad in classrooms, making it the most natural choice of the new age notebook for millennial students and the Apple Pencil, well the new pencil!
Apart from being the most uber-cool way to take handwritten text notes in classroom, the apple pencil will become the most important ed-tech tool for Art and Design classes. Apple Pencil comes with highly responsive sensors in the tip which can detect position, tilt and force with pressure sensitivity features.
By calculating the angle and tilt, the apple pencil can create both broad and shaded strokes. With pressure sensitivity, a light force can produce a thin stroke while a harder force will allow designers to create bolder strokes. Students and Instructors in Art and Design courses will now have the ultimate control on precision as the Apple Pencil can literally touch even a single pixel. 
The Apple Pencil is touted to become the most natural Writing, Drawing and Designing instrument not just for students of art and design schools but for thousands of instructional designers creating e-learning content, graphic designers creating e-learning websites and mobile apps, 3D artists creating 3D CAD files, course illustrators and everyday school and college teachers who will be able to create beautiful and rich diagrams, visualize data, create infographics with this most advanced hi-tech Pencil.
The Apple Pencil can also become as the most useful and natural Electronic Whiteboard tool for e-learning professionals and students who regularly conduct/ attend webinars, MOOCs, do live presentations in classrooms or deliver online learning solution such as online tutoring.
If you thought this was all that this revolutionary and creative education technology tool could achieve, wait till you see what the combine can do with the Apps. The testament to the prowess of this combine came from the software and e-learning giants such as Microsoft, Adobe and 3D4Medical.
The Microsoft Office app for iOS 9 is optimized for the large screen size of iPad Pro and will provide an immense productivity benefit of multitasking, collaborative spaces, inking and intelligent search.
Multitasking on the iPad
The new iOS 9 will introduce two new display formats of Slide Over and Split View, bringing an immense productivity boost not only to get things done faster but to deliver creative, collaborative and visual learning solutions. Instructors and Learners will be able to use two out of OneNote, Word, Excel, and PowerPoint simultaneously, and working seamlessly across them as well as moving and sharing their files.
As explained by Microsoft on their blog release:
You can Slide Over your notes to study the diagram references.
Or Copy numbers from Excel into PowerPoint or Go over a PowerPoint presentation while reviewing background information in Word.
Or simply let the students view data charts, diagrams, models and illustrations along with the text, research report.
Or utilize the Picture-and-Picture feature during class presentations, live-demos, online tutorials, MOOCs and Webinars or to embed live news reports and events, animations videos or movie files into online tutoring lectures.
Users can even split screens with the email attachments in Outlook that run on Word, Excel or PowerPoint. This can have huge implications for real time collaborations between teachers-students and student-students or even teacher mediated work groups. 
Learners and teachers can view and even edit the attachments in the other half of screen without switching away the email message. In the same screen, the edited document can then be attached into a new email message in Outlook, ready to be sent to the teacher/student or fellow group members. I think this can check the delays in providing over-email reviews and assessments that teachers and instructors face, making over-email communication between learners, teachers/instructors and online tutors really fast, convenient and hassle-free.
The Split Screen combination of PowerPoint and OneNote will come in very handy while delivering class presentations, MOOCs, webinars as well as online tutoring. The presenters will be able to project the PowerPoint presentation onto an external display, while utilizing the Presenter View in their iPad Pro, powered with tools like a laser pointer, pens, highlighters and slide thumbnails, along with a Split View for OneNote speech points to let teacher, instructors, online tutors as well as students to deliver the best presentations without any stage anxiety.
I wish I had this technology when I had to do Research Presentations in graduate school. Boy, it would have been a cakewalk!
Inking = The best edtech tool for teachers
The inking feature will only add to the natural flair of Apple Pencil in classrooms, allow teachers to use the Apple Pencil to mark documents just as they would do with a pen on paper. There is an additional highlighter mode that can come in handy while reading e-books and PDF files. This would add to natural comfort-ability of using iPad Pro and Apple Pencil for proofreading documents and manuscripts as well as collaborating over group projects or simply providing real-time feedback and modifications in essays, term papers, or homework.
Searching through Notes becomes Intelligent
The office app for iOS9 will also be capable of including search results from OneNote notes and Outlook email messages, making it easier for students to look through their notes, which they can type, hand write or even scan through OneNote itself.
In the next giant education technology worthy announcement, Adobe joined Apple iPad Pro announcement to demonstrate its exclusive mobile creativity apps for iPad Pro. Adobe will be rolling out three creativity and design apps for the iPad Pro. There would be Adobe Comp CC, Photoshop Fix and Adobe Photoshop Sketch.
Adobe Comp would allow teachers and instruction designers to create and print web and mobile template layouts on iPad Pro. This will enormously aid in the true growth of emerging mobile learning market.
I have seen many teachers struggle with drawing illustrations, especially in Geometry, Trigonometry, Economics and Statistics class. Sometimes they just draw a circle 'roughly' and well it does not look like a circle, or the lines are not really straight or parallel. Adobe Comp can automatically transform those rough lines, angles and shapes into crisp figures. Not only will this aid everyday classroom but extremely help teachers who want to explore self-publishing their e-textbooks, handouts and reading materials
Adobe Sketch will bring natural drawing and painting tools into classroom with ease with pencils, pens, marker, erasers and a bunch of brushes. It has also been tuned to work with the Apple Pencil, with support for the pressure sensitivity and multitasking with other iOS 9 apps.
An innovative Irish Medical Technology Company, 3D4Medical, also put to display their app called the Complete Anatomy Series for the iPad Pro.
The app will allow Biology and Medical Students to harvest the epic display and graphics qualities of the iPad Pro to view 3D anatomy models on their iPad Pro, augmenting the learning experiences of Biology and Medical Science classrooms.
Additionally, with the new Apple Pencil, 3D4Medical Anatomy Series will allow for powerful 3D cutting and drawing tools that will allow students and teachers of Biology, Health Science and Medical Studies to bring augmented reality into their learning spaces.
And yet, it has 10 hours of battery life.
The multi-tasking features will also be included in the iPad Air 2 and made available for older iPads with limited functionality. Added Bonus!
The Apple iPad Mini 4 was also quietly announced with 7.9-inch display and 2GB of RAM and the same processor as the iPad Air 2. The iPad Mini 4 is in stores now and pricing starts at $399.
The other iPads correspondingly got price cuts, making it more affordable for teachers to use iPad as teaching and learning tool. The iPad Mini 2 is down to $269, the iPad Air now starts at $399 and the iPad Air 2 is $499. 
The iPad Pro is going to be available in November — 32GB for $799, 64GB for $949 and 128GB for $1,079. The $1,079 comes with Wi-Fi and cellular. The keyboard is going to cost $169 and the stylus is going to cost $99 — the Christmas just became luxuriously expensive for me!
Here is a small infographic to summarise the usefulness of iPad Pro in teaching and Learning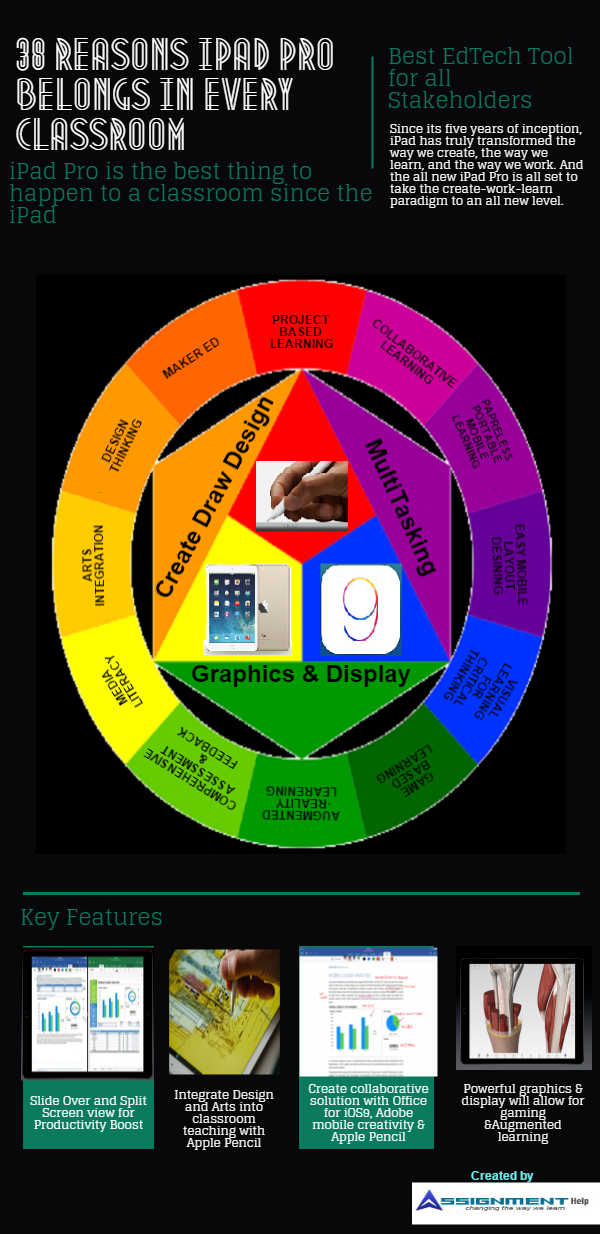 To embed this infographic on your website copy the code below
[snippet id="1841″]
Would you be using iPad Pro and it's supported accessories in your classroom and learning space? Tell us your thoughts in comments!