Teaching Kids to Code with Robotics
For the kids of 90s and previous generations, most years in preK- middle school standards were spent in learning to read, write and speak in languages including English, vernacular and perhaps some foreign language as a hobby. However, for kids of 21st century, another language skill is long waiting to replace this literacy skill. It's CODING. In the present digitally-powered and globally connected century, coding is all set to become the all-pervasive language, not just for kids, but even their parents and teachers to know well. Coding will soon become the indispensable life skill for operating in a technology dominated world, a skills not limited to the aspiring computer science majors anymore. Programming is now not just limited to exclusive Silicon Valley tech firms, programming dominates every sphere, from fashion designers to financial analysts, economists to musicians, teachers to sports coaches everyone needs a basic know-how of programming. Computational thinking is now at the core of every subject. Every job description is somehow moulded around the tenets of problem analysis via abstraction and decomposition into smaller similar problems followed by an algorithmic thinking of fault isolation and debugging. This is exactly what programming is. Thus learning to code is clearly the greatest productivity and reasoning enhancing life-hack.
Another stereotype is that coding involves long hours of being planted in front of computer screens and churning mental Greek symbols. There are many concerted efforts now to teach kids programming languages and coding skills in classroom right from a young age. Various tech-entrepreneurs are also investing in developing coding kids for children and specially girls to spread equal access to STEM education. Various local groups and communities have also arranged to teach kids and their parents programming skills with impelling and absorbing activities. However, when it comes to kids, and the kids of 21st century, the best learning tools for them would be mobile and games. Mobile, because the kids today are spending over two and a half hours every day on mobiles, and games, because, well they are kids.
While there are individually learning based mobile apps and games like maze, puzzles and building blocks to teach kids, the field of Robotics has combined these two powerful learning tools to teach coding skills and basics of programming to kids, even as young as pre-schoolers. While with the mobile and computer devices singularly, there are a variety of apps and projects like Code.org to teach coding singlehandedly, building and/or programming your own robots and making them come alive to your "commands" has an altogether different buzz to it. Robotics has helped to transform the quintessentially on-screen taught material into a more tangible learning objective. The programmable robot games are an equally fun way to teach kids programming as literally a child's play. Children today are more adept at learning to operate new gadgets than adults, comfort decreasing with increasing age of kids. However, at times children (and even adults) have almost no knowledge about the actual operating mechanisms behind the automation and gadgets they use as daily fare. Teaching programming can change that. Learning programming makes it easier to familiarize kids with technology and gives them a better sense of 'how stuff works'. Children can be easily taught concepts of order, sequencing, cause and effect, motors and sensors through robotics. Even if you do not end up becoming a programming, you can at least become better at absorbing and applying relevant tech specs to enhance your overall career and life.
Here is a list of some fun robots that can teach kids to code in the most fun way:
Dash & Dot Pack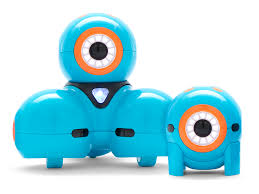 The robot pair by Wonder Workshop initially known as Bo and Yana has transformed into Dash and Dot to teach coding to anyone of age 5 and above while playing. Both these robots are programmed to learn through a story-telling system. Dash is a three-wheeled spinning robots and also perhaps the cutest one. Dash is an explorer who spins around, bounces off of walls, makes sounds and plays music on its Xylophone and is an eager learner. Dash can be remote controlled/programmed to perform unlimited activities including basic movements like moving forward or backwards or in circle, spinning its head, object and motion detection and even complex sequences of instructions. Dot is its lesser-mobile partner that can also move, light-up, make sounds and can detect Dash's motion, and thus can be given a customisable character. The two can be programmed to interact with each other.  Together they are one irresistible educational robot pair. Dash and Dot can be programmed or remote controlled through a series of apps that run on mobile and tablet interfaces such as ios (7.1 or higher for iPad and 8.1 or higher for iPhone) and android ( 4.4.2 or higher). The first app called "Go" is essentially a remote control for Dash. It creates a visual interface for kids to inculcate the notion of computer programming, rather than teaching the actual language. With the second app called the Path app, various drag motion programs can be performed. Players can draw various routes and Dash can be programmed to traverse as well as start and stop at various junctions (and make funny sounds).
The last and the most important app to play with Dash is the Blockly app. It allows kids to instruct Dash with drag and drop instruction blocks including loops. Kids can easily learn the fundamentals of programming.
In extreme advanced stages, players can take on design challenges. They can team dash and Dot with Lego bricks. Older players can eventually design elaborate programs and apps to program Dash and Dot do almost anything.
Additional accessories such as Xylophone for dash (which can be programmed to play using the Xylo app) and building brick connectors, plus additional resources such as tutorials, monthly Wonder magazine, weekly challenges and a global community of players the learning experience can only be limited by your own imagination.
KIBO by KinderLab Robotics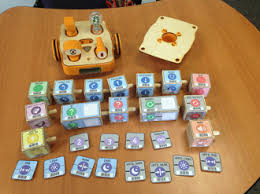 KiderLab robotics introduced the robot kit KIBO which is a perfect code teacher for young kids aged 4-7 years. The concepts of programming are taught using simple wooden building blocks. Children can program KIBO using colored wooden blocks which are coded with instructions, pictures and have bar codes. To construct a simple program, kids must arrange and put these blocks together in an order and sequence as they want KIBO perform and move in. The bar codes on the wooden blocks have to be then scanned (into the optical reader embedded in KIBO's base) in the correct sequence to bring KIBO's movements to life with a start button. KIBO can spin and move around as well as respond to sound, light and distance and turn it's LED on. The technology behind KIBO is so simple that any non-technical player can play with it even without reading instructions.  KIBO is a perfect robot to teach kids basic concepts of programming such as order and sequencing, cause and effect, patterns as well as problem solving skills at a very early age. Also, with no fancy mobile apps and programming interfaces involved, KIBO teaches the skill of coding to young ones in the most subtle way with building blocks, even with a large group of kids. Thus it appeals not just to the tech-savvy kids but to almost anyone who enjoys building blocks. KIBO does not require kids to be strapped endlessly in front of screens or buy pricey tablets and smartphones; it is perfect for active kids on the go.
With options of art designs and decorations to customize looks and characters for KIBO, this robot appeals very well not just young programmers and engineers at your home but even to artists and story-tellers. There are additional design journals, game suggestions and coding worksheets to build on the learning experience.
Lego Mindstorm EV3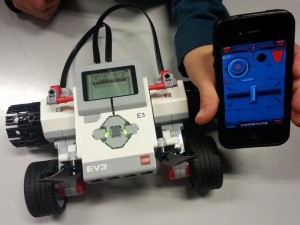 Since its launch in 1998, Lego Mindstorms construction kit is a name known to everyone who has ever heard the word "Robotics". It belongs to the category of build as well as program your own robot. Lego Mindstroms was created to capture the interest of middle-school kids in robotics and programming as well as broader educational concepts of science, technology, engineering and maths in classrooms.
Mindstorms revolutionized the LEGO construction kits by introducing Programmable Brick technology. With built in sensors, motors and tiny computers, these LEGO bricks brought the coding out of the digital world and into the tangible. The existing fan base of children (and even adult LEGO fans) instantly became hooked to being able to design and build their own robots as well as to program and control them to perform automated tasks.  LEGO Mindstorms kits are widely used in classrooms today to teach robotics and programming as well as broader concepts of STEM areas.
There are options galore in terms of designs and programming, since these are essentially programmable building blocks. The 3rd generation of the LEGO Mindstorms kit is the LEGO MINDSTORMS EV3. This robotic kit is now routinely used in First Lego League and World Robot Olympiad. The version for home consists of 1 EV3 programmable brick, 2 Large Motors, 1 Medium Motor, 1 Touch Sensor ( that makes your robot respond to touch as well as recognize three conditions: touched, bumped and released) , 1 Color Sensor ( which allows the robot to recognize seven different colors as well as measure light intensity), 1 Infrared Sensor (that allows users to remote control their robots even from a distance and also as a tracking device for the robots), 1 Remote Control, cables, USB cable, and 585 TECHNIC elements. The at-home version is primarily directed towards robotics and teaching programming. However, the school version (which comes with an additional gyro sensor and some more components) is geared towards teaching of STEM concepts through 30 hours of curriculum. The basic set allows you to build 5 robot models called TRACK3R, R3PTAR, SPIK3R, EV3RSTORM and GRIPP3R using the 3D building instructions. While most programmers use the Mindstorms EV3 programming software on their computers, the EV3 brick also allows for on-brick programming functionality using the inbuilt Brick Apps. The icon based programming interface is based on graphical programming language based programming blocks. The action blocks control the actions of the program including motor rotations, image, sound and the light on the EV3 P-brick. The flow blocks code the flow of your program. Then there are sensor blocks to program for reading the inputs from the Color sensor, IR sensor, Touch sensor etc. Additionally there are data operations blocks to write and read variables, compare values etc.
The robot's EV3 P-brick (the brain of the robot) can be plugged to the programming computer using the USB cable to download the program. The programs can then be executed through the enclosed remote control. Even, without a PC, the commander app (that connects via Bluetooth to the P-brick) can transform your smart devices into a remote control for instant play options.
Mindstorms EV3 is a great option for middle-school and older kids to challenge their friends in robot games while learning the advanced programming skills. LEGO MINDSTORMS fans around the world routinely showcase their robotic creations in the gallery with utmost pride. However, the best thing about the MINDSTORMS robotics kit, as with any LEGO kit is that once you have built and programmed one robot, you can simply disintegrate it to create virtually infinite number of designs.
Robot Turtles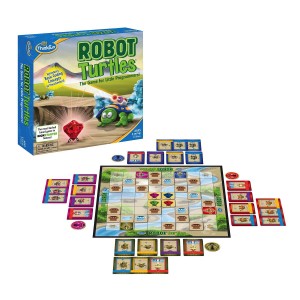 Robot Turtles is a screen-free board game, meant specifically to teach concepts of programming to children as young as 3 years old pre-schoolers. This board game is designed to be played by an adult and a child together.
The mission of the game is essentially to help the turtle reach the jewel card. The kids learn to program their turtle's movement and work their way around the obstacles. While there is no real programming interface involved, the action of laying down the movement cards mimics writing code. Then there are bug-fixing cards which allow kids to 'debug' their code and fix the errors in turtle's path. The adult player (or even elder siblings!), called Turtle masters, then acts like a computer and run's the kid's code by moving the turtle as per the cards' sequence. The function frog captures the essence of a sub-routine and functions and helps kids to identify patterns. The function frog is the most complex element of the Robot Turtles game. The Function Frog Card helps Turtle masters to program more efficiently and is a key part of real programming! A Function Frog Card is used to represent a set of several moves. Players can learn to shorten their program by using this single Card to represent a sequence of movements.
The difficulty of the game can be increased eventually with added obstacles which include the ice walls, lasers, stone walls, crates, and the Function Frog. The board game can also be played in a group of 2-4 people as a challenge to compete against each other's Robot Turtle pieces to capture the jewel card first. There are four Robot turtles in the game named Beep, Dot, Pangle, and Pi – are all named for commands from the original Logo programming language that inspired the game! The Robot Turtles is inspired by the LOGO language but it does not teach any programming language per se, but it is overall a great way to teach kids the essence of computational thinking in terms of problem solving by break one big problem into small steps, to think ahead, to work backwards, to look for patterns and to keep trying to fix their "bugs." There is also an expansion pack with bonus content for turtle enthusiasts includes exclusive Adventure Quests, collectible gemstones, and Frog Favorite Cards. The adventure quests allows players to design (and share online) their own board rules and game story, enhancing their imagination while building coding and logic skills.
Robotiky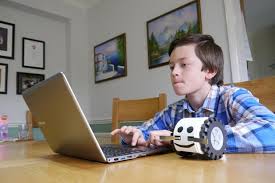 Robotiky is yet another robot to teach your kids programming. But there are certain differences which sets Robotiky apart from the play-to-code herd. The biggest advantage programming interface itself. While Robotiky starts coding with the easiest Scratch style drag and drop pre-coded blocks format, it progresses into text-based-custom-code format in real programming languages as well. As the kid progresses along, the visual blocks are removed and only the code lines are left. Thus, children actually get to "write" their own codes after learning programming basics in Scratch style. Even with the programming blocks, there is an option to "view codes" in which kids get to see the programming language version of the visual code blocks. This makes programming through Robotiky not just easy but as close to the real as well.
In addition, Robotiky comes with a hassle-free setup. The entire programming interface is web-based (compatible on any and every PC) and requires no complicated sophisticated smartphones, apps and installations. The programming software comes with an inbuilt simulator which allows kids to test run their code, before bringing it to life on their robot.
Robotiky is currently at the prototype stage, but the aim is to take absolute beginners from their first experience with programming to being confident with Python and C/C++ and micro-controllers
So summers are already here. There would be no better time to get your kids a robotics set and teach them coding. If you already have one, it wouldn't hurt to explore some more.  We would love to hear your learning to code experiences with these programmable robots. Also if you know of any other great programmable robotics tool, do share them with us!
p.s.: reading writing and arithmetic skills remain important for using even the simplest programming interface.
https://www.assignmenthelp.net/blog/teaching-kids-to-code-with-robots/
Teaching Kids to Code with Robotics
https://www.assignmenthelp.net/blog/wp-content/uploads/2015/04/robotics-1024x768.jpg
https://www.assignmenthelp.net/blog/wp-content/uploads/2015/04/robotics-300x300.jpg
coding for kids
Girls in STEM
Learning Programming with robotics
Learning with Robots
Robotics
STEM education
STEM toys
STEM Toys/ Games for Girls
Tips for Parents
tips for students
activities for kids,children games,coding for children,coding for kids,coding games,coding games for kids,coding robots,computer coding,computer coding for kids,computer programming,computer programming for kids,educational games,educational robotics,games that teach programming,kids coding,kids programming,learn coding,learn computer programming,learn programming,learn robotics,learning games for kids,programing for kids,programming for beginners,programming for kids,programming games for kids,programming languages,robot kits,robot kits for kids,robotc programming,robotic programming,robotics,robotics basics,robotics for beginners,robotics for kids,robotics kits,robotics programming,robotics programming language,robotics projects,STEM robotics,teach kids programming,teach kids to code,teaching kids programming,teaching kids to code
For the kids of 90s and previous generations, most years in preK- middle school standards were spent in learning to read, write and speak in languages including English, vernacular and perhaps some foreign language as a hobby. However, for kids of 21st century, another language skill is long waiting...
admin
Webmaster
edotservice@gmail.com
Administrator
I'm the chief editor/Blogger for the blog of www.assignmenthelp.net My job is to retrieve the latest and most important information and updates in the field of education and technology and pass it on to students worldwide, studying in all grades from K-12, college, graduate studies, research and other training programs as well.
Assignmenthelp.net