Importance of Online Tutoring and it's Future : FREE WEBINAR
AssignmentHelp.Net is excited to announce a partnership with WizIQ to host a FREE WEBINAR on Importance of Online Tutoring and it's Future. The webinar will be aired on 9th June 2015 at 2:00 PM EST. The webinar will be presented by Urvi Bhagi on behalf of AssignmentHelp.Net.
The webinar will focus on the nuances of Online Tutoring with respect to it's present scope in education and elearning techniques. It will also see to address the challenges that online tutoring services are facing and the discuss future growth possibilities for this industry.
Over the course of past years, various websites have entered the Online Tutoring industry by providing personal tutoring to students all across the globe with the help of internet technology. Through this course following questions pertaining to the scope, challenges and future of Online tutoring services will be discussed :

In a recent interview presenter Urvi Bhagi highlighted the indispensability of Online Tutoring for New generation of Kids who are tech-savvy in the most unassuming of ways.  "the present net-gen kids seek connectivity, interactivity, immediacy for their activities… Online tutoring provides them [with all this], a tutor who is constantly available 24×7, through any of your IT devices, to answer your queries with speed and accuracy and learn about any topic of their choice, in the most informal manner without any enrollment issues, curricular restrictions or pre-requirements on learning."
Highlighting the benefits of online tutoring, Urvi pointed out that "Online classrooms cultivate autonomous learning skills,…, a much valued skill in the future job-markets." Online tutoring has been able to bring the instruction system to learners anywhere and anytime they need it. It scores over the traditional learning places such as classrooms, personal home tuition as well as the conventional brick and mortar tutoring centers in terms of space, pace, convenience, learning outcomes, adaptability as well as customization.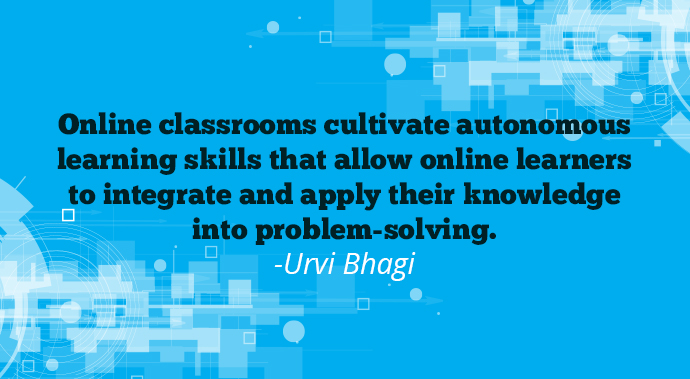 Urvi , in her interview, is quick to outline the growing indispensability of online tutoring, not just for technologically advanced kids of 21st century, but also for a rising group of non-traditional learners such as working professionals, adults continuing education and veterans, speakers of English as second language, students with special needs or learning disabilities. Student groups such as college athletes and homeschooling students can also enjoy much benefits of online tutoring systems.
Online tutoring industry faces vast challenges as well , as it is still in its nascent stages. The issue range from simple backup and technical support to teacher training as well as more complex instructional design oriented challenges. The educational software developers are also facing sustainability challenges to evolve with rapid hardware and software developments. The webinar will discuss how online tutoring will steer towards a more personalized approach in terms of adaptive and tailored learning outcomes as well as become an important partner in flipped classrooms.
Who Should attend:
Students: Discover the advantages of online tutoring for yourself.
Teachers: Take advantage of the growing online tutoring industry as well as learn how to extend your classroom to virtual space.
Parents: Find out the advantages of online tutors over traditional personal tutors and brick and mortar coaching centres.
Education Professionals: Learn about the scope and challenges facing the online tutoring and web-based classroom services
And everyone else who is going to fall in any of these 4 categories by 2030.
Date: June 9th
Time: 2 PM EST
Duration : 60 minutes
REGISTER NOW ON : https://www.wiziq.com/course/109667-importance-of-online-tutoring-and-its-future