Because Girls don't need a Barbie: Holiday Gift Guide
Majority of the high paying majors these days belong to STEM (Science, technology, Engineering, Mathematics) categories (with the difference of over 33% in pay) and the variance will only increase in future. However, the number of college graduates in STEM majors is falling short of the requirement. The stats are universally worse for girls, with the absolute number of Female graduates in STEM being lower than the males. Even for girls in STEM majors, there is a skewed enrollment in Biological Sciences while the Physical and Mathematical science, Programming and Computer science and Engineering fields having almost zilch.
The reasons for lower rates of female participation range from, not wanting to be stereotyped as geek, lack of "cool" female role models in STEM jobs, scary, tough and uninteresting ("dry") STEM curriculum since lower grades to the extent of lack of relevance and application of Science and Maths curricula, and, uninviting treatment of females in traditionally patriarch courses such as computer science. However, at young age, girls and boys have similar levels of scientific aptitude and learning curiosities. It is all about how well their parents and teachers nurture and induct scientific spirit in these young kids, right from the beginning.
Kids' games are now increasingly geared towards smart mixing learning with entertainment. Toys and games offer the most convenient and entertaining method of getting children to learn concepts beyond the textbook, even without them realizing. Playtime is an essential time to engage your child's physical and mental faculties, teaching concepts of physics, chemistry, biology, applications of mathematics and the art of programming from a tender age. It is an essential hour to develop skills of problem solving, innovation, experimentation, scientific inquiry, reasoning as well as design aesthetics, patience and creativity in the kids. Interestingly, even commercial players have started acknowledging the need for STEM toys for young girls, breaking away from the conventional marketing of these techie toys for boys only. The market is flooded with interesting smart games and toys to inspire scientific enthusiasm in young girls. And these construction and techie toys can give the old Barbie and tea party sets a run for their money!  
So if you have a daughter/granddaughter/niece for whom you are looking to buy a Christmas gift, look beyond the Barbie aisle and forget the pinks and sparkles. Here is our STEM themed Holiday Season Gift Guide for young girls at your home which will be an absolute joy and delight for them!
GoldieBlox and the Movie Machine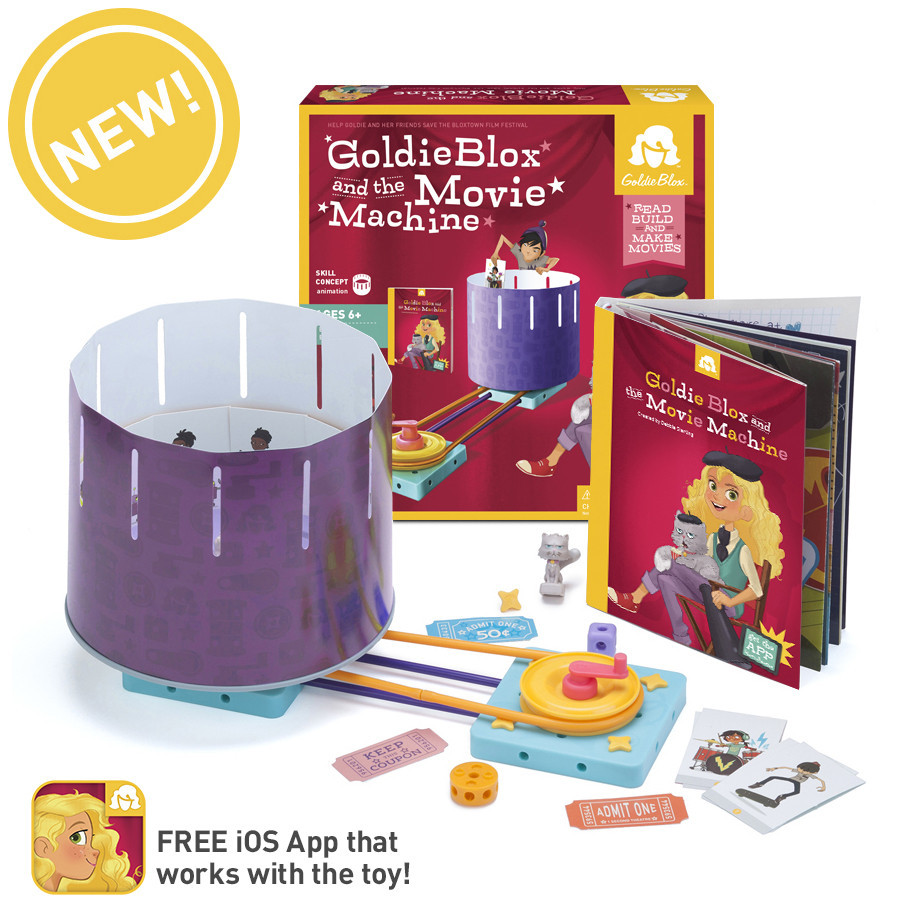 GoldieBlox is a STEM toy meant to develop the interest of girls in engineering field. The latest in GoldieBlox series this year includes GoldieBlox and the Movie Machine along with one Builder's survival kit series and GoldieBlox Zipline action figure. GoldieBlox and the Movie Machine toy is aimed towards teaching kids the art (and technology) of making their own movies. Girls can create their Zoetrope (a pre-film animation device) and team up to invent a solution and save the Bloxtown Film Festival disaster. The set originally contains 4 movie packs which can help to create endless animations, teaching them the engineering behind drawing and animation. It also hones their spatial skills and develops problem solving abilities. The set also includes one Smartphone app to create digital illustrations and appeal the junior geeks! The app helps to create digital movies and even features you in them with a click of camera (Perfect for budding actresses and selfie enthusiasts!).
GoldieBlox and the Movie Machine kits are available at several local toy stores for a price of $29.99 while the app is free to download. With various other game sets such as the Builder survival set and Zipline action figure, GoldieBlox is not just an ordinary doll. It is hands down the best gift for budding engineers, graphics designers and cinematographers and architects in your families.
Roominate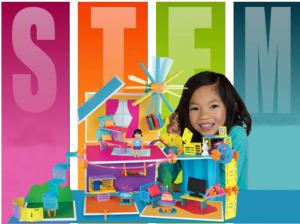 Roominate is not an ordinary doll house. Doll house with just tea parties are a passé as girls are building their own doll houses from scratch and even doing its wiring themselves. Roominate comes with building pieces for a dollhouse, craft pieces along with circuit accessories such as motor, connector, switches, buzzer, battery, light strings to engineer maybe a light, elevator, windmill, bulbs, merry-go round or fan. While it enhances the creative genius and designing abilities of a child, Roominate also develops their problem solving abilities as well as spatial and motor skills. It also imparts a basic knowledge of circuits.
Roominate inspires the architect and designer in kids as they can construct endless building designs and structures of houses ranging from estates and chateau to studios and parks. Additionally, children are also encouraged to construct, engineer, electrify and their houses. And while they are primarily directed towards girls, Roominate houses appeal to boys as well. The basic set starts at $29.99 and is available on their website as well as major toy stores.
Magna-Tiles
Magna-Tiles are magnetic interlocking geometric tiles that encourage spatial skills and teach geometry skills of shapes and angles at the same time. Magna-Tiles can be made into anything and everything ranging from simple cubes and pyramids to creative stuff like an elephant, window mosaic, city, castle, cars or even Empire State Building, in both 2D and 3D.
Children develop creativity and imagination while understanding scientific skills behind magnetism, sorting, stacking and mathematical skills in 2D and 3D patterns, shapes, symmetry and angles.
The magnetic parts attract on all sides making your kid's creations Crash-free! Magna-Tiles can also be used in combination with other toys
The Magna-Tiles starter kit is available for $49.99.
Clifford the Big Red Dog Kitchen Science Kit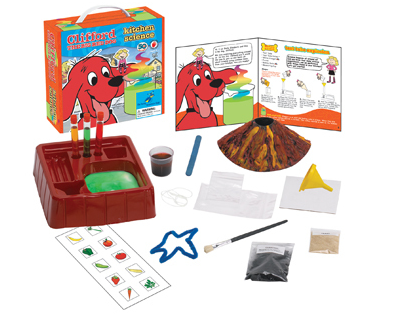 Clifford's science kit is meant for children in the prekindergarten and kindergarten years. It is a perfect kit to teach science behind various natural and phenomenon as well as to perform adventurous science experiments with things found at home.
It is oriented towards teaching basic principles of chemistry, biology and physics to budding young scientists through in house experiments. It comes with a colorful manual that guides kids to create bizarre experiments such as creating a volcano explosion, making slime, crystal art pieces for creating a garden, growing fungus, creating glue from milk, and more.
The kit comes with colorful trays for lab experiments, measuring cups, plastic test tubes, and slime tanks along with a step-by-step experiment manual explaining all fun experiments book that will walk you through all these together activities.
LEGO Research Institute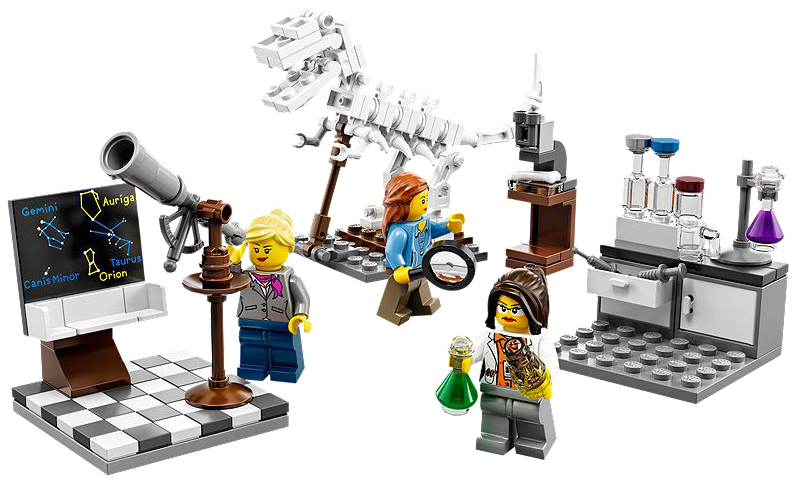 Lego initiated a model building set aimed primarily at girls called the Research Institute. It features women working in natural science professions rather than at beaches, shopping malls or at home baking and partying. The building set features mini female figures modeled in the professions as paleontologist, astronomer and chemist. The set also contains realistic lab scenes on a 6×6 base plate such as a telescope and sky cart featuring in astronomy, lab, a dinosaur skeleton, magnifying glass and a microscope placed in Paleontology lab scene and a cabinet, flask and chemistry lab tools for the Chemist girl. As an additional novelty feature, the building set comes with a combined instruction manual and career guide. The career guide features information on these three professions to inspire the players as well.
Lego ran out of the initial stocks within months of its release but Lego research Institute is available on Amazon for a slightly escalated price.
This Christmas gift your children some games/ toys that will enhance their knowledge and creativity as well as develop a love for science, mathematics, engineering and technology in the most playful manner.