Business Development Assignment Help
Business Development is defined as the process of strengthening ties with existing clients as well as cultivating customers in other sectors of the consumer market.
In other words, Business Development is a combination of strategic analysis, marketing and sales.
Business development professionals can be involved in everything from the development of their employer's products and services, to the creation of marketing strategies, to the generation of sales leads, to negotiate and closing deals.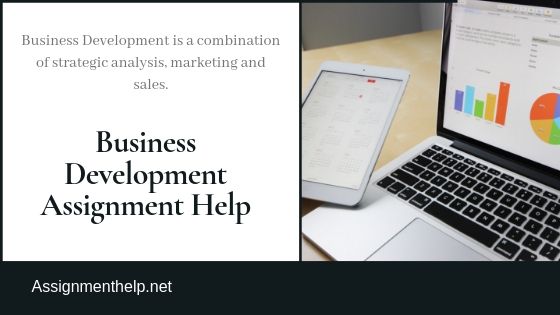 In order to accomplish this goal, business development normally crosses the traditional barriers between sales, marketing, customer care, operations and management in order to promote this process of expansion on more than one level. In the field of commerce, the specialist area of Business Development comprises a number of techniques and responsibilities, which aim at gaining new customers and at penetrating existing markets. One of the foundational aspects of business development, is to assess the current assets of the company as they relate to the maintenance and expansion of the business.
The job of the business development professional is typically to identify new business opportunities like new markets, new partnerships with other businesses, new ways to reach existing markets, or new product or service offerings to meet the needs of existing markets and then to go out and exploit those opportunities to bring in more revenue.
What is SWOT Analysis?
SWOT Analysis
is one of the basic tools used in
strategic planning
. This analysis tool is especially useful during the early stages of a project as you develop your project strategy and as part of risk management.
SWOT stands for…
Strengths
Weaknesses
Opportunities
Threats
=>
This analysis tool takes into account both internal conditions and external conditions.
=>
The strengths and weaknesses sections refer to internal conditions such as core competencies, staff turnover, and product quality.
=>
The opportunities and threats sections refer to external conditions such as
competition
,
technology
, and
trends
.
Whether they are simple problems, complex case studies, report writing or dissertation involving multiple disciplines and concepts, all of them can give the students a tough time. In such a case some expert help in business development is essential as the strengthening of concepts can help the students perform better.
Such a tutoring website is www.assignmenthelp.net where we provide expert online tutors who can turn the students who were threatened of business management concepts into some of the most successful businessmen in the future. Our business development tutors have years of experience in online tutoring and Masters or Ph.D. degrees in their subject, which makes their teaching more effective. Our assignment help has helped many students pursuing education through regular and online universities, institutes or online MBA Programs.
At assignment help the students can get help with homework and assignments just by submitting their requirement on the website and mentioning the deadline. We aim at providing high-quality work and that too according to the student's needs. Our business development online tutors are available for 24X7 assistance to our students.
You can get more information about BUSINESS DEVELOPMENT ASSIGNMENT HELP.