Top 5 e-Learning & EdTech Trends for 2015
e-Learning expanded and diversified its domain considerably in 2014. With the cornerstones of information, technology and data, there are so many e-learning avenues that can consolidate and expand their base and outreach in 2015. At the same time newer domain possibilities in education technology are also trending, reaching far beyond the MOOCs and doing online homework. The definition of Smart-learning is likely to come up in e-Learning 2015 in a way which involves simulated learning fields and personalized learning environments.
We are looking at the top 5 big trends in Online Education and e-learning can change the face of education and learning in 2015 and beyond. Below are some key ideas for online educators as well as for teach-preneurs in E-learning and educational technology.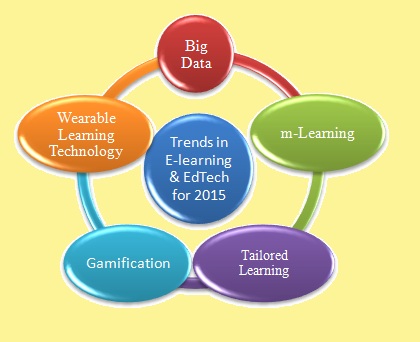 Big Data
Big data appeared almost everywhere in 2014 and is possibly the future to everything in the coming years. If you do not know what big data is till now, then you are not connected to the right social group perhaps! Every field is filled and overflowing with data that can become extremely valuable with the right identification, analysis, evaluation and application. Starting from forecasting the trends in online education right down to developing systems for analyzing students' performance in school and performing diagnostic evaluation, data scientists will be in demand at each step in learning and education in 2015.
Schools will need data integration and management systems to continuously collect and organize their academic and administrative data as well as build learning management systems, foundations will need data analysts to find out blooming educational fields which will provide returns (both monetary and social) on their investments and grants, teachers and educators will need big data for content search and automated content creation as well as grading standardized tests and evaluating learning outcomes. Every person involved in the field of knowledge, education and learning; whether offline or online, will require a data team. The swarm of information available with the educators can help to design better learning outcomes for students and help them succeed and utilize their abilities.
However, the real challenge would be to deliver a real-time learning analysis to cater student's requirement. Oft used pass percentages, graduation rates and admission or attendance ratios do not offer personalized real time solutions. Thus while these ratios can point out to the overall Macro-trends and problems and devise blanket year-wise remedies, they fail to offer individualized solutions to aid learning and success outcomes in students.
Big data offers help in processing user-generated data to offer better understanding at personalized levels, such as test/module completion rates to predict every student's skills and ability, what courses and materials each student is choosing to predict their choice and likeability resulting in a more engaging atmosphere, Cohort wise differences in choice of learning techniques and materials etc as well as the actual effectiveness of the course and study material by tracking related career goals and performances. Big data can also hint at the course and content popularity while providing indications on the ease of learning and understanding of the study material and struggle areas for learners.
Thus big data will emerge as the biggest tool for online educators to shape the future of online education and e-learning in the coming years. While it will provide macro-trends and industry wide indicators at one side, it will take the solutions to a more personalized and tailored level on the other.
Mobile Learning
Mobile learning has long arrived; but its actual potential has still not been unfurled. Variety of casual education apps and beginners learning/knowledge tools exist which include calculators, fact based games and quizzes language translators, dictionary, educational news magazines but the practical applications in the arena of online education and E-learning has been limited. Phablets offer unparalleled mobility, accessibility and space-saving solutions. These devices can be integrated into Blended learning fields and cater to online education.
2015 will see a greater proliferation of E-books, online workbooks, serious education apps, how to and demonstrative guides, video lectures, and homework help tutorials; fitting the entire classroom experience into a single tablet in a more eco-friendly and cost-effective manner. Plus Tablets are much more lightweight as compared to the heavy backpacks, sparing students of bad posture, backache, scoliosis and cervical problems.
There are definitely certain issues pertaining to training, technological support and logistical issues which need to be addressed. But this newer advanced medium of E-learning will catch up in no time. M-learning solutions will also offer better augmented learning experience. Also the content will feature in shorter and smaller chunks in multimedia and AV formats such as video tutorials, Audio guides, making it much more retentive and engaging.
Tailored Learning
You can't judge a fish for not being able to climb a tree. Educators are increasingly stressing on personalized learning solutions for successful knowledge outcomes. Various online tutoring and educational websites have come up in recent years which provide live personal tutoring to students of all grades. However, these websites need to look towards delivering tailored learning service in 2015.
The biggest advantage that these online tutors have over the go-to/at-home personal tutors are that of Pace, Space, and convenience. Students have the option to sign up an online tutor of their own choice after sampling various professional online tutors. Online tutoring lessons can be scheduled as per the time and convenience of the student, while saving travel time and money. Plus the only pre-requisite for a student is a PC/laptop/tablet and an internet connection.
The personal mentor ship and motivation that such online tutoring websites offer in learning experience is unparalleled too. Students can adjust their own learning pace without the pressure to keep up with the tuition group or classmates. It is a boon especially for homeschoolers, students with special needs, and students with erratic and odd study schedules such as student athletes.
Flipped Classrooms will also gain fanbase in 2015 as teachers around the world are supporting the importance of helping students with real life based and application oriented understanding of concepts instead of delivering the ordinary dry content provided in textbooks. Online tutoring websites can take over the role of delivering course content and study material to the students at the convenience of their home. In fact these websites can develop the course content to present in an interactive and creative media formats by delivering multimedia and audio-visual based solutions and E-books that students can download and utilize.
The next big thing to watch out for must be adaptive learning which will allow the online tutors to differentiate among learners and plan curriculum, lessons, modules and testing procedure as well as the delivery pace and style to match the learning ability, career requirement as well as proficiency of the students. Adaptive learning will help the tutor to recognize the strength and weakness in terms of subjects, concepts, skills, presentation, technique and pace of the learner and adjust their teaching method, course content and evaluation tools and criteria accordingly.
Personalized E-tutoring can also play an important role in bridging the gap between the abstract and applicative portions by offering fast-learning-application-oriented learning modules for each topic and subject.
Gamification
This is something being widely experimented upon for a long time. Experimental and project based learning approaches have always captured student's attention in classroom; learning will take a creative turn in 2015 as educators are turning to game designs for learning. Gamification is the application of game elements and digital game design techniques to non-game problems, such as business, education, and social impact challenges. Games have an addictive attention and effort harvesting potential. However the power lies essentially in their ability to create an engaging experience based on rewards and recognition. This experience can be easily simulated into online learning platforms. The learning environment needs to pick up game design elements based on progression, achievement and cascading information oriented incentives to provide learners an engaging experience. The online learning material will have to be delivered in smaller attention-grabbing knowledge packs, allowing students to progressively navigate through the course structure. This will deliver better retention of the content as well as fire the curiosity to amp up learning "levels" without giving away too much at once.
Online learning solutions need to connect with social media platforms such as Facebook and LinkedIn to display achievements. These can be done in the form of leader boards and badges upon course/module completion. Also the social connect will facilitate better online connect and collaboration among learners to accomplish their learning goals.
The final pillar of gamification in e-learning rests on cascading information in the form of Bonus information and hidden problem solving hints, maintaining their leader board positions, status progression from beginner to field experts and mentors while leveling up the course material to maintain learner's engagement as well as synthesized multi-skill testing challenges for testing and reviewing learning and application outcomes.
Gamification will allow students to solve complex problems in simple, engaging and fun manner while building social attributes such as collaborative teamwork in an online environment as well as providing them necessary personal incentives by status and achievements.
However, the trick of the show will rest in implementation, engagement as well as automated simulation.
Wearing your learning
2014 saw a rush of wearable technology with Google glasses, Oculus Rift, smart watches such as Moto 360, Apple watch, Gear S and various others. These wearable smart devices present a blended advantage of mobility and augmented/virtual reality which can have far-reaching applications in e-learning. Most smart watches are capable of aiding in direct command performances and staying connected to information with quick sharing features and ready access to learning material on the go, as well utilizing the inbuilt sensor technology in experimental situations. Smart watches will offer a locational continuity to e-learning.
Smart glasses such as Google glass and Oculus Rift also offer the advantage of offering real and virtual simulations which can complement standard study materials. Google glasses can offer augmented supplemental information as well as learning aids in the formats of visuals, graphics, videos, extra information bits, additional references embedded within standard textbooks and E-books to substantiate on the current study topic of students. This will create an engaging learning atmosphere. There are also possibilities for better graphics and image visualization especially in the sciences such as 3D visualizations of Geometrical elements, architectural planning and engineering designs, medical science images, spatial molecular structures, electromagnetic fields and densities. Educational modeling techniques have long been used with the notion of allowing students to visualize what is otherwise difficult for them to "imagine". Instructors can also aid with remote learning opportunities through live streaming or recording their instructions/lectures.
Virtual Reality modeling devices such as Oculus Rift will also be making debut for consumers in 2015. The most interesting e-learning application of Virtual reality would simulate the methods of Role play training and provide learning opportunities in otherwise impossible /costlier and/or hazardous environment. Virtual stage will enable students to literally "act" out any concept. The applications will range from taking 3D historic tours, to conducting dangerous science and engineering experiments involving obnoxious fumes, flames and electrical dangers, or simply simulating actual work-environment fields, ranging from Human Body for doctors to electrical repair and welding training for mechanics, or even Mars Space station for space-engineers to provide hands-on training minus the involved risks and fear of costly failures.
However, the domain of wearable technology is still in a budding stage. While prospects are far-reaching concrete developments will take time. The problems involved range from uncomfortable and dorky looks of contraptions, intrusion of privacy, safety and health concerns to problems with size optimization of study material and learning graphics and content for micro screens of smart watches.
There are various other newer domains that are picking up everyday in the continuously evolving domain of e-learning and Education Technology. What are you placing your bets on ? Please share with us in comments.
WISHING EVERYONE A PROSPEROUS NEW YEAR 2015 !