The Best Insider Tricks to Learn 10 New English Words Everyday
Language is the most important medium through which one can look into the lives of others. English is the most acknowledged international language in the world. Apart from being the language to work in international level, this is also the language in which mostly all the examinations for higher studies are being conducted. Any kind of interview mostly takes place in this language only. Like any kind of language, this one is also very much alive and ever-changing, keeping on introducing new words into it. In order to be up to date with the changes, you need to learn at least 10 new words every day. There is no short cut for this process but the paths are interesting and enjoyable.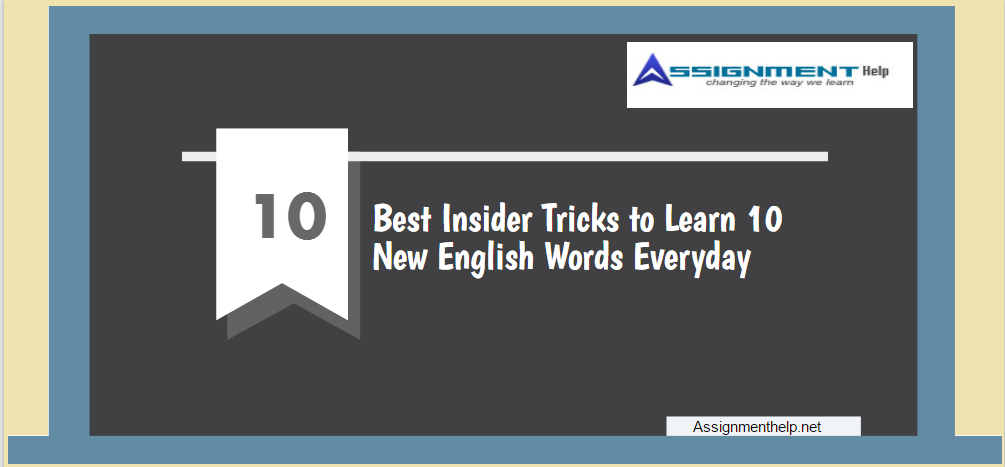 Here is a list which will help you to learn 10 new English words every day in an easy way.
Know How To Use The Word
In order to learn a new word you have to know how to use it. When you come across a new word in a sentence try to decode it's meaning by guessing the meaning of the rest of the sentence.
Reading
The most effective way to learn new words is reading. It is no doubt a very good habit which expands your knowledge. There are several things you can read through which you will be able to learn new words. These things are the following:
First of all, read good English newspapers. Make it a daily habit. Read reputed English newspapers. The language is very good in these newspapers. Read and whenever you find a new word, copy it and learn the meaning from dictionary. Initially it might seem to be tedious but when you'll get used to this, you can actually learn lots of new words.
Apart from your text books, read lots of English story books. This helps a lot. This is also a very amusing way to learn something since you get to read story books.
Besides the story books, you can also read several magazines in English language. If you read magazines on specific subject you get to know words related to that subject, for example if you read 'Photography' your vocabulary will be filled with words related to photography and its several tools.
Apart from all these things, you can read great speeches and interview of people that are written in English language.
Use the Word In A Sentence
When you learn a new word, don't forget to use the word in a sentence of your own. You will be able to memorize the word if you keep on using these words in sentences. In this way, you'll be able to know all the tense forms of the word.
Learn the Other Forms
After you come across a new English word, you can learn the other forms of the same word. For example, if you come across the word 'Intention', you can learn the adverb form of it, i.e. 'intentionally'. Once you learn all the forms of a word, you will be able to use it more freely and in many cases.
Associate The Word With Other Things
This is important for you to learn associating new word with other things. On one hand this will enable you to memorize the word clearly and on the other hand, this will enable you to increase your vocabulary since you'll be able to learn a few others words associated with the new one. For example if you learn the word 'Psychology', you can know the other words related to this one, like 'Psychological', 'Psychiatrist', 'Psychoanalysis' and so on.
Carry A Notebook With You
Always carry a small notepad or copy along with you. Apart from this, carry a pencil or a pen too. Whenever you lean a new word, you must copy the word in your notebook. Along with these, you can also the add the selected forms in your copy for further references
Make Flash Cards
Get the help of the habit of using flash cards. Make couple of flash cards, 10 at least. Write the newly learned words on one side of each of the flash cards and the meanings of those words on the other side of the card. Each and every day try to make at least 10 such cards and when you will make plenty, try to study and memorize those.
Seek help From The Internet
Internet is also a great source to learn new words. There are several ways to learn through internet. These are:
Type the new word in any search engine like Google and the result will be before you within seconds.
Apart from meaning, internet can enable you to know even the origin and source of the word.
There are several websites to teach you new words. The websites are www.vocabulary.com, www.english-daily.com, www.toearnenglish.com  and so on.
You can learn the true pronunciation of words through 'youtube' and so on.
New people
To know new things it is always great to make new friends, preferably friends from foreign country, speaking different languages. In this way you will be able to know the language of your friends while the person will also get the fun of your native language and so on.
Serials
Serials or Sitcoms along with movies of different language are also entertaining way to learn new words.
These are the several ways to learn new English words every day. If you have any other tricks or tips up your sleeve to improve your vocabulary as well as learn new words everyday then share with us in comments.