22 Free yet Overlooked Online Teaching Tools for Teachers
With the changing times, it is required to change our way of thinking, understanding and acquiring knowledge, so as to be on the same pace as the rest of the world. From the times when teaching used to happen just inside a class with a blackboard and students around, times changed and shifted to teaching with projector, and finally to a time when you can learn it all right from your home with help of online learning. The teachers, the ones who play a key role in shaping the future of a child should keep themselves updated about the new things coming around in the world of education and technology.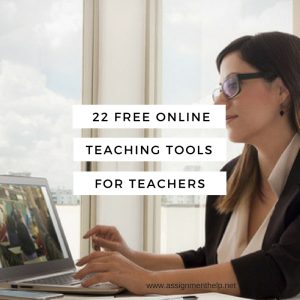 To deal with various requirements of teachers, there are numerous tools, resources, techniques, apps and software available today that not only make their work easier, but faster too. To guide the students in a right direction, teachers find such resources and tools easy to use and convenient too.
The requirement for tools and resources for teachers is largely felt by everyone, since there are many changes on the education systems nowadays. The syllabus spreads itself more and more in every few years or so, expecting the children to know about the entire world. Applications of the theories and fundamentals are new and challenging too, adapting to the requirement of the current times with cutting edge technology everywhere. The teacher student ratio in a class is also comparatively more as compared to the previous decades, where one teacher takes care of many students. To cope with such situations, teachers too need a helping hand. And that is where the resources, tools and apps come to rescue, making the work easier and faster for the teachers too.
Here are some of the free yet overlooked tools that the teachers must use for their classes. They have been designed to suit various requirements such as classroom connectors, information providers, language, presentations, productivity etc.
1. Clever
Clever helps in the process of logging into various educational apps by letting students' log into their tools with the same set of credentials, instead of a separate one for each tool. This surely saves a lot of the times of the class, where the teachers can log on easily and quickly for a class with even 50 students. It can be used for all standards. The school should register with clever in order to giving access to the students. The Wall Street Journal reported that Clever has raised $30 million, which have been planned for being used towards doubling its team and serving all the schools in The United States.
Check it out here!
2. Kahoot!
This is a game-based learning tool useful to make in-class questionnaires and quizzes. The teacher can design according to the syllabus or other requirements to test how much do the students know. It provides learning and evaluating knowledge through a fun learning environment, where the students would enjoy being a part of the quiz, rather than hiding somewhere to ignore the questions. It is recommended for use by teachers as it is an easy to use tool which is compatible with a variety of devices. Also, it works on the basis of learning with fun, so as to hold interest of the students. The teachers can design the questions as per their wish the test the students in the right manner.
Check it out here!
3. Schoology
This is a learning management system which helps in creating curriculum, calendars and syllabus planning for the class. Thus, the teachers no more have to worry about sitting all day long and fidgeting with the pages of the calendar! It is all handled by this tool, which also keeps a record of the interactions between the students, assessment marks and various other things too. Thus, teachers should use this tool to manage the records of the class. Schoology has also won various awards, including the 'Best Overall Education Solution'. And it really is!
It can be used by all grades, colleges and even corporations, since the major task of this tool is to manage information about the people involved together. The basic package for instructors is free.
Check it out here!
4. Skype
And here comes the tool which everyone has already been using to see their friends in any part of the world. Everyone is familiar with it. But now, Skype too can help you learn a lot of things. With the help of video calling, students are able to connect to educators and speakers from various parts of the world right from their own place.
The 'International classroom' concept is the new and the major concept in the field of education, on which everyone has their eyes on. And Skype plays a key role in there, helping students and instructors to discuss lessons even from a distance. Teachers can use Skype to exchange classroom sessions with students of various schools from any part of the globe and enrich the classroom experience for students with such Skype exchange program.
Check it out here!
5. Better Explained
This tool is designed to help students in mathematical concepts. With the help of videos, diagrams, theoretical and colloquial explanations, the site has come forward to explain the logic behind mathematical equations, concepts and theorems. It can be used by teachers for students of all the ages. Teachers find this tool useful to help the students understand the concepts better with videos and diagrams that engage them better into the concept. The efforts made by Better Explained are helping a lot of students to understand maths and become friendly to it. Anyone who loves Math will find his interest in this tool.
Check it out here!
6. Desmos
Desmos is an incredibly fast online tool that is able to graph any imaginable function. Also, users can add sliders, plot whole data tables along with various other functions. It can be accessed from both laptop and tablet. It is good to use as it does not charge, creates great visual representations and animations and allows users to save and share graphs which they have made. Teachers can use this during mathematics class, or anywhere where graphs are required. With Desmos, mathematics can be turned into a fun, interactive and interesting thing. Those who are unable to afford graphing calculators, it can be a good option. Also, Desmos supports the online textbooks which leads many students to spend their time creating graphs, working on various concepts, making them fall in love with the subject of numbers.
Check it out here!
7. Google Knowledge Graph
This tool will come to your help when you are searching something. It consists of those short answers when you put a question in Google search. It saves your times from digging the answers in several websites, as it gives you the answer faster and also provides you with online resources to refer for related topics. Anyone who wants to search for a topic can use it. It is recommended for teachers as it helps you to find answers and various topics faster during a class session. Also, with the Google voice search and Carousel, it has become more user friendly for you!
Check it out here!
8. Insta Grok
It is a search engine that provides you with concept map containing a collection of videos, images, articles  and terms which are related to a query. It is quite useful while the students are conducting a research and want to know various options and ideas in a short span of time. It is a good tool for teachers to use along with the class as it explains the links between subjects and goes into the depth of the topics used in research. Thus, the teachers can use it to encourage the students to find more and learn more. While there is an advanced paid plan, teachers and students can also use it individually for free.
Check it out here!
9. Videos Tutorials by Patrick JMT
And since everyone knows how much the students battle with mathematics, this one is another one to help you out with the subject of numbers. Providing the students with several free online video tutorials  related to various topics in mathematics, it makes the subject easier for students. They are helpful for teachers to explain concepts in a better way. Also, it has a store through Mind Bites which provides videos for users to purchase and download. Patrick JMT has collaborated with ThinkWell, an education technology company to develop better education tools for teachers and students.
Check out Math tutorials by PatrickJMT here
10. Wolfram Alpha
This one is really helpful. You can rely on it for the toughest of your calculations and the deepest facts about your topics which you need to know. Wolfram Alpha has one part as calculator and the other as encyclopedia. It demonstrates step by step solution to complex problems. Teachers can use this tool to solve complex numerical problems in the class, and explain better with its help. It is useful for students from all ages. The reason why it is such a hit in the education field is due to its step by step solutions, with which the students understand the problem better.
Check out Wolfram's amazing lineup of tools here
11. Duolingo
It is an app designed to guide you in nine of the most commonly taught languages in the Unites States, including French, Spanish and German. The ones who are new to the languages find a good assistance in here. Is helps you much better as it provides the basics of the language, right from the alphabets to grammar rules. It is a useful tool in language classes, with the help of which teachers can explain the concepts and rules to students from different languages. Duolingo is planning to add on more languages to teach, such as Swedish. It will get more and more better with coming time, where users can find ways to overcome language barriers.
Start learning a new language for free now!
12. Pleco
It is a tool designed exclusively for the Chinese language. The language, which is spreading rapidly over the world, can be understood with its help. It provides the users with vocabulary, texts, handwriting etc and various other things to help you understand the language better. People who look forward to learn Chinese can look forward to it. The reason why a tool has been especially designed for Chinese is due to the complexity of the language, from the number of brush stokes to the pronunciation. And now you have Pleco to help you out with it!
13. Plotly
It is a user friendly tool which will help you with data visualization and graphs. Here, graphs can be created and shared in a web based format, which will help you in working with them in an easier faster way. It is a sophisticates system to support the visualization needs of scientists, but also user friendly enough to assist at a student level. Teaching graphs or topics including trends, statistics, numbers and graphs can be easier with it. It helps the students to understand, visualize and interpret data. And it helps the teachers by collecting the data-based assignments online as well as collaborative projects.
Check it out here!
14. Prezi
Want to make your presentation more fun to watch and an interactive session? Prezi is here for you. You can make great presentations and collaborate on projects. It also updates of your work into the devices. Teachers can use this tool for various purposes, such as making a presentation for the next class or presenting ideas to other teachers. The new and unique ways it provides data presentation are different from the regular slide making methods, which are quite visually appealing.
check it out here!
15. Quizlet
With this tool, teachers can make quizzes, questionnaires, flashcards and games to evaluate the students in an interesting way, and help them learn things better. It can be accessed from all your gadgets, making it really easy to access it anywhere. Teachers can also create study resources and share them with students of the class. It is a popular tool as the quizzes are custom made where you can set the questions as per your requirement.
Find out more about Quizlet!
16. Cold Turkey
While you work on the internet, there can be certain things that may distract you. Message from your old school buddy, new song uploaded on the song website or review about the new game out there! And you really need to focus. What to do then? In such cases, Cold Turkey can help you out by blocking applications, websites or even the entire internet for a fixed amount of time. Wow, that sounds really great! You can take help of this tool and keep your students focused on the subject, rather than surfing on unnecessary websites. Also, it allows you to customize the things as per your need, such as schedule breaks, time limit, planning for events etc.
Get Cold Turkey now!
17. f.lux
It makes the lighting of the computers adapt according to the time of the day. You can change the light as per the day or the night. This helps in keeping the eyesight better and helps you working better and longer without getting much tired. I recommend every teacher to have this when you are grading those online tests late at night or planning lessons indoor.
Check it out now!
18. Focus booster
To boost the productivity of the class and making the students achieve the best they can, this app has been designed to help the students stay focused by providing various tools and techniques. It follows the concept of Pomodoro technique, which says about including short periods of concentration followed by quick breaks. The app also helps in managing your information and data. In the recent release, Focus Booster HQ has helped to transform the app from a virtual timer to a time management machine. It can give you the access to monitor particular projects, keep a track of time specified for the projects and analyzing students' time usage. Thus, this app is a perfect solution to the time management of the class.
While there is a paid subscription format, there is a free version as well. Check it out now!
19. Unstuck
And now you have a private life coach to guide you around too! It will pull you out when you are 'stuck' somewhere. It is a program that will be present in your computer system. When you face a problem somewhere and stuck with it, it will ask you few questions to decide the kind of 'stuck' you are, and then suggests you relevant suggestions to overcome your problem.
Find your inspiration on Unstuck!
20. Light Sail
LightSail is a reading application, which provides a huge library of over 80,000 books, including fiction and non-fiction texts. The LightSail library contains texts with in-built assignments and quizzes. Teachers can use this to encourage the class to read more and learn through reading. LightSail also tracks its users reading habits and performances and based on that creates personalized reading libraries and in-built motivators to keep students on track.
Find out more about LightSail here!
21. Newsela
Newsela has been designed to develop critical reading skills among students. To judge the students in various different reading levels, it provides relevant topics and articles. During the process, teachers can keep a check on students' activity and help them in improving further. Newsela is an amazing website that contains information on all current events and happenings in an unbiased manner and contains several tools for teachers to teach students about elements of media literacy in classroom. It is a perfect tool to develop critical thinking skills in readers and get students into the habit of daily news-reading as well.
Check out Newsela now!
22. Pan Open
It is a platform to access and evaluate high quality Open Educational Resources (OER). It is a platform to host content which is licensed for educational purposes, where it can be text book, study materials, assessment or other things. It allows teachers to adapt a piece of content as per the need, where they can re-arrange big chapters, integrate resources such as videos and links and collaborate with colleagues. Hence, the students can get various sources of information at a single platform.
Check out OERs on Pan Open now!
Thus, using these apps and tools, it will become easier for the teachers to help their students achieve more and learn better, with more and more educational aids coming around us, education is getting better each day, which will make our children stand stronger and wiser in the future.