5 Toys That Teach
An old saying goes, "All Work and No Play, Makes Jack a Dull Boy". Children's play and toys have been a critical research point when it comes to their role in facilitating education and learning. There is evidence on far-reaching benefits of child play and toys in their cognitive abilities, social skills and all-rounded development. Playing with toys enhances children's imaginative abilities, concentration, creativity and their overall thinking capacity. Toys help with motor skill development in children, sharpen their senses and increases coordination abilities. Playing by sharing toys and taking turns also invokes a sense collaborative learning experience in children. There are various toys that can teach kids computational skills such as ordering and sequencing as well.
However, all this said, the interest of kids in playing with educational toys and learning games is dwindling rapidly. Most kids, even toddlers, prefer to play with the smartphones and tablets instead of modest wooden blocks and tiles. A recent research pointed that 1 in 3 toddlers have already used a mobile device such as a smartphone or tablet before they turn 1. The reasons rest squarely on their parents who let used these mobile devices to engage their kids while doing household chores or just to calm their toddlers or put them to sleep. The results were frowned upon by the American Association of Pediatrics but there is no way we can keep the kids off of those devices for long. However, parents can definitely capture this screen time and their kids' interest in mobile devices to translate that into a learning experience for them. This remains valid for kids of ages and in fact for all media devices and fancy gadgets lying in our houses.
The market(both App and otherwise) are flooded with a range of educational devices and learning apps for education. Not only are these helpful for learning but also helpful educational tools to make the experience more engaging. With the capability to connect to the Internet, some of today's gadgets can provide children with more resources than even libraries can offer. Instead of making these learning tools out of reach for students, parents must invest in educational toys and learning games for kids to provide a safe, engaging and enjoyable learning environment for their children to explore and grow.
Below is the list and review of five educational gadgets and learning toys, sent to us by TeacherJVB, that can easily become great teaching tools. Some of them were created to help them learn more about their subjects in school, and others were made to help them understand their social responsibilities.
Ubooly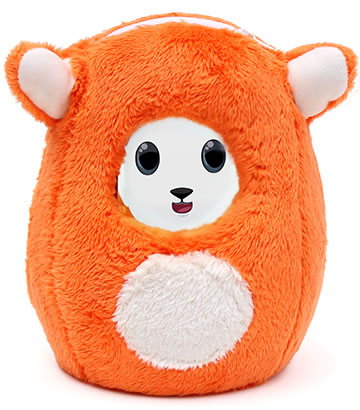 Children love pets, as it keeps them active, happy, and calm and teach them responsibility. But, what if you can make a child learn through their pets? Ubooly turns your iPhone and iPad into a cuddly companion for children with over 52 activities to choose from including categories such as the Alphabet, Math, Grammar, Relaxation, etc. One of its unique features is its hypoallergenic material that guarantees 'no rashes' to children's sensitive skin.
Ubooly is a great companion because it tells jokes, initiates lessons and even bedtime stories. It is also designed to help kids improve their speech, as well as aid them in becoming more sociable with others. Ubooly's services can be improved over time as it can be updated with games, educational data, stories, and other enjoyable material.
VTech MobiGo

The VTech MobiGo is a great alternative for laptops and smartphones as it comes with a Touch Learning System and QWERTY keyboard that can be used to learn typing as well as playing educational games. The MobiGo is like an entire school system of its own because it can help little learners with their assignments in Math, English, Science, and many others while on the go. Compared to other learning tools on the market, this e-learning handheld device is Top Ten Review's number 1 product for education with a rating of 9.3/10 for ease of use, next to iXL, Leapster Explorer, Leapster 2, and V.Reader.
Celestron Skyscout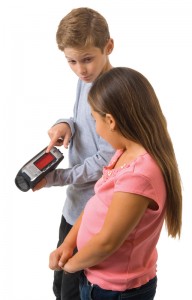 If your little one likes Science, he or she is going to love the Celestron Skyscout which is designed to teach students of all ages about lessons that are "out of this world." Not every parent knows about stars, planets, and the galaxies beyond our own planet but this gadget definitely has extensive knowledge on the subject. Celestron Skyscout can identify thousands of stars, planets, and other heavenly bodies in the galaxy. It's also integrated with hundreds of trivia and information about space and otherworldly entities.
Nabi 2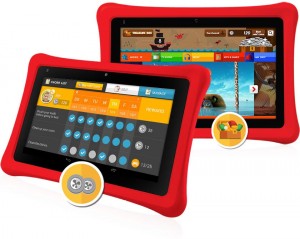 The Nabi 2 comes with pre-loaded educational apps, e-books, and the "Wings Learning System" — an advanced adaptive learning program that can be customized to match a child's learning habit and pace. Nabi 2 is a perfect tablet to teach kids Math, reading and writing skills in a fun and engaging way. This android-based device features a notable performance from its NVIDIA Tegra 3 Mobile Processor with a Quad Core CPU that deliver high-quality graphics with no lag. It also has an expandable 32 GB of storage for extra learning and education apps that can be downloaded via its own app store.
While most toys have the warning, "Choking Hazard, DO NOT EAT," Nabi 2 comes with a food-grade silicon that makes toy chewing safe for little ones. Apart from been designed with non-toxic materials, the silicon surrounding the gadget are robust enough to protect it if accidentally dropped or bumped.
Playskool Alphie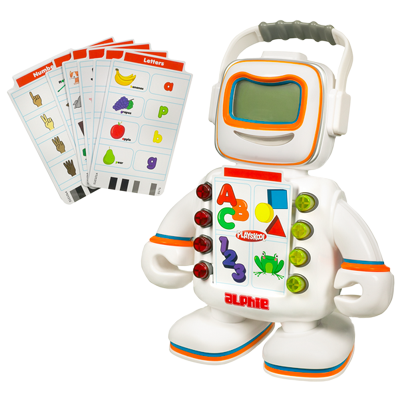 Playskool Alphie is an electronic robot that helps students develop their Math skills, numbers, cognitive learning, reasoning, speech, and language by inserting one of the 30 booster cards in the device. The package also comes with over 350 questions and activities that your child and their friends will enjoy. It also plays music and engages them in learning vocabulary through fun quizzes and activity cards. MandyM, a blogger at Parental Views Online Mag, said "if you've got a little learner in your family, this would be the perfect gift for a reasonable price." This device has a market value of $39.99, but Amazon is selling it for $37.49.
Exposure to screens, technology and mobile devices isn't always bad for young ones, so long as it is done under parental guidance and with age and curriculum appropriate content. Make this learning process a time for bonding with children. With the gadgets listed above, learning can be made safe and fun during their younger years.
What's your child's favorite learning tech tool? Let us know in the comment section below.