Careers in the field of geography
Geography is the science that studies the physical features of the earth and its atmosphere and the distribution of populations and resources and political and economic activities. It also involves the study of the effect of human activity on the earth and the way human activity is affected by the earth's features. It closely studies the interaction between humans and their environments.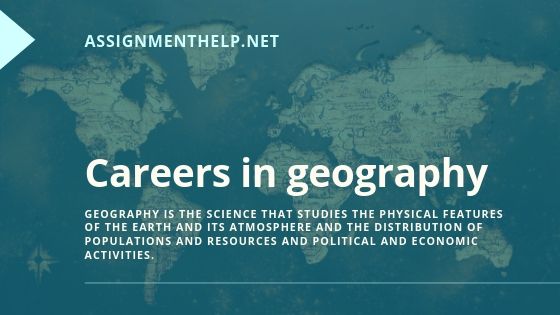 Some major branches of geography are-
Human Geography– studies the interaction of people with the earth.
Economic Geography-studies the distribution of production as well as that of goods and the spatial structure of economic conditions, relative distribution of wealth.
Medical Geography– attempts to study the geographic distribution of disease (including epidemics and pandemics), illness, death, birth rate and health care.
Urban geography, bio-geography, geomorphology, mountain geography are some other prominent fields of geography.
A geographer is a scientist whose area of study is geography. They study about the physical details of the environment, its effects on human and wildlife, weather and climate patterns, economics and culture. There are numerous options and potential careers for people pursuing studies in this field. Geography provides numerous options for those who take interest in subjects like countries, people, economy, climate etc.
With the advent of new technologies like remote sensing and Geographical Information System (GIS), career opportunities in the realm of geography have increased manifold. With the help of remote sensing, any information about the subject can be acquired without making any physical contact with it. A GIS is a computer system capable of capturing, storing, analyzing, and displaying geographically referenced information; that is, data identified according to location. It can be used for scientific investigations, resource management, and development planning.
With a degree in geography one can become an urban or community development planner, climatologist, GIS specialist etc. study of geography also opens up other arenas such as transportation management, emergency management, and demography.
For career guidance in the field of geography, you can take the help of our expert online career counselors at www.assignmenthelp.net. We provide you with 24 x 7 service. Our career counselors have experience of several years. They would you give the best and most reliable assessment for your career.
We also provide online geography assignment and homework help for classes K-12, and college or university students. Our expert online geography tutors will give you the most detailed and appropriate solutions to your doubts. Get all your assignments and projects completed without any delays.