10 Tips to write the best Personal Reflection Essay
Many of us, as part of our academic courses, have to write a reflective assignment, essay, or a paper at some point of time. There can be moments when you wish to create one for yourself or to show it to someone. Irrespective of the reason, it cannot be disregarded that a reflective essay is a different type of a document in comparison to a normal everyday essay. As far as the academic courses are considered, reflective essays are considered and used in a whole range of them. While writing one, the student needs to take a look back at what he learned from the concerned course or experience. Most of the students struggle while writing a personal reflective essay as it is not an assignment that is usually assigned to the students.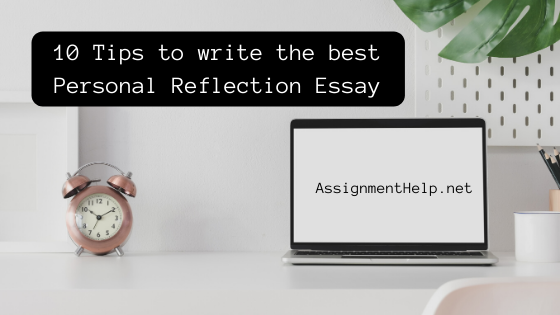 A reflective essay is also one of the assignments that a student is required to complete while taking admission in a college or university. Most of the institutes and colleges require the students to submit in a personal statement or a statement of purpose, which is quite similar to a personal reflective essay. The problem is not in getting the story right. After all, all of us have a story to tell. The challenge is to get that story out of your head and onto the page in such a way that the audience believes it.
Most of the students have a hard time writing a personal reflective essay. Here are a few tips to help you write one:
1. Understand what a personal essay is
Since a personal essay is a slightly unconventional essay, most of the students do not have a clear idea of how to write it and what it is. Therefore, it is a good idea if you can get some expert to answer your questions about a personal reflective essay, it would be great. Find out whether or not a personal essay needs to be structured. You should know whether or not you are supposed to address a certain type of subject in this essay. In simple words, if there are any questions in your mind regarding this kind of essay, you should find the answers to them before you begin writing it.
A personal essay is a nonfiction autobiographical work. It is imperative that the essay has a sense of intimacy and follows a conversational manner of writing. It can even be called a personal statement. In a personal essay or a reflective essay, the author is required to find a way to relate his intimate thoughts to the truths universally established. You do not just narrate some events that have happened in your life. Instead, you write about how those experiences have shaped you to become who you are.
2. Make a list of questions
If you are writing the personal reflective essay for admission into a college or university or even if it is for an assignment, there are chances that you have got some prompt for it. When you have got the prompt and read it, the first step to proceed further is to make a list of questions. These questions should be small that you can answer and that relate to the larger question in the prompt. As the author, you can think of these small questions as the little milestones or points that you need to cover in the essay to answer the larger question. For instance, if the prompt asks you, 'What are the challenges that you have overcome to become who you are today?" Then there are several important questions that you need to answer. You should think about your background including your family, upbringing, financial condition, and your school. You need to figure out what challenges you faced because of that background and what has been your biggest accomplishment despite that background. When you answer all these questions and frame those answers in a coherent manner, you move closer to answering the big prompt which was the aim in the first place.
3. Try to hook the audience
Just like any other kind of writing, it is important that you draw in or hook the reader right from the very beginning of a personal reflective essay. Although a personal essay is quite different from the conventional essays that a student writes, it is still a type of writing. Therefore, if the reader does not find it interesting, the entire purpose of the essay is lost. Also, there are some other purposes that the first line of the essay or the first paragraph needs to fulfil. It is quite important the very first line or the beginning of your essay establishes the topic of your essay. At least, it should be able to set the tone and scene of your essay for the readers.
As the author, you should remember that the introduction or the beginning of an essay is very important. In the simplest of words, it is the first thing that a reader reads and the impression that the first lines make end up deciding whether or not the reader is going to go through the entire document. Therefore, try and make the beginning of the essay as good as you can.
4. It's okay to be vulnerable
It is not just okay to be vulnerable; it is important that you let yourself be vulnerable. One of the most important things that an author should keep in mind while writing a reflective essay, is that it is supposed to be personal. If it is not personal, it will sound believable to the readers. Therefore, when you write it, make sure that you are true to yourself. Do not be scared to write down your challenges, your fears, your strengths, and your stories. If the essay is for an admissions committee, keep in mind that these committees love to see if a student is self-aware. You need to convince them that you know yourself enough and that you can improve.
It is important that you let your personal stories flow in the essay. When you tell stories about yourself, the writing becomes truer, and that is important in a personal reflective essay. When you write honestly, you can tell the best stories. Try remembering that when you write the essay.
5. Know your reader
This applies to not just a personal reflective essay, but all forms of writing. The author should always know who he is writing for. The kind of language you would use while writing a research paper would be drastically different from what you would use while writing a reflective essay. This is one of the most basic points of writing and yet, people tend to overlook it. Also, you should know a lot about your audience. For instance, if you are writing to get admission in a college or school, it would be a good idea to research about the institute. Find out how the institute is different from others and then try to use that information in the essay.
Even if you do not wish to conduct some really thorough research, at least have a clear idea of what kind of language the reader would like and is more likely to connect with. Knowing this would help you enhance the quality of your essay.
6. Use specific examples
At every point of the way, remember that this essay is all about you. Therefore, it is not a bad idea to use personal examples. In fact, the more specific you are with your examples, the better it is for the quality of your essay. Make your little answers as specific as possible and avoid generalizations unless there is no other way. If you wish to write that you are good at baseball, avoid going with, "I'm really good at Baseball". Instead of this, you should write about what inspired you to take up the sport and how you progressed and improved with time. The personal examples that you employ in your essay and the clarity with which you do so, end up being the difference between great essays and the average ones.
Therefore, make sure that you include specific personal examples in your essay.
7. Write in the First Person only
This is also something that people tend to overlook. And if you overlook this, it would definitely not help you with the examiner. One of the first things that you need to understand about a personal reflective essay is that the essay is your story. You are telling the examiner or your supervisor your story and therefore, it is imperative that you write it from your perspective. Only you can narrate your story and that should be your strength while writing such an essay. Remember that you need to include an overview of how your experiences have taught you a lot and have shaped your personality.
If you have a prompt that you need to answer in the essay, you should do it in an active tone. 'I' and 'me' are the only pronouns you should use in the essay whenever referring to yourself. If you move on to write in third person, it will have a negative impact on how your essay is evaluated.
8. Don't be shy of showing off
While writing the essay, if you begin to feel like you are bragging, do not worry about it. In fact, one would suggest you to actually write about all the qualities that you think you possess. As already mentioned, the essay is your story and therefore, it deserves to contain everything significant about you. Moreover, you know yourself the best and thus, you can describe your qualities in the best possible manner. The essay is an opportunity for you to shine. Therefore, make sure that you highlight all your significant accomplishments and strengths. However, while doing so, make sure that you are still on point and still answering the prompt that you have been given. As the author, you should make sure that the information you are incorporating in the essay is in line with the larger structure of the document. Every now and then, review the content to ensure that the tone being used is informative.
In other words, bragging or showing off your achievements in your personal reflective essay is absolutely fine. In fact, it is encouraged as long as the information is true.
9. Let your personality flow
When we hear the term 'essay', we imagine a long and highly researched document. However, that is not the case with a personal reflective essay. Just because it is an essay, it does not mean that it has to be boring to read. Since you are writing a personal reflective essay, if it turns out to be boring, then what does it say about your personality? You do not want your personal essay to be boring. Therefore, you should always let your personality flow through the essay. If you like to be funny in real life, you should not mind using employing some humour in your writing. If you are an emotional personal, try to make your essay reflect the same. In other words, when you write the essay, try your best to express who you really are. If you don't do so, the entire purpose of the essay is defeated.
10. Proofread
At the end of the day, the essay that you are writing is an assignment. The primary goal is to write a good essay and that gets a good grade for you. Even if you are writing it for an admissions committee, you cannot afford to make mistakes in the essay. Therefore, the last step should be to proofread the entire document and edit it once before you submit it for final evaluation. Even a minor typing error can be the difference between the grade that you wanted and the one that the professor decides to give you. Moreover, it is no secret that grammatical mistakes are almost repelling to any examiner. Therefore, make sure that you do not leave any in your essay. Most of the students wish to skip the proofreading bit; however, if you wish to write a great essay, we would advise you to do it.
👉 Get the Best Online Proofreading Services
If you follow all the above-mentioned ten steps and tips, you will surely end up writing a good and neat personal reflective essay and get the desired result.