Top 10 Tips for Crafting an Outstanding Scientific Research Paper
Writing a research paper is a humungous task and then, if it happens to be a scientific research paper, the difficulty levels rise to another bar exponentially. The first and foremost thing to understand why scientific research is necessary. Many times, young students have logical ideas that arise from fundamental questions that are thrown at them in school or graduate college and they are caught by this desire of exploring a new angle to what is already taught to them. Since you are reading this article, you could very well be one of those students or a teacher or scholar who is stuck with a certain question in mind. Research papers, at these moments, come to your rescue when you realize that somebody else in the past had the same question as you and tried to answer it in the research paper.
So, the next step for you could be to analyze that paper and then, see what you can add to it. You could also put out a completely different theory for the same idea and try to prove whatever you may find. As easy as it may sound, scientific research papers are one of the most difficult ones to write since they require solid statements, proven facts, and strong logical reasoning.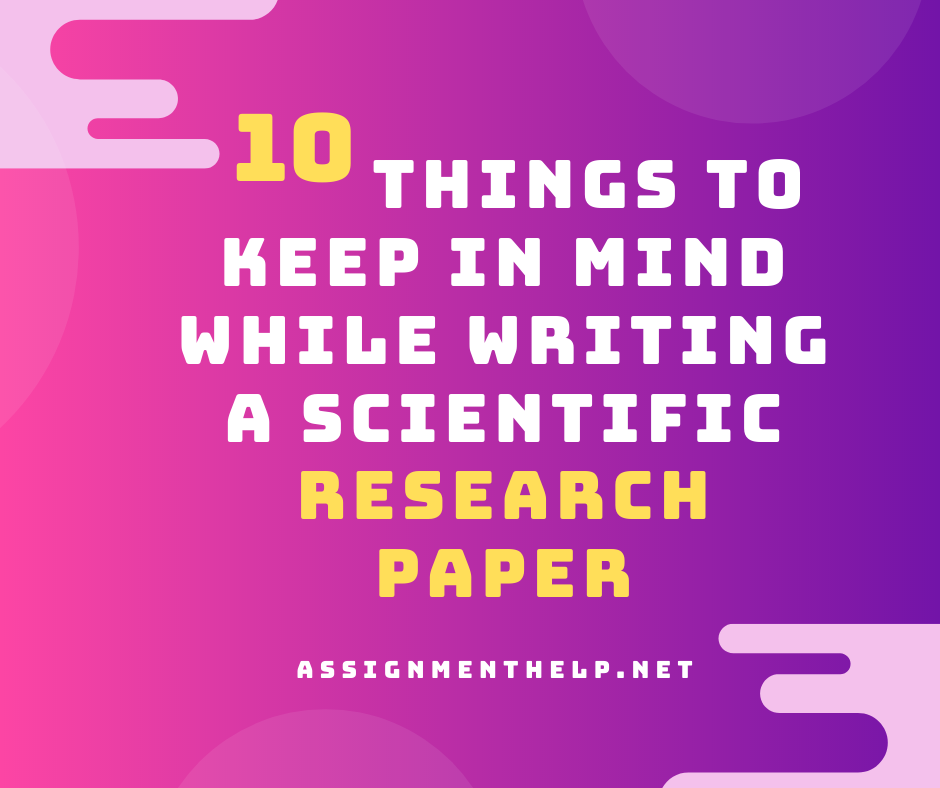 Your research paper may then be published for the world to see and either accept or challenge your ideas. It is a big feat to achieve and certainly not an easy one but here we are with this article having 10 tips and tricks for you to churn out a perfect scientific research paper.
1 – Use facts, figures, and graphics
I feel these are most the important element of writing a scientific research paper as having facts, figures and graphics make your paper more trustworthy, reliable, and professional. Apart from that, figures make it easier for a reader to understand what you mean by a single glance. Graphics, on the other hand, add a certain sense of aesthetic to the typically 'boring' considered science paper. Graphs also help establish a relationship between two or more elements and might be a huge help to you as well by becoming a tool to express mathematical statements related to your research.
Facts, however, are most crucial. Any statement or theory which has already been proved, tried, and tested by another fellow scientist can consider a fact. Most readers might have already read a bunch of popular research papers on your topic of research. Hence, they would already know these facts and when they appear in your paper too, it makes your work look well researched and validated.
2 – Introduce the existing ideas
Many writers do this mistake of jumping straight to the methods used for the research and the conclusions. However, I recommend putting forward a stunning introduction that provides the reader with your reasons for conducting this research in the first place. I know this seems weird because you might be thinking about how many people want to read those and that they might feel bored. But trust me, it is bound to do the opposite. Once you explain your reason of what inspired you to pick up this topic and why you thought that something should be added to it, the reader should also strongly feel that this paper was a necessary addition and then, when they read it, they are bound to understand the concept more clearly.
3 – Give a detailed methodology
When it comes to scientific research papers, readers want to know every little detail because they may be looking to add something to it or in fact, cross-check your results. Hence, you are supposed to provide the reader with a detailed methodology and by that, I mean even the measurements of any products you used or the mathematical values which you used (not the approximation) or the exact technique you used or studied to bring out the discussed results.
4- Be specific when you write observations
The observation section is most crucial to a scientific research paper since that is where most of the magic happens. Mention very specifically what you recorded as the consequences of your experiment or research. Keep in mind that it is not important to write a lot of observations but it is necessary to write all those observations which you notice to be different than what has already been recorded by other scientists.
5- Describe the results in a concise manner
People tend to describe the results in huge paragraphs one after the other. However, that is not advisable since the result section, in my opinion, is supposed to at a glance section which the reader could grasp with a single glance. This is also a section you will be used to structure your abstract. Hence, I suggest writing the result in a very precise manner and if possible, in bullet points. This will help keep the section clean and the reader will not feel overwhelmed.
6- Focus on the discussion
Now, this is the section where you are free to describe each of the results in detail. I suggest you pick each result one by one to avoid any confusion. Also, it is very important to understand the difference between observations and discussions as many writers tend to confuse the two and then put in the same content in both sections. For discussion, you are supposed to elaborate on the observation, explain what you feel, or have devised from it and then explain how you have concluded. This should be part of your research paper where readers will fully understand your meaning and what you want to imply by writing this scientific paper.
7 – Use images
Images are considered as proof when attached along with any research paper. This is because they tend to show how you carried out the process. They help your reader understand your methodology and make the process much clearer. Images also add a level of aesthetic to your research paper and reduce the normal boring paper.
8 – Use proper citations
Citations are used whenever you use any fact, theory or statement from somebody else's research paper or from someone else's work (if it has been published in any form or even if it is a part of a speech). These are done to avoid all kinds of plagiarism. You should never copy someone's work and present it as your own. There are even legal laws against this criminal act. Hence, citations are important. Every publisher has its preference for citation method or format. I recommend you reach out to the publisher or check their website to know more about the same. Keep in mind that citations are an integral part of any research paper and you should never skip them. You can take references from other research papers to learn how to write them properly.
9 – Get your paper Edited
A lot of writers make this mistake of submitting the paper without getting it edited by a professional. Sure, you might be good at English but when it comes to writing a scientific research paper specifically, the words need to be accurate. Apart from that, you would want to make sure if any word in your paper has dual meanings which are their many times.
This is because you would not want your paper to be misunderstood by anyone. Another reason for a good edit is because the publishers might give your paper more value if it is easy to understand and if they feel they don't have to invest in your paper again to get it edited. So, your chances of selection increase exponentially.
10 – Get your paper beta read by someone of appropriate qualifications
So, you have chosen your topic, researched for months or years, finally crafted out the perfect paper of your scientific dreams, and are ready to send the manuscript to a publisher? Well, stop. Because before you do that, it is highly recommended that you first get it re-checked or cross-checked by someone of appropriate qualifications. You can ask your teacher or your colleague to help you by going through your paper once. Make sure they have enough knowledge about the topic you have chosen or that they work in a similar department. Their views are going to be very important. They might tell you things which are working or not working in the paper. This is a super essential step and you should not skip it. It will help you see the first reaction from your paper. Another issue a lot of people are worried about- what if they steal my ideas or worse, my entire paper? Well, that is highly unlikely since there are quite strict laws against that. However, if you still feel uncomfortable, you can turn to online freelancing websites where you will get a lot of people who will help you out. They will not copy your ideas and paper because the website they are working with binds them in a contract and also, they are not interested in stealing your work. They are there to help you out and earn some good bucks in the way.
Now that we have discussed these 10 golden rules and tricks to write a scientific research paper, I hope you will feel inspired to get started on your ideas. Buck up and begin on this journey now. I wish you all the best and keep coming back for more.