10 Things to Consider Before Pursuing a Degree in Fashion
There are a lot of things that one should know or consider before deciding to pursue a degree in fashion. You will find that most people think that studying fashion means learning how to dress better and click great pictures. The other half thinks that pursuing a degree in fashion means making dresses for occasions and events. In the simplest of words, people associate the word 'fashion' or fashion degrees with glamour. Well, if you are one of these persons, there is news you should be aware of; and that is that you are quite far from the truth.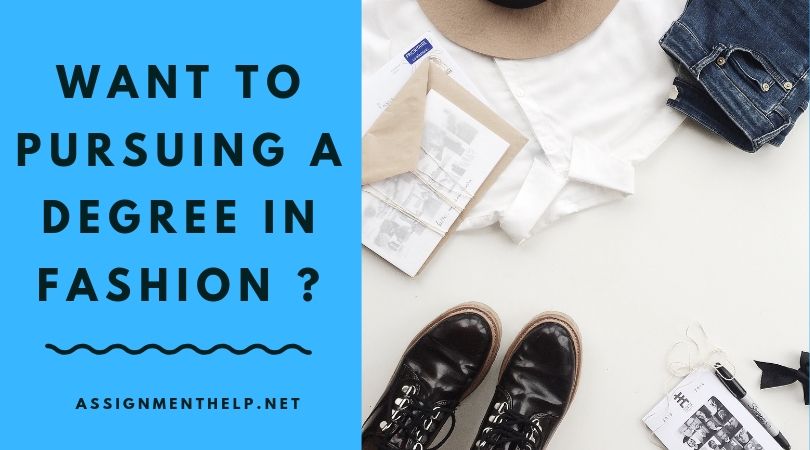 Pursuing a degree in fashion is not easy, and it is not simple at all. Just like any other degree, it requires the student to put in a lot of effort and time. During the course, you are likely to get little sleep and still work to the best of your ability. Most of the people do not even understand what a degree in fashion or pursuing a career in fashion actually means. Yes, it involves making and designing clothes, but the primary motive is to not create beauty or glamour. The primary motive is to create art as an expression, to deliver a message and narrate a story.
Therefore, before you decide to actually pursue a career in fashion, you should know what it means. There are many other things as well that you need to know and consider. Here are some of them:
1. It requires you to be highly organized
Before you decide to pursue a degree in fashion, know that you will have to be very organized throughout the course. You will have to complete the projects on time. You cannot afford to have a lot of projects piled together just because you did not feel like doing them on time. Never focus on the deadlines only if you make it to the degree. Keep in mind that being organized is the key to having a good time during the course. You will have a lot of projects coming your way. So it will be better if you complete them on time and get a good night's sleep every day. If you do not do so, you will end up having no free time.
Therefore, it is important that you understand this before actually joining the course. If you are not an organized person, you can try starting slow, but you need to try to develop this habit.
2. Are you interested in fashion design or fashion business?
Yes, they are two different things. If you did not know this already, you are in for a surprise. Fashion designing means you coming up with new ideas for clothing with a vision that has never been seen before. It involves you doing the construction and planning that is required to bring it to life. These designs, after coming to life, are sent to stores and they are made available to the normal people to buy. Most of the times, the collection that a fashion designer designs, targets a particular audience or a particular age group. On the other hand, the business of fashion means marketing, fashion management, merchandising and all the other behind-the-scenes work. It basically involves everything other than designing in the fashion industry.
So, if you really want to pursue a degree in fashion, ask yourself what is it that you actually want to do. Ask yourself if you are good at designing or it is the fashion business that you want to be a part of. It is a really important question and you should have the answer to it before applying anywhere.
3. Decide whether fashion is the right career for you
If you are reading this, you have obviously given a lot of thought to this question. But before actually applying or taking admission, you need to ask yourself whether or not the fashion career is for you. You should understand that the fashion industry is a highly competitive one. If you want to make it big in this field, you are going to need to put in a lot of hard work. The job would require you to be highly passionate about what you do. And to survive in the world of the fashion industry, you would need to constantly try to innovate and improve your skills.
Moreover, the industry requires you to build connections and promote yourself and your brand. Therefore, if you are an introvert and does not like to talk to people and be around them much, you must ask yourself if you are willing to change yourself for the work or not. You should know that you will have to keep experimenting with the designs and try to make an impact.
4. It is an expensive course
This is one of the most important things that you should know before you apply to a fashion degree or take admission in an institute. It is not like any other course or degree. You are going to be asked to do a lot of projects and doing projects means expenditure. You are going to need a lot of material. Some of this would be fabrics, sewing materials, scissors, computer, stationery products and much more. It is an unending list. Needless to mention, the fees that you will have to pay to the university or college annually is not included in this. Moreover, if you need models, photographers and cinematographers for the projects assigned to you by the college, then you are in for a lot more expenditure.
Therefore, before you decide to pursue a degree in fashion, you should take this into consideration. Keep in mind that the degree is going to be really expensive. Even if you do not think that it is a matter important enough to be discussed and considered, your parents might think otherwise. Therefore, you should run it by her and discuss the financials with them.
5. It is time-consuming
Another important thing to know is that a fashion degree is highly time-consuming. You can never expect a light workload. Instead, you will be pushed to your limits because of the high workload for a high number of classes. Every day, you will spend a lot of hours on attending classes, and once you will be done with the classes for the day, you will have a lot of homework to complete and needless to mention, class projects. You will have to spend so much thought and effort on a daily basis that there might come a time when you would have run out of new ideas. With such a tight schedule, you can obviously imagine that you are going to have little social life while you study fashion in the institute.
However, if you are really passionate about fashion, all of this would be exactly what you would have dreamt for. You are going to enjoy the work because it will be part of a learning process, which is obviously what you would have joined the college for. But if you are not that passion for fashion, you might want to reconsider your decision.
6. You will have to be innovative
This is something that goes without saying. It is already mentioned above that to survive in the fashion industry or to make it big there, you will have to keep reinventing yourself. You will have to try and be as innovative as you can. Well, the same goes for the fashion degree as well. You will have to put on your creativity-shoes and keep them on for the entire course of the degree if you want to have a nice stay in the college.
You need to understand that fashion is not what it used to be in the beginning. The basic function of clothes was to cover the body or to protect it from the cold or heat. Nothing more was expected out of the design of the clothes. Now, everything about fashion has changed.
When you work in the fashion industry, you are not trying to make clothes to fulfil the primary motive that the clothes used to serve. Instead, you are trying to make a statement through art. You are using art to make an expression; and every time you make a statement, it has to be in a different way. Therefore, you will have to be highly innovative.
7. You need to have a strong personality
Make no mistake about this one. To survive in the fashion world, you need to have a strong personality. The world of fashion is not a place for the weak-hearted. You need to be mentally strong. And same is the case for the time that you are going to spend in the fashion institute or your college. You should know beforehand that there will be times during your college years where you'll feel like you have a no way out. You will have so much work to do that you will have no time left for yourself. But you need to be strong to get through all of that.
Know that the world of fashion is a reserved place for the most creative persons in the world. If there is one thing about this industry that every fashion degree aspirant should know, it is that there is no place in this world for the mediocre. If you are short on skills, you can learn your way up, but you need to have a strong personality and have a passion for the world of fashion.
8. You should know the reputation of your school
This is something that you should know irrespective of the degree that you have decided to pursue. A lot has already been mentioned about how difficult it is to survive in the world of fashion. Therefore, if you complete your fashion degree from a lesser-known school, the path ahead for you is going to be even more difficult. It will be harder for you to get people to take yourself seriously. Therefore, research properly about the institute that you are planning on taking admission in. You should know all the pros and cons that the toy will have to deal with after graduating from college. Once you know this, it will be easier for you to decide whether or not it is worth it to have a degree from that place.
Moreover, you should know the importance of a good college. Remember that college is the first opportunity you get as a designer. You will meet a lot of people during your years in college, and the kind of people you will meet depends on what college you go too. Therefore, if you want to make a mark on the industry, you better choose a good college.
9. You need to be research-oriented
A fashion degree requires students to be highly research-oriented. Now, the first thing that one needs to know about this is that research does not mean limiting yourself to Google only. Being research-oriented means having an approach that involves inquiry. It means to have a curious mind and to look everyone with an inquisitive eye. This kind of approach is really crucial for someone who wants to work in the fashion industry. You should develop this approach while you are in the fashion institute. If you have it already, it would mean a comfortable stay for you in the college years.
Try to develop the habit of finding out information from different sources like journals, books and other sources. You can even try talking to experts on different subjects to help yourself with projects. If you will have good research skills, you will be able to generate new and unique ideas easily; which is one of the most important things that you will need in the fashion industry.
10. Know the course in and out
Although this one is the last in the list, it is one of the most important things that you should know before you take admission in a fashion institute. You should know the exact curriculum of the course before you apply. The quality of a good course is that it tells you about designing, but one of the best fashion designing courses including both designing and business. If there is something particular that you want to learn about, you should check whether the course you are applying to includes that in the curriculum. Since you are thinking about pursuing your career in the fashion industry, there are chances that you might be passionate about something in particular. Therefore, make sure that you check the curriculum, the college's reputation, the calendar of the course and everything else that you need to know to be sure of your decision.
https://www.assignmenthelp.net/blog/10-things-to-consider-before-pursuing-a-degree-in-fashion/10 Things to Consider Before Pursuing a Degree in Fashionhttps://www.assignmenthelp.net/blog/wp-content/uploads/2019/08/Want-to-study-Fashion.jpghttps://www.assignmenthelp.net/blog/wp-content/uploads/2019/08/Want-to-study-Fashion-300x300.jpgwilliam smithAssignment HelpFashion Designing10 Tips,fashion degree,fashion designThere are a lot of things that one should know or consider before deciding to pursue a degree in fashion. You will find that most people think that studying fashion means learning how to dress better and click great pictures. The other half thinks that pursuing a degree in...william smithwilliam smithsmithwill329@gmail.comEditorAssignmenthelp.net