Top 10 tips to write a killer essay for admission into USA universities
The one thing that makes all the high school seniors the most anxious and uncomfortable is writing the college admission essays. One of the main reasons is you never know what kind of a topic you are going to get. Many times, the universities assign the most trivial of topics to the students to write their essays on. In the past, the students have been assigned topics like 'How do you feel about Wednesday?' Also, the topic can be philosophical, political or an intriguing one. No matter what the topic is, it is usual for every student to tremble at the thought of having to write an essay for college admission.
The colleges and universities in the United States usually take into account three things while selecting students. These three things are Previous coursework, the test scores and the admission essays. Out of these three criteria, the college essay is the final one and arguably the most intriguing. Since the rest of the two criteria are already done, nothing can be changed about them. Moreover, when it comes to ingesting scores, a lot of students achieve the same marks. But the college admission essays give the students the chances to distinguish themselves from all the other candidates. The essay gives the students the chance they need to show the admission officers the real person behind the numbers.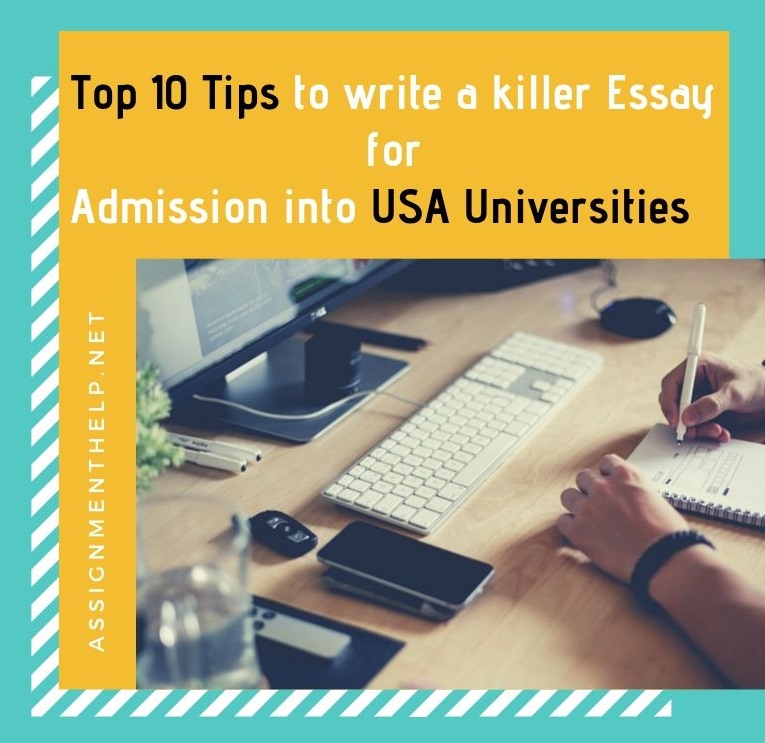 Knowing all this, the students tremble at the thought of writing the admission essays. All of them need a lot of help. Here are a few tips that might help you, if you are a high school senior willing to write a killer admission essay:
1. Brainstorm
Brainstorm is the first step in the process. You might think that you have a plethora of ideas and that you are ready. But you need to understand that sometimes, having a huge number of ideas also becomes a problem. During the brainstorming process, what you need to do is take a piece of paper and pen and write down every single idea that comes to your mind. Go to the internet, take up a book, and talk to a friend… because ideas come to you every now and then. But make sure that you not each and every one of them down on a paper. Then, you decide which ideas among them are the best and how you can use them in your essay. What this step does for you is that it eliminates everything that you don't need to write the essay and thus, it makes your job easier.
2. Think about what the admission board wants
One of the most common mistakes that a student makes while writing the essay is that he does not give a thought to what the admission board wants to see. When putting together all parts of your application and send it to the admission board of your dream college, it sits with a thousand identical applications. While writing the essay, what every student tries to do is to use the essay to show the qualities that he believes he has. Although there is nothing wrong with this, it is very important to consider what the admission board is looking for. The admission officers do not take anyone into their college. They look out for someone who they think will succeed once he gets into the college, somebody who will be an asset to the college environment and help other students, and someone who is competent enough to stand out. In addition to trying to reflect the qualities that you already know you have, try to make your essay reflect these qualities as well. It will definitely increase your chances of getting selected.
3. Decide how you want the admission board to perceive you
You should think about how you want to present yourself in front of the board. You do not want to use the space of the essay to say something that has already been said, without you even knowing it. For instance, if you have regularly got good marks, that tells the admission board that you are quite determined. Therefore, if you use your essay is some way to reflect your quality of determination, it goes waste. Therefore, analyse the position that you are in. Do not just use the essay to reflect the qualities. Use it to tell the board things that the coursework cannot. For instance, if you are a part of any club or organization, try and talk about it.
4. Try to set yourself apart
As already mentioned, always remember that as much as you would like it, yours is not the only application that the admission board is going to see. So, you need to try to distinguish yourself from others. If you are an international student, then you are obviously different from all the American students. But do not elaborate more than needed. Try to bring out the strengths of your native culture. If you are not an international student, you need to think of ways in which you can distinguish yourself from others. All of us are different in ways that we cannot even think of. Therefore, no one can tell you how to reflect it. You need to introspect and think about how you can use the essay to distinguish yourself from thousands of students.
5. Support your ideas with examples
The colleges assign the students with this task of writing an admission essay because they want to see how the mind of the student works. They need to be completely sure before they go ahead and admit you in their prestigious college. Therefore, before you even begin writing the essay, you should try to think about your viewpoint for this entire world. Once you are sure of this, you should make sure that whatever you write in the essay supports that viewpoint. You cannot afford to contradict your own beliefs in the essay. Write from a particular stance and angle so as to relate your personal qualities as well. At times, it is possible to use the question to relate the qualities. Figure out ways to do so.
Moreover, every time you write about a belief or idea of yours in the essay, you need to give examples as well. Doing so strengthens the ideas. You can find these examples from your personal experiences or from around the world.
6. Use your words carefully
This is something that you already know. But it is important that you understand the extent to which your words can affect you. One of the things to keep in mind is that you should leave the thesaurus behind when you write the essay. You have already been given a chance to show off your vocabulary in a section of the test. Now, it is time to build a connection with whoever reads your essay. However, you should not write simple plain English also. The point is to use college-level diction.
However, if you are an international student from a country where English is not a local language, then the case is slightly different for you. You need to convince the admission board that if you get the admission, you will be comfortable with the English-only instruction. Therefore, using a few high-level words never hurts your credibility. You should try replacing some common words with high-level synonyms.
7. Write a compelling introduction
You remember the times when you saw the headline of a blog post and it attracted you so much that you just had to go ahead and read the blog. The title or introduction is very important for an essay. Now, in college admission essays, sometimes, you get the chance to choose the topic and at times, you do not. Whatever may the case be, you need to make sure that you write the best you can right from the very first word. You cannot expect the readers to cut you some slack. It is your job to make sure that the reader reads the essay. But if your introduction or your heading is not compelling one, no one is going to read further. Therefore, think of ways in which you can make the introduction compelling and attractive. Instead of a simple beginning, you can try starting with an anecdote. There are many other ways as well. You need to think of them.
8. Never send the same essay with two or more applications
Even if you have the liberty to choose the topic of the essay, you should never send the same essay with multiple applications. Keep in mind that the admission essay is your chance to show the admission officers how you are fit for that particular school. As already mentioned, you need to write an essay to present yourself as someone who will not only fit but also enhance the environment of that particular school. And every college is different in terms of environment. Therefore, sending the same admission with multiple applications is absolutely illogical.
However, if you feel like that you have a great command over one topic and want to go ahead with that one only, then what you can do is tailor the essay for the college that you are sending it to. Try finding more and more about the student atmosphere, values, and sports teams of the college and then try and include all of this in your essay. If you do not do so, your admission essay will be a waste. So buckle up, because getting admission into your dream college is not easy.
9. Be concise
Remember that yours is not the only application that the admission officers need to go through. Each and every one of us has a lot that we wish to put in while writing the essay. But the real challenge is to put all of it in in the minimum of words. Most of the times, there is only a minimum word count that every student needs to meet and not an upper limit. But it does not mean that you will take the liberty of writing thousands of words. Every admission officer has a huge stack of applications and essays that he needs to go through every day. As much as you would like it, the admission officers do not spend more than five minutes on an essay. Therefore, when you write a really long essay, all you do is test the patience of the admission officers… and you do not want to do that. Writing a good essay is an art. You need to make sure that you write everything that you find important and necessary to include, but within a limit of words. This is one of the most important characteristics of an essay. Therefore, stick to the point and try to be as concise as possible.
10. Try to tell something that your application can't
Because of the huge number of applicants, the colleges do not get the time to research each and every candidate. Even if they do research every candidate, they cannot do it to the extent that they would like. Therefore, the colleges can know only as much about you as you put in front of them. If you do not tell the college something, be assured that there is no way the college is going to find out about it, unless of course it is something negative and huge.
You need to understand that the examiner is just another person reading the application and the essay. He does not have some magical powers to find out about your qualities. You can have all the qualities that the admission board might be looking for, but if you do not tell the board about these qualities through your essay, how will they ever come to know about them? And it will result in you missing out on your admission. You should take the essay as an opportunity to answer the question as to why they should take you and not the thousands of other applicants. Make sure that you do not leave anything important out of the essay. Include everything that you want the admission board to know. That is when you will get the best essay out of you.