Things to Keep in Mind While Writing a Leadership Essay
Essays certainly play an integral role of expression in media and communication. In the wide array of essays, a leadership essay aims at taking a lead at any point and focus majorly on personal qualities. It's not about a certain incident or situation. Neither is it about some scientific theory or factual iteration.
This kind of essay does not come under academic writing. It talks about personal experiences. You are supposed to write about yourself and you can very well do that in an informal way. However, most writers consider their audience before they give a hand at writing leadership essays. Generally, leaderships essays are given to potential candidates by the employer to check their ability to express and to check their ability to handle dilemmas.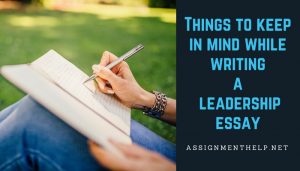 There has been a lot of speculation about not boasting about oneself and still accomplishing an amazing leadership essay.
In this article, we will look at various aspects of writing a leadership essay along with all the speculations. Once you go through these, you will be able to blend out a perfect mixture of a reported essay.
The tips are as follows –
1. List of examples
For writing a leadership essay, it is important to have certain qualities and also to know about them. However, to realize what qualities you have, you will have to go through few situations of your life. You can even look at a very insignificant incident and pick up an essential characteristic trait. Hence, you should first make a list of regular events and unnatural incidents where you reacted in a certain way.
2. Identify qualities
Once you have the list of incidents, look at each one of them with a critical eye and try to identify the qualities or traits you showed in the end. Generally, you may be able to find these while studying your behaviour. If not, you will surely find them in the consequences. For instance, you found a hundred rupee note on the road and you decided to give it or keep it. From this incident, you can say that either you are trustworthy or greedy.
3. Identify leadership qualities
Identifying your qualities is one big task but once you are done with it, there comes a much easier but dreaded task and that is of identifying the leadership qualities. Look at the list of qualities and pick up all the positive ones such as honesty, integrity, trustworthiness, fearless, loyalty, just, outstanding, tough, straightforwardness and there can many more. All of these can be summarised under leadership. However, your employer want does not have enough time and also, there are chances that he may not believe in you if you happen to become all sugary and sweet. Hence, we will shortlist these qualities to some more extent in the following steps.
4. Way of writing
I do not simply mean the language but also the vocabulary. When you look at your list in step two, you will see a varied range of traits from which you might be able to easily spot the direct white ones. However, you can even pick up some negative qualities and present them in a positive way. For instance, if you chose to pick up the hundred rupee note, instead of picking up greedy, you can call it 'opportunistic'. Anyway, not to add that particular incident in your essay would be wise.
5. Informal yet crisp
A leadership essay is not an academic or professional essay. It aims at telling the audience about the leadership skills you have. However, you cannot go on explaining incidents and then deriving your qualities from those. Not that you shouldn't take up examples because without those your essay will become boring. But always make sure to give minimum word length to your incidents. Also, it is not important to take up all incidents. A few would be more than sufficient.
6. Do not boast
As I mentioned earlier, a lot has been speculated about boasting and not boasting in a leadership essay. To rectify this confusion, I suggest you look at the aim of your leadership essay. In most cases, your employer wants to know more things about you than what is evident on the resume. Keeping this in mind, it is best to not boast in areas where you are not confident enough. And as for the spheres you are good at, a little boasting is allowed. But again, make sure to not turn your essay into a boastful scrap at any point. Your boastings need a validation and that's where the role of example and incidents come in.
7. Pick up hobbies
You have already picked up incidents and events to the reason for your traits. To improve your essay in terms of qualities, it is recommended to take up your hobbies in a different paragraph and then derive your qualities. Describing your hobbies will make the reader understand that you possess those qualities subconsciously and you are not just throwing tantrums in the air. For instance, if you love playing crossword games, you can mention it and claim that it increases your concentration levels, competitive nature and additionally, builds up your vocabulary.
8. Introduction
In the first paragraph, you start with giving a brief of what you plan to achieve by the end of the essay and this is termed as the thesis line. It is wiser to first give some details already present in your resume and then start mentioning things which are not mentioned. This is done to attract your reader's attention and increase his level of curiosity. For example, you can begin by saying that you are a BTech graduate but you incline towards astronomy.
9. The body of the essay
This section consists two paragraphs- one which talks about the incidents and your intended qualities and another one which discusses your hobbies and how those affect your character. I would also suggest you add any previous experience of yours as this definitely increase your leadership value and may even attract your reader.
10. Conclusion
The last paragraph of your essay sums up everything you intended and then connects the reader with the thesis line mentioned in the very first paragraph. Your justifications should neatly and crisply point towards your leadership qualities. Moreover, remember not to boast in the conclusion.
I am quite certain that you will be able to craft out a perfect leadership essay by following these points. Writing a leadership essay is a comparatively easier than any other academic essay and its informal structure makes it even more desirable among writers. However, it is an important form of writing when you are applying for a job. Hence, you should practice before to understand the key ideologies and tactics.