International Students' Guide to Study Abroad in Malaysia
Malaysia is known to be the country of diversity and its geographical location is as diverse as its culture. It's considered to be the home to various ethnic groups, religions and races and is also known to be the gateway to Asia. Malaysia has a bit of everything included be it from Kuala Lumpur's Petronas twin towers to rainforests. However, Malaysia increasingly has become one of the most popular study destinations from international students who are interested in studying abroad because of its strong international reputation and its world class education as well. However, Malaysia has around 70,000 international students from across the world and about 100 countries that are studying in international schools, private schools, colleges, foreign universities, private universities and public universities as well.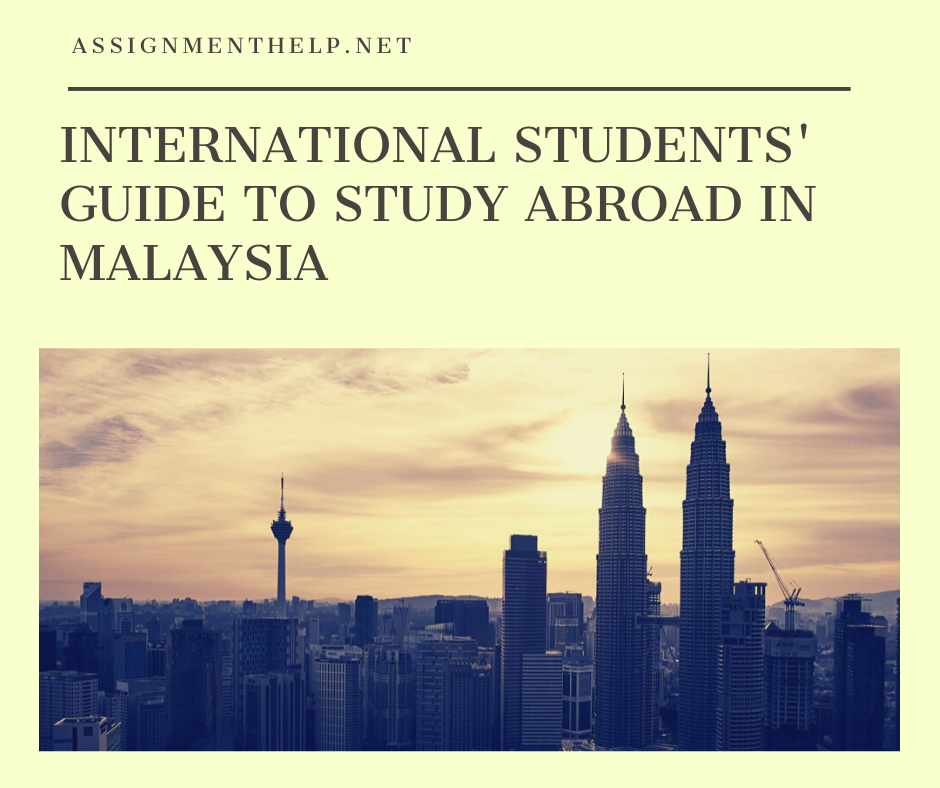 Therefore, many international students are initially admitted in a wide range of disciplines at each level of education that initially includes short term and professional courses, bachelor degree, other post graduate courses and diplomas.
Education in Malaysia
In Malaysia, the higher education system is however governed by the Malaysian Ministry of Education. Here are two different kinds of institutions: Universities and colleges. Malaysia is however considered as a home to many different branch campuses of foreign universities and institutions at very affordable rates. Swinburne University of technology, Monash University, University of Nottingham, SAE Institute and Curtin University of technology are some of the examples.
Universities in Malaysia
There is variety of different universities in Malaysia and it also provides different undergraduate and post graduate courses. However, there are many parent campuses as well of some of the well known universities in countries such as Australia, UK and Ireland have recognized branch campuses in Malaysia initially. As these Branch campuses do also provide equivalent degrees to each and every student that too at very affordable prices.
Colleges in Malaysia
However, the colleges in Malaysia mostly play a role as an independent institutions and also does not have any universities rank. Therefore, colleges basically are meant to transit university level of education and it also provides bridge courses or undergraduate degrees for the students.
Why is Malaysia a Top Study Abroad Destination for International Students?
In Malaysia all of the universities and colleges provide a wide range of courses including post graduate courses and undergraduate courses in the various fields. Courses that are included in it are: Law, engineering, medicine, pharmacy, economics, business, and commerce and information technology. Apart from the courses there are many other activities that you can initially enjoy out of the classroom and you can also visit the islands of Langkawi, Penang, Tioman and Pangkor if you wish to and enjoy a beautiful vacation as well. If you want to experience more you can also visit Batu caves considered to be a 400 million years old limestone hill with a pattern of caves and following cave temples as well.
High quality and accredited education programmed 
In Malaysia all of the educational institutions are however scrutinized by the Malaysian Education Ministries through their quality control authorities that include National Quality Assurance Body and National Accreditation Board (LAN).  However, the Malaysian Qualifications Agency (MQA) is only set up just to implement and to impose the Malaysian Qualification Act 2007. However, this also ensures that higher educational universities including both government and private owned offers inclusive paradigm range of all the educational programs that is lately supported by the updated educational technologies.
Working and studying for a degree
However, in Malaysia according to the laws students are permitted or allowed to work while they are studying in order to earn if they wish to. They can either work for 20 hours straight or for part time per week as well. Earning while studying will initially allow you earn a bit extra pocket money while you're here.
Affordable tuition fees
Do you know the fact that all of the Malaysian universities and colleges are however highly affordable and quite reasonable too and is also considered lowest among the region and that's the reason why Malaysia is now considered to be the most popular destination for offering amazing quality of education that too at a very affordable rate and cost-saving.
Living cost is low
In Malaysia for International students the cost of living is quite low as RM20, 000 .i.e. 5,000 USD per year. This amount however includes accommodation, transport and food. So, it is up to student as they can decide between off campus accommodations or on campus: apartments, college hostels, condominiums and link-houses. It eventually represents a great savings of expenses.
Inclusive list of degree courses and diploma
However, International students can initially choose from the inclusive list of programs, courses and other study options if any that is provided by numerous Malaysian colleges and universities. There are some of the most popular study options as well that eventually involve some of the combined courses such as 3+0 degree and twinning degree program that too are unique. Therefore, Malaysia is really popular for its 2+1 twinning degree programme that initially provides a cost saving direction for the good quality qualifications and education from a well reputed international colleges or universities in the USA, Australia, New Zealand, France, Canada and United Kingdom.
Sessions are conducted in English Language
As English is the main medium of Instruction to all the private universities and some of the government colleges so it is also considered common in Malaysia in order to make study easy for the international students and any other as well. There are other English proficiency classes for students who cannot speak or write English as the Universities in Malaysia do provide with these sessions to students if anyone is interested in improving their English or command over it.
Academic Options
Generally, studies might vary from college to college or institution to institution. In Malaysia most of the universities or colleges have their study intake in the end of February to mid July. While branch campuses .i.e. the other universities might have their study intake in October. For instance, the University of Malaya provides postgraduate or undergraduate courses in architecture that usually starts from September. There are some of the well known engineering courses that are generally available in most of the Malaysian Universities and they commonly starts from either February or June.
Malaysia's Affordable Tuition Fee 
In Malaysia, the tuition fees will initially vary on the public or the private institution and the kind of course you've applied for. While in the case of branch campuses it can surely vary from a parent campus. Undergraduate programmes such as engineering and business that are at a branch campus can initially cost up to RM 48000 to RM 102,000 each year. One of the most admired reasons why International students always choose Malaysia because it is considered to be the most affordable tuition fees and cost of living at the same time. Most students only prefer accommodation that is usually affordable. However, In Malaysia, accommodation could initially cost from RM 600 to RM 900 each month and 3 meals each day can initially cost from around RM 20 to RM 30 and transport can initially cost from around RM 80 to RM 150. Over here campus mobile bills can cost from RM 30 to RM 50 while for personal expenses can cost from RM 100 to RM 200.
Scholarships for International Students
You may find numerous scholarships that are provided in various fields such as in Engineering, agriculture & fisheries, food security, environmental studies, biotechnology, science and communication technology.
Here are some of the scholarships that are provided:
Malaysian commonwealth scholarship
Malaysian International scholarship ( MIS)
Malaysian Technical Cooperation Programme ( MTCP) scholarship
Few Other Perks of Studying in Malaysia
Through undemanding colonization measures eventually make it easier for international students to transfer to the country easily
A politically unwavering or established country
It includes international criterion of education and also post study work opportunities for students at the same time
A variety of courses are provided to international students which includes twining courses as well and variety of other programmes too provided by branch campuses
It is considered a super amazing destination for travellers and tourists too
It is also known to be a multicultural environment where international students initially get to know about various people and about different culture and region at the same time.
Malaysia is also considered as a food haven for foodies or for people who cannot live without experiencing absurd cuisines of the world
All the students can initially receive their degrees from countries like Australia, USA and UK
Malaysia is considered to be on Rank 29th on the list of most peaceful country around the world and is extremely safe for the students as well
So, do you wish to study in Malaysia? Now that you're aware about this country and have got a lot of information regarding studies in Malaysia and also a lot more about Malaysia and its culture why don't you give a thought of making your career here? If you need any help regarding Malaysia Assignment Help or Homework Help, our Assignment help experts will help you at an affordable price.  However, it can be your choice to study here keeping all the benefits or perks you'll receive while studying here because not everyone gets a chance to study in countries like Malaysia.