Operations Management Assignment Help
Operation's Management is an area of management that deals with the design and management of products, processes, services and supply chains. This field is concerned with overseeing, designing, and redesigning business operations in the production of goods and services. It ensures that business operations are efficient, i.e. they as little resources as needed, and meet all customer requirements and are thus, very effective.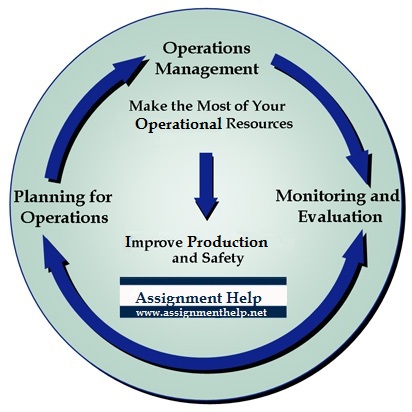 Operations Management Assignment Help Services
It basically manages all the production processes i.e. the process which converted inputs into outputs. In other words, it seeks to manage the operating core of an organization. Some other activities that are included in this field are managing purchases, inventory control, quality control, storage, logistics and evaluations of processes.
Association for Operations Management (APICS), European Operations Management Association (EurOMA), Production and Operations Management Society (POMS), the Manufacturing and Service Operations Management Society (MSOM) are some prominent institutions that are involved in the promotion of operations management and conduct extensive researches in this field.
Some of the key roles of operations managers are as follows:
Coordination the production processes and management control – Organizational goals should be consistently met in an effective and efficient manner.
Product and service management – This involves paying special attention to the production process of each product or service and managing it efficiently.
Inventory and quality management – Costs can be substantial to store and move inventory. Innovative and newly evolved methods, such as Just-in-Time inventory control, can save costs and move products and services to customers more quickly.
Resource planning for the enterprise – It involves application of software to integrate several internal and external functions of a business.
In the traditional sense operations management refers to the production of goods and/or services separately. However, nowadays increase the content of value-added activities in any given process.This subject can be tricky and difficult to deal with at times. Production processes are not so simple and enhancing such processes and making sure that they are carried out efficiently can be a tedious task.
That is why Assignmenthelp.net is here to provide you valuable guidance in this field. Our online tutors will help you with all your assignments, projects and homework related to operations management and related subject's problems like business management, processes management and supply-chain management.
Our tutors are certified operations management experts, who have Ph.D. degree in Operations Management related subjects. They have years of experience in the field of online tutoring to the students. You can get individual tutoring sessions to clear all your doubts and become a master in this field.
You can find more information about Operations Management .