To learn English fast with assignment help services
English is called the universal language because people of two different countries who aren't aware and familiar to each other's language can make English as a communication medium. So, in present days English is one of the most important languages next to the individual's own mother tongue.
We can have an example, like a Chinese boy will not be able to understand Korean language and thus in this case they will fail to communicate each other but there is high possibility that both do understand English and thus can fairly interact with each other. English is two types: one is American ascent and the other is British. Though the ascents in both cases are different but the terminology and words are somehow the same. So, we can say that English has been made a medium so that people around the globe can communicate each other and appreciate each other for one or the other things.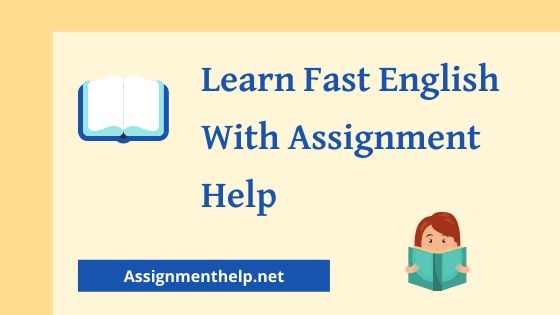 Nowadays, English is use everywhere apart from educational institute, i.e. offices, labs, business, stations, and so on. Even the mobile phone, PC we use requires English. Therefore, wherever we go we need to understand and speak up English to communicate with people and have a good professional life because all the good offices demands fluent English.
English has become one of the major subjects since our primary classes but there are still lots of people who fail to learn English owing various reasons. Some students clear there graduation or the schooling from the government school where English isn't given that importance, therefore, students find English difficult. Even many elderly people who are now busy doing job around isn't well qualified in English and so they find problem bringing the language in use. Likewise, termination of studies in halfway, ignorance in the subject are some of the basic reasons one fail to learn a proper English and they find it difficult to speak up.
It is said that there is no boundary of age when it comes to gaining education and learning things and this facts hold very true. Therefore, assignment help an online site is here to help people with their problems. Assignment help makes any individual capable to speak and write effective English in just a period of time may be 15 days or a month depending upon individual to individual. Yes, assignment help is very much aware that English isn't that easy to catch up and the hurdles build up even more when one has to carry both the learning part and his personal and professional life all together. It is the reason to develop the online method of learning English, so that whenever one gets time he can switch to pc and start the interesting adventure of the subject. Assignment help has experts from various countries who teach people meaning of words, ascent to be used and the way to carry on sentences in very less time. In fact assignment help provides the individual various materials like video and audios to watch and listen the meaning of various words and their implication in the spare time. Apart from this, teachers are available every time to help students whenever they come across any problem.
Therefore, assignment help is the site that helps to learn an excellent English in very little period of time.