English Assignment Help
English being a language is tough to master. English has four main sections:– Reading, Writing, Grammar and Literature. Reading involves its own difficulties like learning the correct pronunciation of the words. Writing and grammar exercises both help students in giving words to their ideas and produce some good error-free work. Literature involves prose and poems of some of the famous authors and poets in the history which guides the students towards excellence. It is the good literature that actually attracts the student and compels him to create something of his own.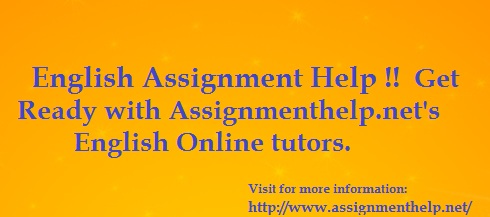 Being a language, English always has a scope of improvement. The more you practice the better expressions you are able to create. Thus guidance and assistance of a good English tutor might make the student more regular with his practice work. At the same time, the English tutor also enhances the vocabulary of the student and giving space to the student's original ideas.
In English Assignment Help services, we provide the students with expert online English tutors who can assist the student in their homework, assignments and regular practice work. Our English tutors have Masters or Ph.D. degrees and years of experience in online English tutoring, which makes them more capable of understand the student's needs.
As we know that the students are always expected to present well explained and detailed answers of English Assignments in their school, which may not be possible for the students all by themselves, some kind of tutor help may help them have an edge. The English tutors assist the students in their assignment/homework and raise the quality of the ASSIGNMENT Work that the students present in their class.
At Assignmenthelp.net, we provide our students, 24*7 English Assistance, which helps them keep up in class and get easy assignment/homework help. So just by logging in to www.assignmenthelp.net a student can take the easy way to good grades in the examination.
You can visit for more information about English Assignment Help and Writing Assignments services.