50 Best Ideas to write a Persuasive Essay
One of the most common assignments that students get while studying in college is writing a Persuasive Essay. It is an essay type that most of the students encounter trouble with. Most of the time, this trouble is a consequence of a lack of understanding. Like any other essay type, a persuasive essay requires a certain set of rules to be followed by the student if he wants to write a good persuasive essay. In order to receive good grading from the professor or supervisor, it is important that these rules are followed.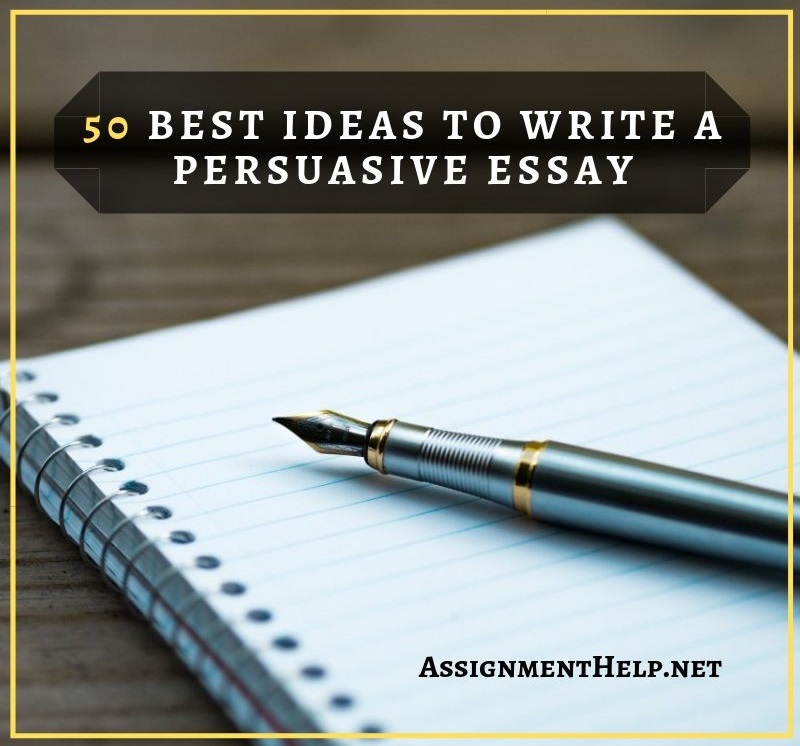 One of the most important things that a student needs to keep in mind while writing a persuasive essay is that every word that he is writing is meant to move the reader. it is important that a great use of logic and reasoning is made while writing the essay. However, skills like these do not come to a person overnight. To become good at writing essays, one needs to practice writing articles, papers, and much more. The quality of the writings of a student is directly proportional to the time and efforts that he puts into practising writing the assignments and essays.
The first and foremost thing that you need to do before you start drafting your essay is to understand what a persuasive essay exactly is.
What is a Persuasive Essay?
As the name suggests, a persuasive essay is a piece of writing meant to convince the readers about a particular idea, stance, or focus. This stance is usually one that the author or the student writing the essay believes in. The essay can be about anything that you have an opinion about or a topic that you wish to make a clear argument about. A persuasive essay can be written on the most trivial of topics and the most serious ones as well. The language used, most of the times, depends upon the nature of the topic of the essay. However, deciding the tone and the nature of language based on the kind of topic is an important skill that not every student has.
Selecting the topic:
Selecting the topic of an essay is perhaps the most difficult part. There are plenty of reasons behind this. One of them being that this is the first thing any reader is going to look at in your essay. Moreover, the entire way you are going to take forward while writing the essay is entirely dependent on the topic of the essay. Most of the students struggle the most while selecting the topic of the essay. Once the topic is decided, the path ahead seems to be relatively easier. But deciding upon a topic in the first place is the difficult part of writing an essay.
Well, if you are someone who cannot stick to one thought and decide upon a topic for your persuasive essay, here are a few tips that you can follow:
1. Pick something that ignites your emotions
This is something that every student should do while writing a persuasive essay. Begin by brainstorming and talking to people around you for ideas for the topic. Think as much as you can. Take into account all the ideas that you get from the people around you. Once you get a pretty decent number of ideas, put them down on a piece of paper and make a list. Once you have done so, all that is left for you to do is to select a topic that fuels and ignites your emotions.
The basic aim of writing a persuasive essay is to convince the readers of a stance on a topic that you believe in. Therefore, if you select a topic that you feel very strongly about, it will be really helpful for you. If it is something that ignites your emotions, it is highly likely for you to already have an opinion and stance about it. Therefore, while writing the main body of the essay, you would not fall short of arguments. Moreover, you will enjoy writing it since it will be something that you feel very strongly for. Because of this intense feeling and all the emotions, you would not be required to look anywhere for any sort of motivation. Your emotions would motivate you to convince as many people as possible of your stance on the topic. As a result of all this, the quality of your essay will be enhanced by a great extent.
2. Try and avoid the topics that have been overdone
No matter what kind of an essay you are writing, you will always find topics that have already been highly overdone. These topics will be extremely easier to find, and therefore, most of the students would be tempted to select one of them and proceed with the essay. Well, this is one of the biggest mistakes that a student can make while writing an essay.
The problem with selecting a topic that has been overdone is that almost every point that can be made about it has already been thought of and been written. The entire world would already know about all the possible pros and cons of such a topic and every person would already have already made up his mind with respect to the stance they want to choose. With such a topic, you would hardly find anything new to bring to the table. And since it would be a topic that most of the people in the world would have up their mind about, it would prove quite difficult to persuade anyone to change their stance and agree with you. Thus, the entire purpose of writing a persuasive essay will go waste.
3. Select a topic that is debatable:
Keep in mind that the topic for a persuasive essay should be highly debatable. As already mentioned, the purpose of a persuasive essay is to make the readers believe in your stance on the topic. However, this only works if the topic upon which the essay is being written is debatable. If you select a topic as general as 'tobacco causes cancer', the entire world would have an affirmative response to it. Therefore, the essay written on this topic would be nothing but waste. There would be no need to persuade anyone towards any stance on this topic. Even if you decide to try to persuade people into believing that tobacco does not cause cancer, it would be a waste of time as you cannot overturn a medical fact.
Therefore, make sure that the topic you select for your essay is highly debatable and has points on both sides to it. If you find such a topic, your persuasive essay will be highly interesting to read.
4. Choose a domain that you are familiar with
The process of writing an essay involves a lot of research. Once you select the topic, you will have to go through a lot of web pages, books, magazines, and much more to obtain some substantial information to put in your essay. The process of research is not a walk in the park. It requires a lot of hard work and effort. Therefore, if you select your topic from a domain that you are familiar with, it will prove to be very beneficial for you.
However, selecting such a domain would not mean that you wouldn't be required to do any research. It would mean that you would already know about the places where you can find important and useful information. The domain could be a subject that you like, a sport that you play, an art that you perform or anything else. Just make sure that the topic you select belongs to a domain on which good research is possible.
:50 Best Topics to choose from:
Here are some topics from which you can select the one that suits you the best and write your essay about it. You can even try and modify these topics to suit your requirements, style of writing, and stance on the topic.
In today's classrooms, a student's ability should not be judged by his grades.
Breastfeeding should be allowed in all places.
It is fine for people under 21 to drink with the consent of their parents.
It is high time that the churches and all other religious institutions started paying taxes.
It is ethical for parents to check the belongings of their children for drugs.
Convicted felons should be allowed to cast vote after they have served their full sentence.
The sexual orientation of a child depends upon the way his parents raise him.
The sexual orientation of a child is determined in the childhood itself.
The students should be allowed to use their cell phones inside the classroom.
The time of textbooks is gone and they should be replaced with laptops or iPads.
The problem of immigration can easily be solved by fencing or building walls across borders.
It should be mandatory for restaurants to display the calorie count for each dish on the menu.
Music systems should be installed in prisons to calm the prisoners in difficult times.
A major part of the human character is described by his sexual desires.
The parents should have a conversation about drugs with their children at a young age.
Abandoning pets should be made illegal.
The limitations of free speech should be defined clearly.
Access to high-speed internet should be made a basic right of every citizen.
Annual driving tests should be mandatory for drivers in the first three years of obtaining a license.
The quality of human life has significantly improved in the past few decades.
Single-sex school and colleges are better in terms of providing a good education than co-ed institutes.
Nuclear weapons should be made illegal throughout the world.
Climate change should be every country's primary political concern.
Right to privacy should be made a fundamental right all around the world.
Sports like football that involve violence should be banned.
Sex education should be made compulsory in all primary schools.
Medical testing on animals is a breach of their right to existence.
Acquiring animals as pets should be made illegal.
Video games including violence should be banned as they can cause people to take up violence in real life.
There should be special privacy rights for celebrities.
There should be stricter laws for nepotism in all industries.
Clear limitations should be laid out for the freedom of religion.
Extreme sports should be banned all around the world.
Sports that include animals like horse polo and horse racing are unethical and should be made illegal.
Killing animals to get their skin and fur is unethical and should be banned.
Newspapers should be distributed for free in schools all around the world.
The concept of wearing a uniform to schools is outdated and should be removed.
The idea of war is inhuman as it can never bring peace.
Minimum age should be decided upon for children to go on social media.
There should be no place for cheerleaders in professional sport.
It should be mandatory for all schools to implement bullying prevention and awareness programs.
Governments should regulate the urbanization process.
The students should have the opportunity to choose their curriculum according to their choice.
All employees have the right to a month's vacation every year.
There should be equal representation of gender in politics.
Capital punishment is a crime that is authorised by the law.
The punishment for rape should be death.
There should be strict laws to control the rapidly happening climate change.
The license of any company polluting natural resources should be revoked at once.
Same-sex marriages should be banned throughout the world.
These are some of the best topics that any college or university student can use to write persuasive essays upon. However, the best option for anyone would be to select a topic based on his interests.