Essay is a short piece of writing based on opinion, argument, and facts which evaluates one or more topic. There is more than a dozen of different types of essay. Each type has its own argument, definition and purpose. Today we'll be discussing some of the most widely used essays around the world. We'll start with the four major types of essay and add some more to the lot for better and deep understanding.
The four most widely used essays are as follows:
Descriptive
Narrative
Persuasive
Expository
Descriptive Essay
Let's start with descriptive essays. What does the word descriptive mean? Descriptive means detailed, eloquent, definitive, expressive, identifying etc. The meaning of the word descriptive gives us idea about the uses and purpose of descriptive essays. To make it more clear, descriptive essays are essays which urges the writer to describe something. Description can be of anything. In general, descriptive essays gives us detailed information about the given subject. Let us talk about some topics related to descriptive essay writing along with suitable examples.
Example 1- the story behind the Dakota access pipeline
Example 2- Your summer experience
Narrative essay
Narrative essays are one of the most common form of essays. While writing a narrative essay, the writer must imagine himself as a storyteller and set the plots and characters according to him. Therefore, in narrative essay writing one tells a story making his own plots, characters, and timing. Few things one should keep in mind while writing a narrative essay are as follows-
Most narrative essays are fictional, therefore one should include each and every detail of the story.
The words and sentences used should be clear and easy to understand.
The writer must not forget to create strong base for the main idea of the story.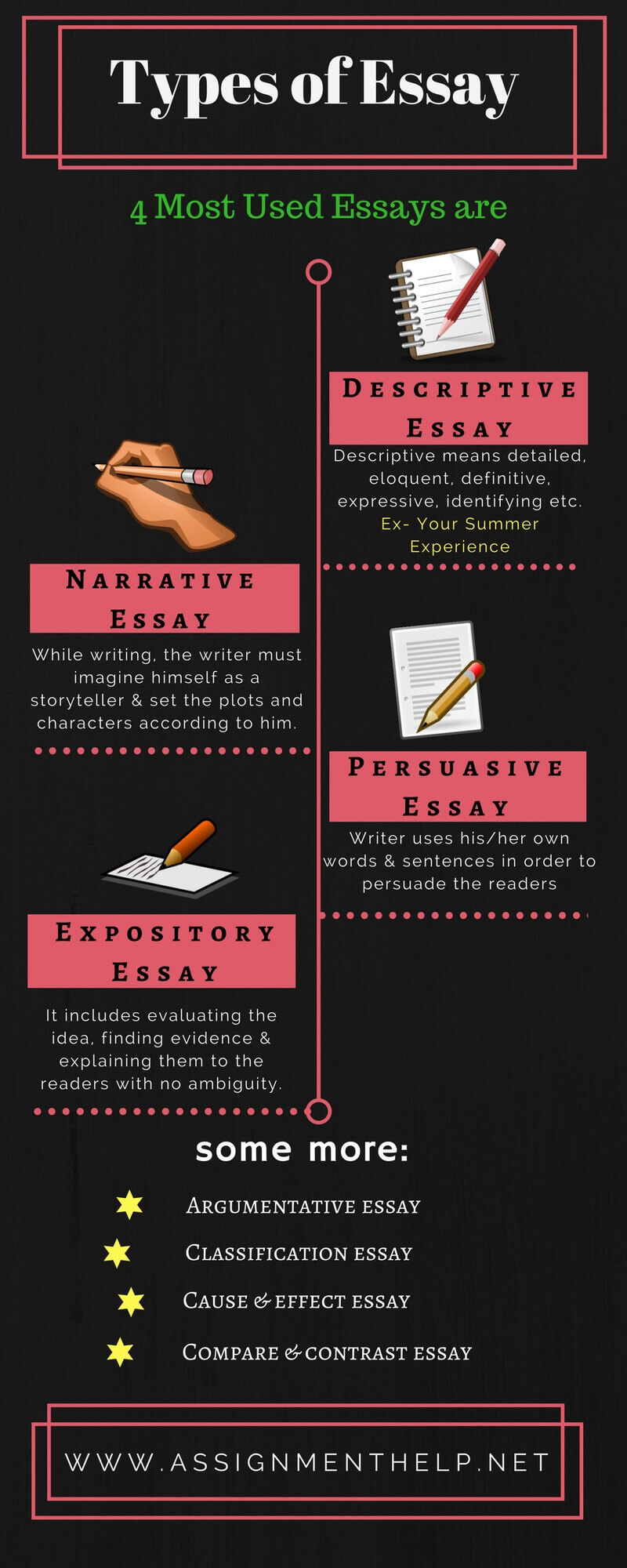 Persuasive essay
Persuasive essay is a form of essay writing in which the writer uses his/her own words and sentences in order to persuade the readers. The main idea behind persuasive writing is to try and persuade the readers to accept or follow a certain Assignment of action or views. Therefore, while writing persuasive essay make sure you have enough facts and evidences to support your statements.
Few things to remember while writing a persuasive essay-
Like any other essay, you should have a definite purpose. You should know each and every detail related to it.
All your facts and evidences should be ready to support your statements.
Have a clear view of what you want to persuade.
Provide a conclusion that strengthens the thesis
Expository Essay
In these types of essays, you are refrained from giving your opinions or thoughts about the subject. It includes evaluating the idea, finding evidences and explaining them to the readers with no ambiguity. It is one of the most important type of essay. Expository essay follows a simple structure.
The first paragraph, which is the introductory paragraph should be given utmost importance. It sets an impression for rest of the essay. Prepared thesis should be written in a way that is clear, concise and not troublesome for the readers to understand.
The essay contains three body paragraphs. The writer can make logical transitions if necessary. One should keep in mind that each and every point covered in the body paragraphs should help in creating a strong base for the thesis.
It's one of the most struggled part in essay writing. The conclusion shouldn't come up with new materials to inform rather it should focus on strengthening the thesis.
Given above are the four most important types of essay writing. Persuasive, narrative, expository and descriptive essays form the base for many other types of essay writing. Therefore, we will discuss some more different types of essay writing.
Cause and effect essay
Cause and effect essays deals with writing about things that happened and how. It basically describes an event and the purpose, motive or anything it could be.
Few things to remember while writing cause and effect essay-
Clearly explain and differentiate the cause and effect.
Like any other essay prepare a strong thesis.
Be clear about what you want to write, whether its cause, effect or both.
Know your purpose.
Be clear if you want to inform or persuade the readers.
Provide a conclusion that strengthens the thesis.
Compare and contrast essay
Compare and contrast essays deals with understanding the differences and similarities of two specific subjects. It gives us a detailed information regarding the two specific subjects or objects. The differences and similarities are used to make statements or arguments.
Few things to remember-
Be clear about the subjects you're talking about in your essay.
Deep research on both the subjects before coming to a point.
It's difficult to talk about each and every detail, therefore stick to the main points which you think is necessary.
Differences should develop along with the body paragraphs.
The conclusion should strengthen the thesis.
Argumentative essay
Argumentative essays require deep investigation, research and gathering of evidences to support the argument. Please do not get confused between argumentative essay and Expository Essay writing. They might look similar but are totally different than each other. Argumentative essays require deep research. You might even need to go for surveys, interviews to collect data for your thesis.
Few things to remember-
Go for a topic which you think you can argue on.
Argumentative essays require intensive research therefore, select a topic which in which you can spend lots of time without losing your interest.
Argumentative essays require a good structure, therefore select your title and your points carefully.
Always know your audience for whom you'll be delivering this argument.
Prepare a conclusion that strengthens you're the thesis.
Classification essay
The word classifying means the action or process involved in classifying something. Classification essay writing is a common form of essay in which the writers are asked to select a certain topic and classify them. It needs a deep analysis of the topic you are talking about. It requires deep research and proper presentation of ideas related to the topic.
Few things to remember-
Boost yourself with every possible knowledge related to the topic.
Pen down all your ideas in one place and organize them accordingly.
All your classifications must be logical with valid materials to support it.
Likewise, write a conclusion that strengthens your thesis.
References:- Wikihow, Essayinfo.com