Training Programs in Arts and Architecture
There are various training programs in Arts and Architecture available at college/university or corporate firms. Many of them are emerging and providing good opportunities for the students to get a luring job. The job not only provides a good living but and the job enjoyment as job satisfaction is a major frill in jobs related to Arts and Architecture. Once you select these streams, an enjoyable life is no more away from you. The only thing you need to have is to have a good exposure of what is going on in these areas. What is new, what is in demand? Students have many questions in training programs of Arts and Architecture. Some of them are, what are scope, future and job opportunities in this field? Is there any future scope in architecture?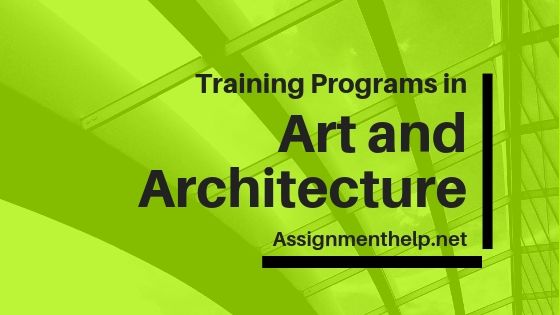 A number of good Arts and Architecture colleges are present in the world. These arts and architecture colleges are providing various new training programs to the arts' students. These programs by arts and architecture colleges are in different modes. The colleges are affiliated to tip most universities. A few among them to name are Urban, Community, and Regional Planning (this one was named to be the best career option for the year 2009 by the US news and world report).
This deals with the analysis of a requirement of new trends and in what direction these trends are. They also include a need of the population, various related, the area's assets and liabilities, and laws and policies.), Online Design and Applied Arts courses [ It has 12 programs viz. Design Studies, Digital Arts and Design, Game Art and Design, Graphic Design and Multimedia, Interior Design, Interior Design, Visual Communication Concentration, Visual Communication-Web Design Concentration (Completion program), Visual Communications ].
The programs within the braces have different associate and bachelor's degree associated and combined to make up to twelve. Under this online design and applied arts courses, you can give your career a direction in designing web pages, professional and business slide shows, commercial signs, page layouts for magazines and newspapers, games, and all forms of multimedia. Getting a degree in graphic design will help us in coping with us with the changing requirements of design.
The universities are also providing placements and support online that is a part of arts help. Other forms of art help are providing online study material related to arts. Information about all such universities and their programs is brought to you by different websites. These websites have some special column for arts homework/assignment help. They possess some good art tutors that are good at guiding and can help you in art homework and understanding different aspects of Arts and Architecture.
These websites and various reputed foreign universities maintain their standards with hire of distinguished art tutors. Even we provide training and guidelines for teachers so that they may carry out their arts help and support for the needy students in an efficient manner. This helps in making arts online and helping the arts graduates find ease in understanding subject and getting good jobs in the market.
You can find careers guidance, tips and valuable information to choose best Arts and Architecture College.