Tag archives for Online tutoring services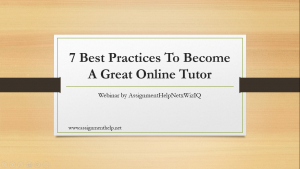 AssignmenthelpNet recently collaborated with WizIQ to deliver a webinar titled "7 Best Practices to Become a Great Online Tutor". Our blog contributor Urvi delivered this webinar in which she...

Online education is more common than ever. Online tutoring is the best choice for students who miss the classroom teaching for any reason. In online tutoring, where students frequently...