What is accounting and its important?
Accounting is the analysis of company's financial statements, financial health, transactions of the company, company debiting account, company crediting account, tax calculations, etc. The person is responsible for the mentioned activities are commonly known as an accountant. The accountant is a key person to involve in your business, especially when starting up a business. No organization or business entity can function effectively without accounting.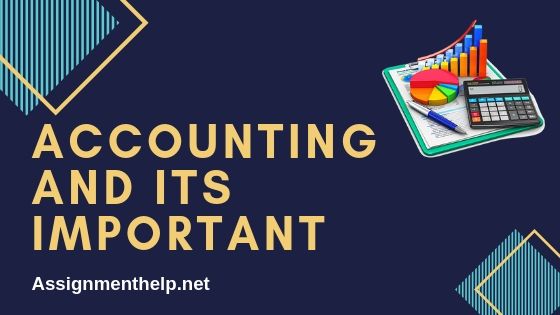 Accounting allows a company to conclude net profit and loss, company performance, etc. in the end of every financial year. Now the time, accounting is very necessary for those people who are some how related to the business world. In an accountancy field, you have a great job responsibilities and job position. People in a business world should have some basic knowledge of accounting.
Students can be learned the basic accounting concepts via online accounting help services. Our accounting help service provides a solution of your academic accounting problem, based on your queries. If college or university students face any problem to solve accounting questions/assignments, they frequently contact us. Our expert accounting tutors are ready to help you around the clock (live 24/7) to deliver the best solution of your accounting questions/assignments.
Accounting assignment/homework help is also part of online accounting help services. Accounting homework help provides accounting study summary and problems to the users at home. Assignmenthelp.net's help service namely accounting assignment help and accounting homework help gives an option to sort out the students/end user's problems as per their convenience.
Deep accounting knowledge is necessary for the accounting students for better future and basic understanding for everyone. Furthermore, it is very useful in people's everyday life. Basic accounting knowledge is must for everyone because in every department it is useful like office secretaries use their accounting skills to manage company orders; auditors use their accounting skills to study financial statements to evaluate the performance and accuracy of the business; an executive can use their accounting skills to learn the past and present accounting statements to evaluate the success of business products and services in the markets. Above mentioned examples are as per positions of an organization, where somehow accounting is very necessary.
Accounting is not necessary only for business students but knowledge of accounting gives many more personal benefits to you. People use accounting in their daily lives when they study financial statements to make investment decisions, pay monthly EMI of home loan, personal loan, car loan or any loan you may have.
Thus, accountancy is a not part of life but it is heart of life. Accounting knowledge is a powerful tool. You should definitely use accounting knowledge in your daily life activities. A person without knowledge of accounting education is seemed like the unprepared for real world.
Students can contact us with our expert tutors regarding their accounting assignments/problems.