20 Books to Read in 2020 for Professional Growth and Development
No matter what stage you are in your career, there is always scope for growth and development. It has been very widely said that books are the best friends any human can have. When you read the right book, you get perspective, confidence, and motivation. It is amazing how a single book can transform the way a person looks at life.
Building your career does not end with getting a job. Almost anyone who tries with enough determination can get a job that pays the bills in today's world. However, building a long career is so much more than that. It requires the individual or the professional to keep growing all throughout the entire way. It requires thinking out of the box and being smart in deciding the life that you wish to lead. If you do not live up to your full potential in your workspace, all you full with at the end is regret.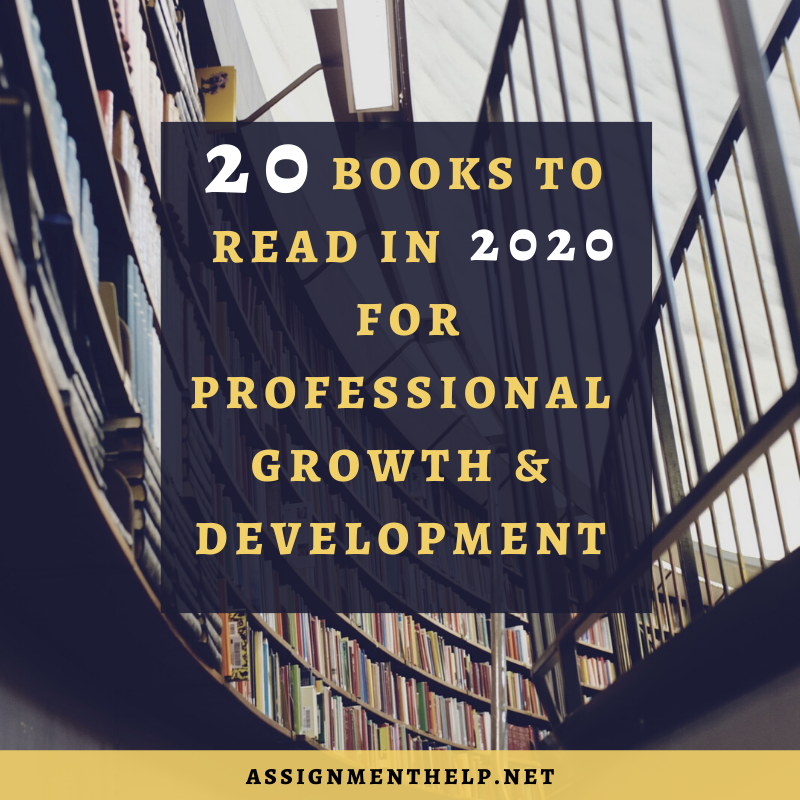 If you are someone who thinks and believes that there is still a lot of space left for your growth and professional development, the best way you can facilitate that growth is by grabbing some really good books.
To help you with the process, here we list the best 20 books that you should focus on in 2020 for professional growth and development:
1. Think and Grow Rich by Napoleon Hill
Think and Grow Rich is a book that was written eighty years ago. The very fact that it has stuck around even eighty years later is a testament to the quality of this book. The author wrote this book based on the success principles and ideals of people like Henry Ford, Andres Carnegie, and Thomas Edison. It would not be wrong to call the book a classic. Anyone who wishes to build a successful and glorious career should get their hands on this book. Although one would need to use some modern methods in place of some of the things mentioned in the book, it is still a highly valuable book.
2. Outliers The Story of Success by Malcolm Gladwell
Another book that you must read in the upcoming year is Outliers The Story of Success. The book entails a scientific outlook on how to achieve success in life. Unlike any other book meant to provide professional development tips, this book does not contain a specific list of the things one needs to do to be successful. The main point of the book is that the success we achieve totally depends upon the time we put into developing our skills. The book says that our success does not depend on luck, skill, or attitude. There are various anecdotes in the book that help make this point.
3. Big Magic by Elizabeth Gilbert
This book is one that is specially meant for professionals whose jobs are creative in nature or it requires them to be creative. For any creative person, it is quite natural to experience a dry spell in terms of inspiration. The book offers the readers a very interesting outlook on creativity. Considering the dry spell that people can experience from time to time, the author takes the readers on a journey and lists out the habits, approaches, and tips one should follow in order to be as creative as possible. The book has been of quite help to creative professionals all over the world.
4. The Only Move that Matters is Your Next One by Jenny Blake
There are many professionals who find midway in their careers that they wish to make a transition. One of the first reactions to this wish is panic. However, one should understand that it is only natural to do something first and then realize that it is not your calling. This book is about all this. It explains to the readers that everyone has his own story and there is a unique career path for everyone. There is no fixed path that everyone is supposed to follow. The book inspires the readers to accept who they are and where they are and think about the journey that awaits them in the future.
5. The Power of You by Eckhart Tolle
The Power of Now is a known name among avid readers. All of us have the desire to plan our lives for the foreseeable future. We wish to plan out all the details. However, more often than not, life does not turn out as we plan it or expect it to. These unplanned things or detours that life throws at us naturally make us unhappy. This book is about teaching the readers to be in the moment and think about the present instead of the future. The primary message of the book is that living in the present is the best path to personal and professional growth.
6. The 7 Habits of Highly Effective People: Powerful Lessons in Personal Change by Stephen R. Covey
This is a book that truly deserves a place on this list. If someone is looking to become more efficient and grow in the professional as well as personal life, this book is a must-read. The book is about the habits one needs to develop to make sure that he succeeds on a constant basis in professional life. The 7 habits that the book entails are a few that everyone should cultivate in themselves. In the book, the reasons and the need to have these habits have been explained very well.
7. Savvy! The Young Woman's Guide to Career Success
Savvy is a book that is a must-read for all the women out there who wish to achieve growth in their professional life. The authors of the book, Alice Nagle and Luanne Tierney are two successful women from Silicon Valley. In the book, they give tips and tricks on how young women can make it big in their professional lives. The authors talk about increasing confidence while being at the workplace and learning to improve on communication and presentation skills. Moreover, the book also teaches readers how to build their own personal brand in this competitive world.
8. Presence by Amy Cuddy
Irrespective of the industry or the line of work one is involved in, it is extremely important for one to make a good impression in front of others. In this competitive world, the very first interaction can go a long way toward deciding the kind of career you have. Therefore, it is very critical to learn and understand how to build a 'presence'. The book talks about what one can do to create a genuine presence and how one can have a thoughtful interaction with the peers. Also, the author gives insights on how to stop panicking while taking on a big challenge.
9. The Third Door by Alex Banayan
The book is a priceless collection of some of the best interviews. The author went on a five-year adventure to track down some of the world's most successful businessmen and record how they became better than most people and how they became so successful in their careers. The title comes from the fact that while the author was on this adventure and he had interactions with these successful people, he learned that all of that had one thing in common, which was 'The third door'. These people did not wait in line for the opportunities. They created them.
10. Body of Work by Pamela Slim
The career paths that the people follow today are quite different from the ones that people generally followed a decade or two ago. Earlier, people would choose a field that they loved, they would start at the lowest of positions and then rise up the ladder. But today, people follow a more spontaneous path. Many of us today spend time working on different jobs that may seem to be unrelated. This book talks about how one can connect together all these seemingly unrelated accomplishments and use them to build an excellent personal brand for himself.
11. Designing Your Life by Bill Burnett and David Evans
This book takes up the field of designing as an example and creates an analogy to help the readers understand that there are a lot of choices that we make intentionally in the daily lives that eventually lead up to a fixed system for us. The primary aim of the book is to teach the readers how to decide first what they want from their life and then learn how to design their routines intentionally in order to achieve those aims. The book tells the readers that no matter what the age of a person is, it is always possible to redesign life and career if one has the right intention and determination.
12. Do what you are
As the name suggests, the book talks about how some personality types are better suited for certain job roles. The primary aim of the book is to give the people a bit of clarity about what they really want to do and what they can be good at. It teaches the readers an idea of how they can judge their personality type and decide the best career path for themselves. The book goes through every step that people need to follow to figure all this out and thus, it is something people should surely get their hands on in 2020.
13. So Good They Can't ignore you by Cal Newport
The popular opinion around the world is that one should make a career in a field that they are passionate about. However, according to the author of this book, this is a wrong notion. The author argues that trying to develop skills instead of focusing on what the heart wants is a much better bet in terms of making a good career. The book contains a lot of interviews of people from all walks of life ranging from farmers to freelancers, and businessmen. Thus, it provides readers with valuable insights on how to be successful.
14. What Color Is Your Parachute by Richard Nelson Bolles
This book is one of the most popular career advice books one can find. It is also quite popular among the young professionals as it contains all the advice that one needs to find the best-suited job and grow in the career. There are valuable job-hunting strategies including social media and online tactics for the professionals of this world to incorporate in their processes. Also, it is very easy to understand as all the processes are explained in the steps. Thus, the book can prove to be really helpful for someone to get a job faster.
15. Get a Life, Not a Job by Paula Caliguiri
It is no secret that a huge number of young professionals spend many of their working hours thinking about the next job that they want. The book revolves around the point that instead of thinking about the next job, one should think about the kind of life he wants. The idea of the book is that when we all spend most of our days during the week working, why should one spend all this valuable time doing something that he hates. The book encourages readers to take charge of their life and decide their destiny.
16. Smarter, Faster, Better: The Secrets of Being Productive in Life and Business by Charles Duhigg
The book talks about how one can increase productivity as much as possible. There are eight concepts that the book explains and talks about how some people and organizations make it so much bigger than their peers. The book is a very well researched one and it draws information from areas like psychology, behavioral science, and also contains the experiences of successful people from a wide range of walks of life.
17. Grit: The Power of Passion and Perseverance by Angela Duckworth
The author of this book, Angela Duckworth, is a psychologist. In this book, she talks about 'grit' and how she thinks it is the secret to success. Also, she goes on to address different types of people ranging from students to parents and businessmen to make a significant point of how a perfect blend of passion and persistence can go a long way to helping someone grow both personally and professionally.
18. High Hanging Fruit: Build Something Great by Going Where No One Else Will by Mark Rampolla
Mark Rampolla is the founder of ZICO Coconut Water. In the book, he talks about his own experience of how he was not inspired by his job and wanted to do something big. He draws upon his journey to selling coconut water in the United States. The book is meant to inspire people who wish to build a big business and wish to leave a lasting impact on the world. if you are one such person, you should definitely get this book.
19. Choose Yourself by James Altucher
As the name suggests, the book talks to people about identifying themselves and their qualities. Also, it inspires people to accept their own self and work on creating a better version out of it. The book helps the readers to understand that it is really important to invest in yourself as a person. There are real-life interviews showcased in the book to inspire the readers to take charge of their lives.
20. Getting Things Done: The art of stress-free productivity by David Allen
This book is one of the best ones can read when it comes to increasing personal productivity. If you are someone who gets really scared at the thought of taking up an important task or responsibility, then this is surely a must-read for you. The book teaches readers how to implement an organizational system easily. Besides this, the author also walks the readers through his own personal methods.
All of us have the dream to make it big in life. We all want to be the best in the field that we are passionate about. However, it is important to understand that it cannot happen overnight. There has to be a process involving steps. Grabbing these books in 2020 might be the best first step that you can take towards achieving this goal.