Dish Costings and Recipes Part 3
Dish Costings & Recipes
Table d' Hote (Set Menu)
Part 3 Using your restaurant, a la carte menu, you are to develop a table d'hôte (set dinner menu) with contemporary sequencing of items.
Your menu Must include 3 entrees, 3 main Assignments and 2 desserts.
Provide a yield test on one entrée, One main, One Dessert
The following information is to be provided by the instructor for each student:
Menu specialty (cuisine, cultural menu, any dietary considerations)
Approximate price for 2 or 3 Assignment meals priced per head.
Food production budgets.
Profit margin objectives.
Business running costs, excluding labor.
Available equipment.
Provide two different seasonal variation options for the 2 desserts e.g. Summer/Winter.
Entrée
1:Ceaser Salad
2: Salted Salmon Cheesecakes
3: Oriental tabbouleh
4: Cod Ceviche
Mains
1: Filet Mignon in Puff Pastry
2: Bacon Quiche
3: Spinach and Goat Cheese Lasagne
4: Cauliflower Gratin
Dessert
1: Wafer cake
2: Apple and Cinnamon Crumble
3: Brûlée Cream
4: Chocolate Cake
Entrée
1. Ceaser Salad - Costing
IMAGE OF DISH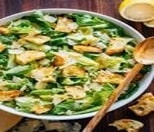 Portion amount:

1 plate

Portion Size:

200g

Portion cost:

$5,00

Sales Prices:

$9,00

Food Cost %:

92%
Ingredients Name

Amount needed:

kg / lt / unit /

Cost per Amount: kg/l/unit

Actual Cost of each ingredient

romaine or American lettuce

1 unit

$0.25

$1.00

chicken fillets

8 fillets

$0.10

$0.30

eggs

3 units

$0.50

$2.00

parmesan (in chips)

20 g

$0.25

$1.00

mustard

1 tsp

$0.25

$1.00

salt

To taste

$0.40

$1.50

Worcestershire

1 tsp

$0.50

$2.00

lemon

1 unit

$0.50

$2.00

chili

To taste

$1.00

$4.00

olive oil

100ml

$0.25

$1.00

Parmesan cheese (grated)

15g

$0.25

$1.00

loaf

1 slice

$0.25

$1.00

garlic

1 clove

$0.10

$0.30
Example:
Purchase Weight: 5kg $ 15per kg = $75
Waste Trimmings: 1kg $ 15per kg = $15
Prepare Weight: 4kg $ 15per kg = $60
Prepare Weight: 4k x 100 = 80%g
Purchase Weight:
Yield Test %
| | |
| --- | --- |
| Purchase Weight: | 0,8kg |
| Waste Trimmings: | 0,2kg |
| Prepare Weight: | 0,6kg |
| Yield %: | 75% |
| Purchase Weight Cost: | $4,60 |
| Waste Trimmings Cost: | $1,15 |
| Prepare Weight Cost: | $3,45 |
1. Ceaser Salad – Recipe Details
IMAGE OF DISH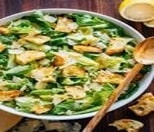 | | | | |
| --- | --- | --- | --- |
| From: | Sarah | Prep Time: | 35 min |
| Serves: | 2 | Cook Time: | 30 min |
| Portion size: | 200g | | |
Instructions

Step 1 - Fry the chicken pieces until golden brown.

Step 2 - Cook the eggs in a pan of boiling water for 10 minutes.

Step 3 - In the skillet, put the olive oil and brown the chopped garlic.

Step 4 - Then also place the breads (diced). Let it brown.

Step 5 - The Sauce: Using the blender, mix the mustard, salt, the English sauce, the lemon juice and the pepper.

Step 6 - Still beating, slowly pour the olive oil.

Step 7 - When the sauce thickens, add the grated cheese and the whole egg. Beat again.

Step 8 - Assemble Your Dish: Distribute the lettuce leaves and then the chicken fillets.

Step 9 - Cut the eggs into 4 and distribute them also over the lettuce. Pour / pour Caesar sauce.

Step 10 - Place the Parmesan Chips. Lastly, the crotons.

Ingredients

1 romaine or American lettuce

8 chicken fillets

3 eggs

20 gr parmesan (in chips)

1 teaspoon mustard

salt

1 teaspoon Worcestershire

1 lemon

chili

100 ml olive oil

15 gr Parmesan cheese (grated)

2 slices of loaf

1 clove of garlic
Notes
Add recipe details here
2. Salted Salmon Cheesecakes - Costing
IMAGE OF DISH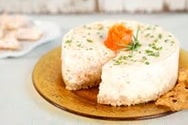 Portion amount:

1 plate

Portion Size:

200g

Portion cost:

$8.00

Sales Prices:

$13.00

Food Cost %:

85%
Ingredients Name

Amount needed:

kg / lt / unit /

Cost per Amount: kg/l/unit

Actual Cost of each ingredient

smoked salmon

6 slices

$0.25

$1.00

cream cheese (Philadelphia type)

300g

$0.30

$1.20

ricotta / curd

250g

$0.25

$1.00

salt water crackers

100g

$0.25

$1.00

butter

80g

$0.25

$1.00

salt

To taste

$0.38

$1.50

chili

To taste

$0.01

$0.01

chive

To taste

$0.25

$1.00
2. Salted Salmon Cheesecakes – Recipe Details
IMAGE OF DISH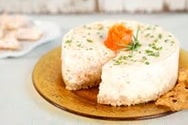 | | | | |
| --- | --- | --- | --- |
| From: | Sarah | Prep Time: | 25 min |
| Serves: | 5 | Cook Time: | 00 min |
| Portion size: | 200 | | |
Instructions

Step 1 - Crush the saltine crackers and add the butter.

Step 2 - Place parchment paper / butter on top of a tray (which you will later put in the fridge / freezer), and arrange the bottomless circle shapes on top.

Place some crushed crackers on the bottom of each circle to make a base.

Step 3 - Mix together the cream cheese, ricotta cheese and 3 slices of salmon that have been chopped or cut into small pieces. Season with salt, pepper and herbs.

Step 4 - Place this preparation on top of the cookie bases, smooth the top and refrigerate for at least 6 hours.

Step 5 - With a circle shape, cut circles on the remaining 3 salmon slices.

Step 6 - Remove the cheesecakes from the cold, demold and place a circle of salmon on top of the cream. Garnish with herbs and serve.

Ingredients

6 slices of smoked salmon

300 g of cream cheese (Philadelphia type)

250 g of ricotta / curd

100 g salt water crackers

80 g butter

salt

chili

chive
Notes
Add recipe details here
3. Oriental tabbouleh – Costing
IMAGE OF DISH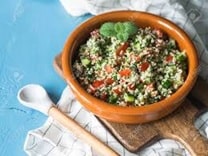 Portion amount:

1 plate

Portion Size:

150g

Portion cost:

$6.00

Sales Prices:

$12.00

Food Cost %:

93%
Ingredients Name

Amount needed:

kg / lt / unit /

Cost per Amount: kg/l/unit

Actual Cost of each ingredient

semolina (couscous medium grains)

150g

$0,67

$2.00

tomatoes

2 units

$0,33

$1.00

onion

½ unit

$0,33

$1.00

lemon juice

100ml

$0,67

$2.00

olive oil

60ml

$0,50

$1.50

parsley

1 unit

$0,67

$2.00

mint

1 unit

$0,67

$2.00

salt

To taste

$0,67

$2.00

pepper

To taste

$2,00

$6.00
3. Oriental tabbouleh– Recipe Details
IMAGE OF DISH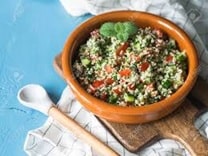 | | | | |
| --- | --- | --- | --- |
| From: | Sarah | Prep Time: | 15 min |
| Serves: | 6 | Cook Time: | 00 min |
| Portion size: | 150g | | |
Instructions

Step 1 -In a bowl, put the semolina / couscous, lemon juice / juice and olive oil.

Step 2 - the diced tomatoes, onions and chopped herbs. Salt and pepper to taste.

Step 3 - well and refrigerate for 3 hours. Before serving, mix again.

Ingredients

150 gr of semolina (couscous medium grains)

2 tomatoes

1/2 onion

100 ml lemon juice (2 lemon juice)

60 ml olive oil

1 small bundle of parsley

1 small packet of mint

salt

pepper to taste
Notes
Add recipe details here
4. Cod Ceviche - Costing
IMAGE OF DISH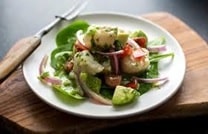 Portion amount:

1 plate

Portion Size:

250g

Portion cost:

$7.00

Sales Prices:

$19.00

Food Cost %:

85%
Ingredients Name

Amount needed:

kg / lt / unit /

Cost per Amount: kg/l/unit

Actual Cost of each ingredient

fresh cod fillet

1 fillet

$4.00

$5.00

lime green juice

1 unit

$0.10

$1.00

olive oil

6 tbsp

$0.40

$3.00

salt

To taste

$0.40

$1.00

chili

To taste

$0.30

$1.00

green pepper

1 unit

$0.20

$1.00

tomato

1 unit

$0.02

$1.00

onion

½ unit

$0.10

$1.00

mango

½ unit

$0.50

$2.00

cilantro

To taste

$0.50

$2.00
4. Cod Ceviche– Recipe Details
IMAGE OF DISH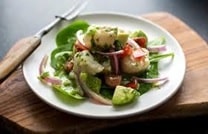 | | | | |
| --- | --- | --- | --- |
| From: | Sarah | Prep Time: | 3h |
| Serves: | 2 | Cook Time: | 3h |
| Portion size: | 250g | | |
Instructions

Step 1 - Prepare the marinade: cut the fish into small pieces. Then in a bowl, combine olive oil, lemon juice, salt, pepper and fish.

Step 2 - Cover with plastic wrap and refrigerate for 3 hours (minimum).

Step 3 - Cut into small squares (dice) tomatoes, peppers, mangoes and onions.

Step 4 - Mix the vegetables with the chopped cilantro.

Step 5 - Finally add the marinated fish and mix it up again. For mounting, use a cylindrical rim form (a mould) and place the ceviche inside. Press. Take it out of the mould.

Ingredients

1 fresh cod fillet

1 lime green juice

6 tbsp olive oil

salt

chili

1 green pepper

1 tomato

1/2 onion

1/2 mango

cilantro
Notes
Add recipe details here
Mains
1. Filet Mignon in Puff Pastry - Costing
IMAGE OF DISH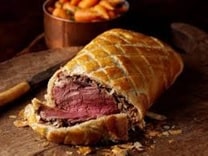 Portion amount:

1 plate

Portion Size:

400g

Portion cost:

$7.00

Sales Prices:

$20

Food Cost %:

90%
Ingredients Name

Amount needed:

kg / lt / unit /

Cost per Amount: kg/l/unit

Actual Cost of each ingredient

puff pastry

1 unit

$0.20

$1.00

Filet Mignon

400g

$5.00

$7.00

slices of ham

2 slices

$0.40

$3.00

grated cheese

100g

$0.40

$1.00

salt

To taste

$0.30

$1.00

chili

To taste

$0.20

$1.00
Example:
Purchase Weight: 5kg $ 15per kg = $75
Waste Trimmings: 1kg $ 15per kg = $15
Prepare Weight: 4kg $ 15per kg = $60
Prepare Weight: 4k x 100 = 80%g
Purchase Weight:
Yield Test %
| | |
| --- | --- |
| Purchase Weight: | 600g |
| Waste Trimmings: | 200g |
| Prepare Weight: | 400g |
| Yield %: | 66% |
| Purchase Weight Cost: | $6.50 |
| Waste Trimmings Cost: | $2.15 |
| Prepare Weight Cost: | $4.30 |
1. Filet Mignon in Puff Pastry – Recipe Details
IMAGE OF DISH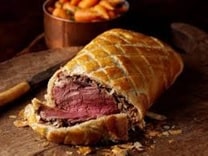 | | | | |
| --- | --- | --- | --- |
| From: | Sarah | Prep Time: | 15 min |
| Serves: | 6 | Cook Time: | 35 min |
| Portion size: | 400g | | |
Instructions

Step 1 - Stretch the puff pastry and cut two strips on the sides. Reserve this pasta for later.

Arrange the ham slices and sprinkle with grated cheese.

Step 2 - Season and cook the side fillet quickly in a skillet.

Step 3 - Lay the fillet over the ham and cheese and roll into the puff pastry.

Step 4 - Use the dough you reserved at the beginning to decorate the filet mignon roll.

Brush with egg yolk.

Step 5 - Bake for 35 minutes at 180 ° C.

Ingredients

1 puff pastry

1 400 g Filet Mignon

2 slices of ham

100 g of grated cheese

salt

chili
Notes
Add recipe details here
2. Bacon Quiche - Costing
IMAGE OF DISH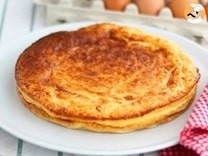 Portion amount:

3 plates

Portion Size:

300g

Portion cost:

$8.00

Sales Prices:

$19.00

Food Cost %:

80%
Ingredients Name

Amount needed:

kg / lt / unit /

Cost per Amount: kg/l/unit

Actual Cost of each ingredient

bacon

200g

$3.40

$10.00

eggs

3 units

$0.60

$2.00

milk

500ml

$0.30

$1.00

flour

100g

$0.60

$2.00

grated cheese

100g

$0.30

$1.00

salt

To taste

$0.60

$2.00

chili

To taste

$0.02

$0.05

nutmeg

To taste

$0.60

$2.00
2. Bacon Quiche – Recipe Details
IMAGE OF DISH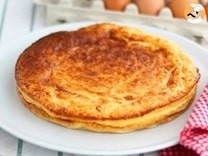 | | | | |
| --- | --- | --- | --- |
| From: | Sarah | Prep Time: | 15 min |
| Serves: | 8 | Cook Time: | 30 min |
| Portion size: | 225g | | |
Instructions

Step 1 - Mix the eggs with flour, salt, pepper and nutmeg. Then add the milk, mixing.

Step 2 - Cook the bacon and add to the preparation with the grated cheese.

Step 3 - Pour all into a round, buttered, floured cake pan.

Step 4 - Bake for 30 minutes at 210ºC.

Ingredients

200 g of bacon

3 eggs

500ml litter of milk

100 g of flour

100 g of grated cheese

salt

chili

nutmeg
Notes
Add recipe details here
3. Spinach and Goat Cheese Lasagne - Costing
IMAGE OF DISH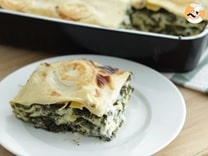 Portion amount:

4 plates

Portion Size:

200g

Portion cost:

$4.00

Sales Prices:

$15.00

Food Cost %:

80%
Ingredients Name

Amount needed:

kg / lt / unit /

Cost per Amount: kg/l/unit

Actual Cost of each ingredient

bechamel

1 litter

$1.25

$5.00

cooked spinach

500g

$0.25

$1.00

Goat Cheese

To taste

$0.50

$2.00

lasagne sheets

16 sheets

$0.25

$1.00
3. Spinach and Goat Cheese Lasagne – Recipe Details
IMAGE OF DISH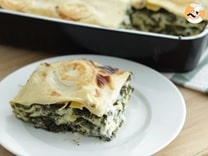 | | | | |
| --- | --- | --- | --- |
| From: | Sarah | Prep Time: | 15 min |
| Serves: | 4 | Cook Time: | 30 min |
| Portion size: | 200g | | |
Instructions

Step 1 - Prepare béchamel sauce

Grease a large serving dish with olive oil or butter and cover with bechamel sauce. Put spinach over the sauce.

Step 2 - Cut pieces of cheese and arrange over spinach.

Step 3 - Cover with lasagne sheets.

Continue to layer in the same way: béchamel sauce, spinach, cheese, lasagne pasta. Until you reach the top of the platter.

Step 4 - On the last layer of lasagne pasta, put just béchamel sauce and pieces of cheese.

Step 5 - Bake for 20 minutes at 220ºC and then let stand outside the oven for 10 minutes.

Ingredients

bechamel (1 litter)

600 g cooked spinach

Goat Cheese - as many as you like

16 lasagne sheets
Notes
Add recipe details here
4. Cauliflower Gratin - Costing
IMAGE OF DISH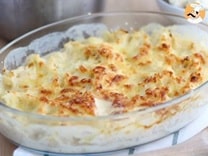 Portion amount:

4 plates

Portion Size:

370g

Portion cost:

$6.00

Sales Prices:

$13.00

Food Cost %:

83%
Ingredients Name

Amount needed:

kg / lt / unit /

Cost per Amount: kg/l/unit

Actual Cost of each ingredient

cauliflower

1 unit

$0.50

$2.00

butter

25g

$0.50

$2.00

flour

25g

$0.50

$2.00

milk

500ml

$0.10

$1.00

salt

To taste

$0.10

$1.00

chili

To taste

$0.10

$1.00

nutmeg

To taste

$0.50

$2.00

grated cheese

100g

$0.50

$2.00
4. Cauliflower Gratin – Recipe Details
IMAGE OF DISH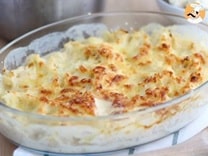 | | | | |
| --- | --- | --- | --- |
| From: | Sarah | Prep Time: | 25 min |
| Serves: | 4 | Cook Time: | 30 min |
| Portion size: | 370g | | |
Instructions

Step 1 - Cut the cauliflower into pieces and bake 15 minutes in boiling salted water.

Step 2 - Place on a greased baking dish.

Step 3 - Melt the butter in a pan or pan and add the flour. Mix.

Step 4 - Add the milk gradually, always mixing, allowing to thicken until the béchamel gets the consistency you want. (more liquid or thick according to your taste)

Step 5 - Pour the béchamel over the cauliflower. Sprinkle with grated cheese.

Step 6 - Bake for 30 minutes at 180ºC.

Ingredients

1 cauliflower

25 g of butter

25 g of flour

500 ml of milk

salt

chili

nutmeg

100 g of grated cheese
Notes
Add recipe details here
Dessert
1. Wafer cake - Costing
IMAGE OF DISH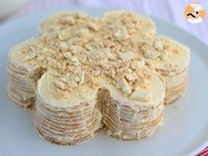 Portion amount:

1 cake

Portion Size:

600g

Portion cost:

$4.00

Sales Prices:

$10.00

Food Cost %:

85%
Ingredients Name

Amount needed:

kg / lt / unit /

Cost per Amount: kg/l/unit

Actual Cost of each ingredient

waffers

2 packets

$1.00

$3.00

butter

250g

$1.00

$1.00

sugar

250g

$0.40

$2.00

egg

3 eggs

$0.25

$1.00

coffee

200ml

$1.00

$3.00
Example:
Purchase Weight: 5kg $ 15per kg = $75
Waste Trimmings: 1kg $ 15per kg = $15
Prepare Weight: 4kg $ 15per kg = $60
Prepare Weight: 4k x 100 = 80%g
Purchase Weight:
Yield Test %
| | |
| --- | --- |
| Purchase Weight: | 1kg |
| Waste Trimmings: | 0.4kg |
| Prepare Weight: | 0.6kg |
| Yield %: | 60% |
| Purchase Weight Cost: | $3.65 |
| Waste Trimmings Cost: | $1.46 |
| Prepare Weight Cost: | $2.19 |
1. Wafer cake – Recipe Details
IMAGE OF DISH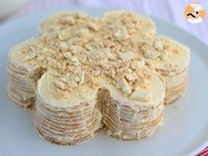 | | | | |
| --- | --- | --- | --- |
| From: | Sarah | Prep Time: | 00 min |
| Serves: | 8 | Cook Time: | 1h |
| Portion size: | 600g | | |
Instructions

Step 1 - Beat butter for 5 minutes. Add the sugar and beat for another 5 minutes. Finally add the egg yolks and beat again for 5 minutes. Reserve.

Step 2 - Add the sugar spoon to the coffee (this is optional). Quickly dip a cookie in and arrange on a large flat plate. Do not soak the biscuits inside the coffee for a long time, the goal is not to get soft but to taste like coffee.

Step 3 - One by one, arrange the cookies forming a flower.

Step 4 - Spread the butter cream you have reserved in a thin layer.

Step 5 - Layer wet biscuits in coffee and butter cream until only 5 cookies left.

Step 6 - Finish with a layer of butter cream. Grind the 5 cookies you have stored and decorate the cake.

Step 7 - Refrigerate for a few hours and serve

Ingredients

2 packets of Maria cookies

250 g soft butter

250 g of sugar

3 egg yolks

200 ml of coffee
Notes
Add recipe details here
2. Apple and Cinnamon Crumble - Costing
IMAGE OF DISH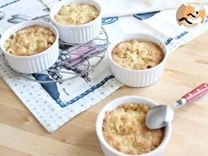 Portion amount:

4 cups

Portion Size:

50g

Portion cost:

$2.50

Sales Prices:

$6.00

Food Cost %:

90%
Ingredients Name

Amount needed:

kg / lt / unit /

Cost per Amount: kg/l/unit

Actual Cost of each ingredient

butter

300g

$1.00

$3.00

sugar

100g

$0.10

$1.00

flour

160g

$0.10

$1.00

apples

4

$1.00

$3.00

cinnamon

1 tsp

$0.10

$1.00
2. Apple and Cinnamon Crumble – Recipe Details
IMAGE OF DISH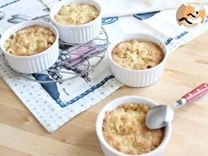 | | | | |
| --- | --- | --- | --- |
| From: | Sarah | Prep Time: | 15 min |
| Serves: | 4 | Cook Time: | 30 min |
| Portion size: | 50g | | |
Instructions

Crumble:

Step 1 - Mix butter (at room temperature) + sugar + flour.

Step 2 - Cut the apples into pieces.

Step 3 - Bake the apples + cinnamon in a skillet for 12 minutes over low heat. Turn off and let stand at room temperature.

Step 4 - Place the apple pieces in individual bowls.

Step 5 - Put the crumble dough on top.

Step 6 - Bake at 200 ° C for 5-10 minutes until the dough is golden brown.

Ingredients

For Crumble:

100 g butter (at room temperature)

100 g of sugar

160 g of flour

For apples:

4 apples

1 teaspoon cinnamon

1 piece of butter
Notes
Add recipe details here
3. Brûlée Cream- Costing
IMAGE OF DISH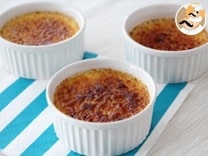 Portion amount:

Small cup

Portion Size:

20g

Portion cost:

$2,50

Sales Prices:

$5.00

Food Cost %:

70%
Ingredients Name

Amount needed:

kg / lt / unit /

Cost per Amount: kg/l/unit

Actual Cost of each ingredient

cream / sour cream

300 ml

$0.60

$3.00

vanilla pod

1 pod

$0.30

$1.00

milk

375ml

$0.60

$3.00

sugar

90g

$0.20

$1.00

egg yolks

6 units

$0.20

$1.00
3. Brûlée Cream– Recipe Details
IMAGE OF DISH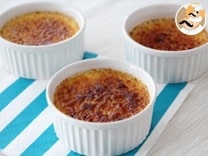 | | | | |
| --- | --- | --- | --- |
| From: | Sarah | Prep Time: | 25 min |
| Serves: | 6 | Cook Time: | 30 min |
| Portion size: | 20g | | |
Instructions

Step 1 - Mix egg yolks with sugar.

Beat energetically until everything is creamy.

Step 2 - Heat the milk in a pan or pan and add the cream.

Step 3 - Open the vanilla stick and remove the seeds.

Step 4 - Add the seeds and vanilla stick to the milk and leave to infuse for 10 minutes.

Step 5 - Add the sugar cream + egg yolks in a container and add the previously filtered milk + cream (remove the seeds and vanilla stick) and cool. Then stir well.

Pour the preparation into individual bowls.

Step 6 - Place the bowls on a deep baking tray and half fill with water. To bake in a water bath.

Bake for 25-30 minutes at 190 ° C.

Step 7 - Chill for 1 (one) hour. Once cold, spread yellow sugar on top and toast them with a blowtorch (or oven grill mode).

Ingredients

300 ml of cream / sour cream

1 vanilla pod

375 ml of milk

90 g of sugar

6 egg yolks
Notes
Add recipe details here
4. Chocolate Cake - Costing
IMAGE OF DISH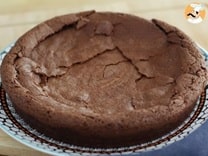 Portion amount:

1 tray

Portion Size:

600g

Portion cost:

$3.00

Sales Prices:

$12.00

Food Cost %:

80%
Ingredients Name

Amount needed:

kg / lt / unit /

Cost per Amount: kg/l/unit

Actual Cost of each ingredient

chocolate

200 g

$1.00

$2.00

butter

120 g

$0.60

$3.00

sugar

150 g

$0.30

$1.00

flour

80 g

$0.20

$1.00

eggs

3

$0.20

$1.00

chemical yeast

7 gr

$0.20

$1.00
4. Chocolate Cake – Recipe Details
IMAGE OF DISH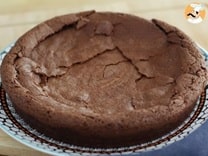 | | | | |
| --- | --- | --- | --- |
| From: | Sarah | Prep Time: | 15 min |
| Serves: | 8 | Cook Time: | 30 min |
| Portion size: | 600g | | |
Instructions

Step 1 - Mix eggs and sugar in a deep bowl, then add flour and yeast. Mix everything very well.

Step 2 - Melt the chocolate and butter in a water bath or microwave.

Step 3 - Add the melted chocolate to the mixture from step 1.

Step 4 - Bake for 30 minutes at 180ºC.

Ingredients

200 g of chocolate

120 g of butter

150 g of sugar

80 g of flour

3 eggs

7 gr chemical yeast
Notes
Add recipe details here