What do you mean by admission essay?
Admission essay is as the name suggests is an essay which is required at the time of admission in various colleges or schools or even in institutes. It is also included in the admission scholarship program of the school and college. The applications for scholarships also include more than one essay writing which is being tested to see, if the students have a versatile hand in writing in hand or not. The main question is asked as of a personal information which allows the selection committee who reviews the essay for getting to know the plans of yours and goals which you want to achieve in future and what benefits you can reap from the facility program. Many important events in your life related to the career are monitored by the goals that you set. Hence if you're goals and ambitions are well set, the selection committee will have a more favorable clause towards you. If you have got the best mix and also excel in the admission essay writing, then it is the best for you. Admission essay writing can help in proving your worth among the other candidates.
Admission essay topics queries and doubts should be countered at the very first thing. The main problem it will recur is the doubt in the subject study of the students will never be cleared. Call us for our services which include best works and best tuition from the tutors which we provide with the Assignment. They will help in making the fluency in the subject. Our services are always available.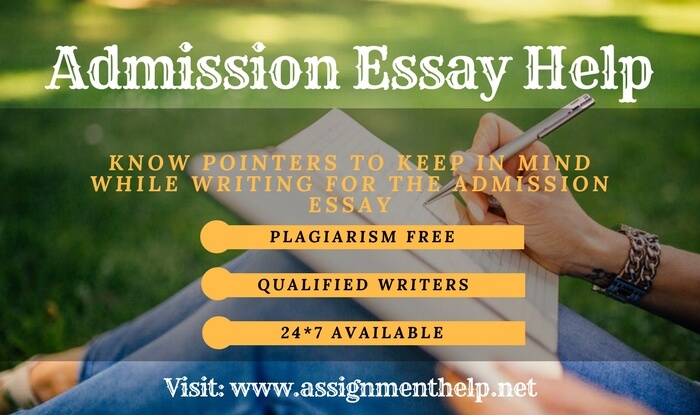 There are certain pointers which should be kept in mind while writing for the admission essay:
1. Assignment the topic
The main task before starting your essay is to study the topic of essay thoroughly. Understand it well and make sure there is no doubts. This will help you in clearing your mind. The main thing that it will show is your confidence and professionalism.
2. Starting your essay with a short story or an anecdote
An anecdote is a short and interesting story which is written with the view of connecting the readers immediately. It helps in grasping the attention of the readers at the very start. The selection committee members only spend a brief amount of time reviewing a single essay, so make sure that the opening is top-notch with a good anecdote. It is very important to engage your reader from the very start. The anecdote can be of any topic, your personality, any funny incident leading up to that specific program selection or your own character sketch. Describing your character will help in making the readers see how it shaped from the past.
3. Writing from the school's position
The school or the college will look up to the applicants who are more willing to be a good part of the institution rather than a mere part. Colleges and schools want to make sure that they select a person who is going to get passed and be a successful person in life due to which the school or college will also get the success recommendation. When you write the essay, make sure that you present yourself as a person who is very eager to learn new things and be a successful person in life. A person who can think practically as well as passionately.
4. Don't try too hard
One thing that off the selection committee's minds is when the applicant is being too formative in his or her essay. This means tying too much to interest the reader, and in the process giving away too much irrelevant information. This will immediately turn off the reader's mind and will result in a bad impression of the writer. The writing doesn't have to written in a Shakespearean type but should look a simple and a well-crafted one.
5. Write relevant information only
When you write an admission essay, make sure that you describe your points and what matters to you. It doesn't care what matters to them but what matters to you. The section committee member is looking for a person having the best authenticity and a sound quality of thinking. The ability of the writer to hold a reader's attention is his or her greatest power.
6. Write clearly about what you need and what you want
'Honesty is the best policy' and yes this sentence is very much correct. When you write an essay, you should be fully honest with it. Honest writing is very much needed as it is more of a personal description of any topic or subject. The College selection committee look for a creative and also an honest admission essay writing which have good looks and have true authority over content.
7. Follow the guidelines
There are some guidelines, instructions and set rules which are given to the writer at the time of essay writing about the essay. Be patient and follow those set rules as it will give a good impression of yours to the selection committee. It will give an impression of your well-disciplined behaviors and writing aesthetics. And eventually will leave a good impression on your work as well as the work profile. Always follow the word limit which is provided and write inside those limits and never exceed them.
8. Don't pretend what you are not
Sometimes students tell unreal and imaginative stories about their backgrounds and pretend to be someone who they are not. This will eventually lead to a false and undisputed image of the student in the mind of the selection committee officer. This will leave a very bad impression on them about the student. When the student does this, he or she also gets off-topic which is not a very good thing.
9. Recheck and format your essay consistently
Grammatical errors, punctuation errors and other typographical errors are the last thing that a student wants to happen in his or her essay write up. These are the worst kind of mistakes that will leave a very bad impression on the checking officers of the selection committee. So, before submitting your essay, always make sure you have rechecked it several times and have formatted the error.
10. Write genuinely
The major thing about writing your essay is the way how you write it and how well you anticipate it. Essay writing is a very simple but should be written with full mind and heart and be fully should be comprehensive. Essay writing is at par best when it is written with full heart and honest words. Words and sentences will come out with more ease and the essay would look more genuine. Selection committee officers gets impressed very quickly when your work is top notch and fully genuine.
Admission essay is very simple and needs the best assistance in it. College admission is very part of a student's life. Making a bull's eye perfect impression is a must for that. For that consider our services which are best in this field.
Admission essay writing needs the best tutor's to be handled, which we provide. Our tutors are the best in this field and provide assistance 100%. Our services include work which is 100% plagiarism free and completed within the deadline. Contact us immediately for availing some exciting offers and look out for great services at our website assignmenthelp.net. We are just a call away.