Personal Statement Writing Help
Help with Personal Statement for College Application
Getting admission to your dream college is an aim for most people. And surely, one would not like to miss a chance to get there. While every student tries his best to fetch admission into the right college for a degree, it is a task for the colleges too, to choose the ones who are eligible to fit in there.

Various parameters are presented by the universities to know the overall being of a student. It is not just the marks or grades which matter, but your personality too makes a difference. Personal statement is asked by various colleges when you apply, so as to know you better. It gives a better understanding of who you really are, apart from the answers filled in the blanks of the form.
And it surely tells a lot about you, which makes it one of the crucial deciding factors for your selection. They are smarter than you to pick out the lines picked up from Google or made up parts of your statement, so make sure that you present yourself as real you. Sounds a little tricky?
Well, here are 10 tips from our online essay editors that you must follow while you work on your personal statement for college application. Keep them in mind while writing, which will guide you to make it worth for selecting.
1. Be yourself
That is the biggest requirement. Don't try becoming someone who you are not in real. It all goes like your first date, where being the true you is what impresses your partner. Flaunting some skills or adding more traits to your personality just to make your application stand out of others may make it look all too desperate, which is not a good thing. Trying to be over smart may take you into troubles and result in low chances of getting selected.
2. Talk more than just your resume and test scores
It is rightly said to build a life during your life, not just adding features to resume. Students worry a lot about their test scores and GPA, and how will it affect the selection process. One should earn experiences, which help him later in his life to achieve things.
Let us see a situation, where a person applying to his dream university has a 4.0 GPA, which he feels is a reason to worry. But he was on the Varsity Rowing team and took part in America Corp Member, which shows as to where else was his focus. Such a student can still be considered for selection, as he has taken initiative to try new things and build up experiences than just filling up his resume.
3. Follow the given guidelines
Though you are expected to give your best shot at writing your personal statement, yet some boundaries are put up, which one must take care of. Writing a beautiful paragraph with a rare use of vocabulary would not make sense if it breaks any of the directions given by the college. One of the most common mistakes that students end up making here is exceeding the word limit. It seems ok to jump the word limit if you have written an excellent personal statement, but colleges count on it too.
There can be few more kinds of guidelines to be followed while you are applying for the task. Keep all those in mind while framing your words.
4. Do not make a universal essay for all colleges
Again to remind you, no over smartness! Every college is different and so are the Assignments that you pot for. Students try to get away by making one personal statement, which they stick on with all the applications for all the colleges. But the ones sitting there to evaluate are quite smart, and they will surely figure it out.
Take a moment to think that why do you want to join this college, what holds your interest there. You could also go according to the choice of your degree and explain why you are interested in studying your chosen subjects, what is your aim in the future etc. Do a basic research so as to give concrete reason for your interest in a particular college or program. Your personal statement clearly reflects about your dedication for the enrollment, so make sure that you build up separate statements for each college.
5. Be specific and to the point
No one has the time to read endless tales about you, to know about you in the last line of the paragraph. Be concise right from first sentence and think well before putting down your thoughts into words. You would obviously want to tell more about yourself, but there is a way to do it. Keep it short, simple and to the point.
The idea is to keep the personal statement strong and direct, without misleading the reader. Writing value sentences as if it is your English essay will not only reduce your chances of getting selected, it will also show idleness and carelessness.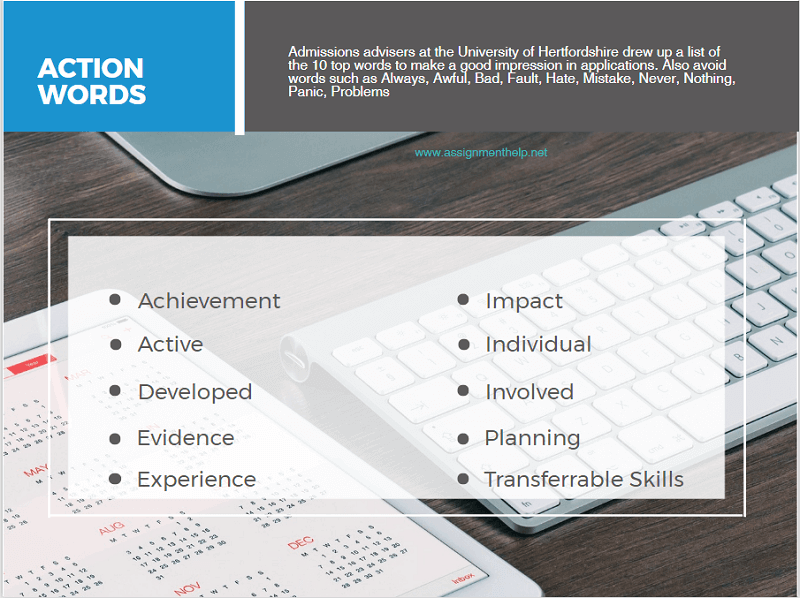 6. Use of language
Too much use of decorated words, rare or unheard synonyms of simple words is a big no-no. It is not an English assignment className to show your writing and creativity skills, so make sure that simple English is used; the one which is easy to understand and used in everyday life. Students do think sometimes to impress the college by using tough words or so. You will be evaluated on the basis of how well does the reader understands you, rather than your use of vocabulary. So, go accordingly.
7. Talk about your long-term plans.
It is not enough nowadays just to ask for a degree. The college you will apply to will surely be interested in knowing your aims for your future and career. But it should not be just a one word answer too. Just saying that you want to be a journalist or lawyer is not enough.
Talk a little more about it. what kind of media you wish to go in, whether you want to be in print media or electronic media, what drives you towards taking up law, what kind of court marshals you would be want to defend etc. This shows that you have a clear picture of what you have to do in life, and not just to get a degree.
8. Lay emphasis on the most relevant topics
When you have a list of things to mention in your personal statement, expand on the most significant ones, which hold more importance. Rather than talking in depth about all the things and making your work lengthy or giving details about the ones which are not so important, here are few things which colleges want to know more about:-
Projects and assignments
Positions of responsibility
Participation in sports, music or drama
Volunteering for a part time job
Awards and achievements
Such things are the ones which make an impact in the reader's mind, and show your achievements.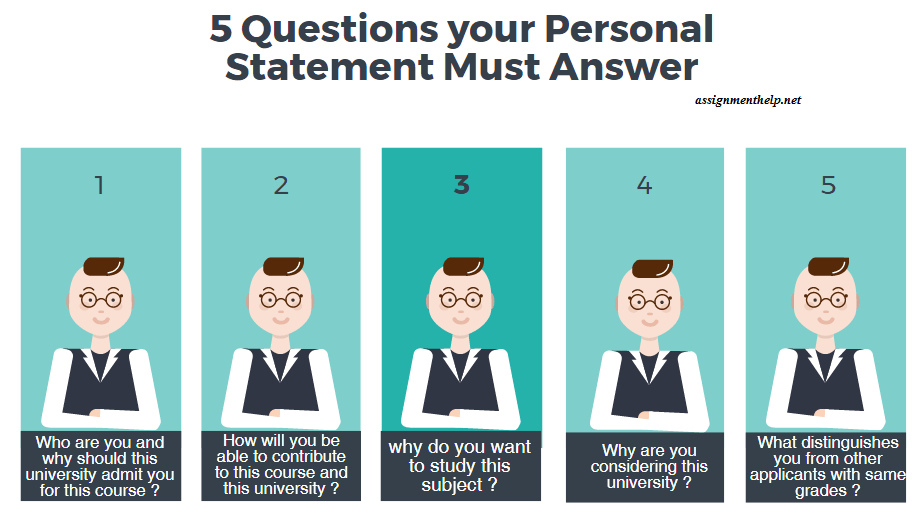 9. Concentrate on your strengths
No one is perfect. Every person has his own strengths and weaknesses. To cast a good impression, focus on your strengths while you talk about yourself. It does not mean to brag about yourself and throw up skills which you don't possess. For instance, if you have an experience of a part time job that dealt with customer care, mention the things you learnt from it, such as voice processing, communication skills, time management, multi-tasking etc.
10. Frame the perfect opening sentence
The first sentence is the first thing that anyone reads, which decides further that will your complete statement be read or not. Make it the one which attracts the reader and urges him to read on till the end. Also, introduce yourself in the first sentence. Your name and house address is not asked, but taking about yourself is the requirement. If you have an interest in fashion design and are applying to a fashion college and have a hobby in writing too, then you may begin like, "With a passion for fashion and an avid writer, I am highly interested to seek knowledge at…"
It is not easy to build a perfect personal statement in one go. You may fail, need to repeat or have confusions, but the key is to keep trying. Frame sentences that sound good in the best way possible, and make efforts to improve them further. Take help from your elders. Once you feel that you have written the best you could and can not think more beyond it, then you may stop.
Personal Statement Help Online on Assignmenthelp.net
Assignmenthelp.net offers online personal statement writing help service for students of high school, college and graduate school level. Our writing assistants endeavor to train students in best practices for writing a personal statement for college application or even graduate school and university level applications. Ranging from queries like How to start a personal statement to what is the format for personal statement or what template is suitable for a personal statement, our writing tutors are well equipped to answer all queries and train you to write the best possible personal statement for your college application. It is essential for every student to hire the best personal statement writing editor who can help you transform your college application from just a statement of marks and grades into a profile that reflects an all-round achiever. Assignmenthelp.net offers academic writing assistants and essay editors who will work with you on your personal statement for college Application Essay with guidance services like proofreading, outlining, grammatical error fixing, peer-review feedback which will make your college personal statement stand out from the rest.
So, order writing help for online personal statement for college application now!