MKT01906 International Tourism Systems Sample Assignment
MKT01906 International Tourism Systems
Assessment 1
Fact Sheet
Located on the north-western coast of European continent United Kingdom popularly known as UK comprises of four countries namely Northern Ireland, Scotland, Wales and England. Sharp mountain ranges, valleys and high grounds formed during the last ice age, is what one can see in the north and west regions of UK. Southern England is covered with rolling hills while northwest England and Scotland have many lakes formed from melting glaciers. These lakes locally known as lochs are related to the legend of Loch Ness monster. Summers is the best time to visit UK with fabulous weather, bustling cities and streets swarming with people, making the bright and lovely. The country boasts of many attractions dating back to pre-historic, ancient, medieval and modern times such as the mysterious Stonehenge, Buckingham Palace, Key gardens, Madame Tussauds, Trafalgar square, Cambridge, Snowdonia, Edinburgh, and London etc. to name a few. Whether taking a stroll down the iconic landmarks or enjoying its led lit fountains and intricate artwork and sculpture or having a romantic dinner on the Thames with your loved one, UK is a desirable and popular tourist destination in the world.
Key tourists' attractions and tourism activities
The Library of Birmingham, Somerset House, Tower of London, Victoria and Albert Museum, Science Museum, National Gallery, Edinburgh Castle, Southbank Centre, Tate Modern, National Portrait Gallery, Chester Zoo, Westminster Abbey, Royal Botanic Gardens, St Paul's Cathedral, British Library, The Royal Academy of Arts, National Football Museum, Blenheim Palace, National Railway Museum, Eden Project (AOL, 2018).
According to official statistics released on January 2018, 30.1 million international tourists visited UK in the first nine months of 2017, that 7% higher compared 2016. A relative increase of 33% of Chinese tourists was recorded making the total to 268,000 whereas their spending rose by 48% to a record £557 million. International visitors from Spain witnessed a hike of 11% to 1.9 million, with their spending increasing by 14% to £861 million. A 2% hike in German visitors to a total of 2.6 million was also recorded with a 5% increase in spending, paying £1.3 billion while in UK compared to 2016 figures. England with 12.7 million international visitors saw a rise of 4% whereas Scotland and Wales also saw an increase of visitor numbers by 14 and 6% respectively. With 7% more visits London too saw an increase in international tourists (Coffey, 2018)
Types of tourism in UK
Beach tourism: when UK faces the brunt of scorching sun making the weather hot, which occurs rarely, the beach resorts kick into action right offering tourists with a rapid dash of the seaside. Right from Woolacombe Beach, Weymouth, Luskentrye to Rhossili Bay, Brighton Beach, Three Cliff's Bay etc. are a perfect getaway.
Mountain and hill tourism: fantastic mountain scenery from UK's glacial past such as Llyn Idwa and Tryfan Snowdonia, Llynnau Cregennen, Black Mountains etc. is what north of England, North Wales and Scotland are best mountain views (McKercher, 2016)
Activity tourism: a wide range of adventurous activities such as GoApe, white water rafting, rock climbing and pot holing, mountain biking, horse riding and water sports are included.
Cultural Tourism it includes architectural delights, museums, history and world renowned sites like Stone Henge, British Museum, National Gallery, Dover castle, Richmond etc.
Ecological tourism: includes sites of Special Scientific Interest and National Parks, which are popular amidst nature lovers.
City Breaks: Newcastle and London attract tourists for its wide range of sightseeing options such as Theatre Royal and City Hall, Tyne Bridges, St. Nicholas Cathedral, Eldon Square Shopping Centre, Gateshead, London Eye, Big Ben, Tower of London, Buckingham Palace to name a few (McKercher, 2016)
For international tourists UK has a variety of accommodation options on offer which includes hotels, holiday cottages, Bed and Breakfast, Hostels and Caravanning and Camping. Facilities like private water closet/bath, complimentary breakfast, internet, in-house restaurants and bars etc. are offered by hotels offering accommodation in individual rooms. Holiday cottages include budgeted flats, houses, cottages and serviced apartments providing cooking and sleeping facilities. B&B accommodation usually offers lodging in the locals' private property and includes breakfast. Hostel accommodations have multiple beds fitted into a room and are best for people travelling in large groups or limited budget. Youth hostels, camping barns and bunkhouses are different kinds of hostel accommodations in UK. Caravanning and Camping accommodation is for tourists intending to make tents or caravans during their stay. The facilities available in this type of accommodation are monitored by British Graded Holiday Parks Scheme (British Express, 2018)
According to World Travel and Tourism Council, direct contribution of tourism in GDP was GBP66.3bn (USD89.8bn) that is 3.4% of total GDP in 2016, which was expected to see a hike of 2.9% in 2017 and by 2.2% per annum amid 2017-2027 to GBP84.6bn (USD114.6bn), 3.6% of total GDP in 2027. The total contribution of tourism to GDP was GBP209.0bn (USD283.2bn) i.e.10.8% of GDP in 2016, and is predicted to witness a hike of 2.2% in 2017 while by 2027, it is rise by 2.3% per annum to GBP268.4bn (USD363.7bn) i.e. 11.4% of GDP (Page, et al., 2017).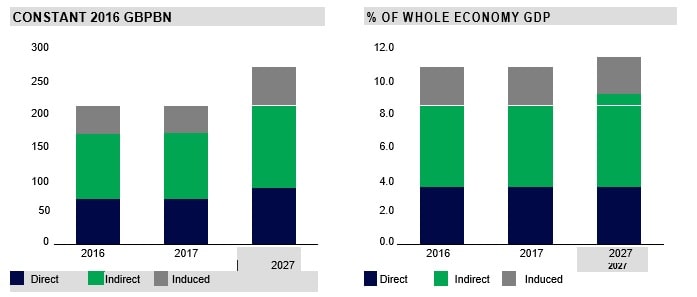 Figure: Total Contribution of Travel & Tourism to UK's GDP
(Source: Author-made)
Be it Cornwall's fascinating beaches or Edinburgh's imperial castles, UK is an appealing tourist destination. However, the country has hidden numerous gems in its heartland that tourists fail to notice as they are secretly guarded by the locals. Many villages in the countryside have kept their old traditions like Pagan festivals or provincial languages, farming or secret customs alive even today. Situated in Back Forest at the southwest fringe of Peak District National Park, Lud's church is hidden destination in Staffordshire. The Shell Grotto in Margate on the East Coast of England is another interesting and mysterious that needs to be showcased apart from Exbury Gardens and a beautiful Scottish Castle. Overlooking the stunning River Tees, in the North- East of Britain, 12th century's Barnard Castle is yet another wonderful destination to be showcased. Gaping Gill caves is most remarkable feature to be found in Yorkshire Dales, usually known for its stone walls, water pockets and castles, abbeys and villages (Haven-Tang and Sedgley, 2014).
References
AOL. 2018. The UK's top 20 tourist attractions. (Online). Available at: https://www.aol.co.uk/travel/photos/the-uk-s-top-20-tourist-attractions/ (Accessed on 22/03/2018)
British Express. 2018. UK Accommodation Guide. (Online). Available at: http://www.britainexpress.com/accommodation.htm (Accessed on 22/03/2018)
Coffey, H. 2018. UK Visited by Record Number of International Tourists in 2017. (Online). Available at: https://www.independent.co.uk/travel/news-and-advice/uk-international-tourists-record-number-visitors-2017-london-england-brexit-a8166161.html (Accessed on 22/03/2018)
Haven-Tang, C. and Sedgley, D., 2014. Partnership working in enhancing the destination brand of rural areas: A case study of Made in Monmouthshire, Wales, UK. Journal of Destination Marketing & Management, 3(1), pp.59-67.
McKercher, B., 2016. Towards a taxonomy of tourism products. Tourism Management, 54, pp.196-208.
Page, S.J., Hartwell, H., Johns, N., Fyall, A., Ladkin, A. and Hemingway, A., 2017. Case study: Wellness, tourism and small business development in a UK coastal resort: Public engagement in practice. Tourism Management, 60, pp.466-477.