Marketing Management Homework Help
What is marketing?
There are many definitions of marketing. Some of these definitions are as follows:
1. Putting the right product in the right place, at the right price, at the right time is called Marketing. Marketing is used to identify the customer, to satisfy the customer, and to keep the customer.
2. Marketing is the process of planning and executing the conception, pricing, promotion, and distribution (4 Ps) of ideas, goods and services to create exchanges (with customers, business partners) that satisfy individual and organizational objectives.
3. The customer focused philosophy is known as the "marketing concept". The marketing concept is a philosophy, not a system of marketing or an organizational structure. It is founded on the belief that profitable sales and satisfactory returns on investment can only be achieved by identifying, anticipating and satisfying customer needs and desires.
Marketing Mix (4Ps): The 4 Ps is one way probably the best-known way of defining the marketing mix, and was first expressed in 1960 by E J McCarthy.
Product
Price
Promotion
Place (Distribution Channels)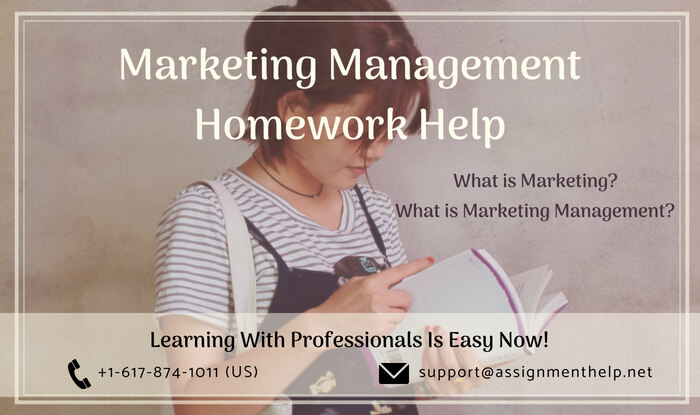 What is Marketing Management?
Marketing Management is well known process of allocating the resources of the organization(firms) toward marketing activities. To create an effective, cost-efficient marketing management strategy, firms(Company) must possess a detailed, clear objective and good understanding of their own business and the current & future market in which they operate. We must have a clear vision about marketing plans/strategies, execution, progress and developments while going for marketing our products and services in the markets.
We provide marketing assignment/homework help to the College/University students. We have expert tutors in the marketing discipline that will help you with detailed solutions containing the step-by-step explanation to your marketing plans, marketing strategies, execution, marketing development steps and related problems. Students can help on Case studies and academic projects. Our Marketing & Business section tutors have vast experience in guiding or helping students across the world to provide world class assignment services online marketing, business homework and business assignments for many years.
Our expert homework guidance or tutors have helped a large number of regular MBA students around the globe for pursuing their education through universities. We provide the best platform where students can help in their project assignment, tutorials in marketing management and marketing homework help. Our complete online marketing management services are for those students, who are going for regular MBA Programs, Online MBA degree programs and Post Graduate Diploma in Management in top management school or university.
To submit Management Assignments
Click here
Our Support Center
- 24/7 Live Supports by Phone Chat or Email.
Mail us with your marketing assignments directly at support

assignmenthelp.net with its deadline
Marketing Management Homework Help | Marketing Homework Help | Marketing Assignment Help | Online Tutoring | Homework help | Writing Help | Business Homework Help | Dissertations Help