Marketing Plan Of EE Sample Assignment
a) Compare your organisations and another competitor on the ways both organisation apply the marketing mix to the marketing planning process to achieve the business objectives.
EE- EE is the largest mobile network operator of UK. Based in Hatfield the company has 700 retail stores across the country. Pioneering in 4G services in UK, EE is in a leadership position with 29% market share in UK telecom industry.
Vodafone- Based in London Vodafone is a telecom company that operates in Asia, Europe, Africa and Oceania. Among mobile operator groups, Vodafone ranked fifth.
| | | |
| --- | --- | --- |
| | EE | Vodafone |
| Product | Customers need to pay to buy new handset and customer needs to opt for 24months plan to buy a headset | Vodafone has wider options and most PAYG-friendly providers |
| Price | Entry level packages are not cheap for 4G network | Packages are cheap compared to EE |
| Place | It has the widest coverage of 4G network in UK. It has more than 700 retail stores in UK | Vodafone enters 4G battle in 2013, quiet new to in this sector, have 65% of coverage. It has 300 own stores across UK |
| Promotions | It spreads a brand images through TV, Radio, Advertisements | Mainly focuses on newspapers and magazines |
| People | Customers are having some issues with EE's technical and customers support team that needs improvement | It has a good customer service record and positive brand image |
| Process | Plans are not that user friendly and there are complaints regarding customer service management | Services are more user friendly and has a strong customer support system |
| Physical Evidence | Sim Card, Handsets, Digital TV services | SIM cards, recharge vouchers, Service outlets |
Table 1: Marketing Mix of EE and Vodafone
Source 1: Created By Author
b) Produce a basic marketing plan with very clear objectives for your organisation. The following outline could serve as a guide for your marketing plan:
Executive Summary:
This report is made to assess the EE's marketing essentials and to identify marketing environment and recommend appropriate strategies and actions by using relevant models after examining internal and external environment of EE.
For external environment analysis Porter's five forces, PESTLE and outline of the current segmentation, targeting and positioning of telecom industry has been considered. To assess EE's internal environment, value chain analysis and SWOT has been taken into account. It is observed that EE has a strong presence as far as 4G technology is concerned but there are some issues with its brand reputation, value for money image and customer expectation and satisfaction. Recommendations are given to improve EE's customer service for customer retention and increase 4G customer base which is EE's main USP.
Company Overview:
Everything Everywhere or EE is UK based mobile network operator and internet service provider. EE is the largest mobile network in UK with 30 million customer base and it is the largest operator in Europe as far as 4G services are concerned. This company has been founded in 2010 after the collaboration of two major telecom players T-mobile and Orange. In UK this is the first telecom company that introduces 4G in the market. Headquartered in Hatfield this company has more than 700 stores across UK.
Current Marketing Situation Analysis:Internal analysis:
Value Chain Analysis:
Being the largest telecom operators of UK, EE is focusing on Omni-channel trading environment; it has retail stores as well as online store facility. Presently EE has more than 700 retail stores and official site www.ee.co.uk.

Figure 1: EE's value chain analysis
Source1: Al-Dmour et al. 2013, p.20
Product Portfolio Analysis:
In EE's product portfolio, the 4G products could be positioned as Star, high speed networking helps EE to gain millions of customers since 2013; this indicates rapid growth in marketing sector. The 3G market is getting saturated after the emergence of 4G market, so 3G products could be considered as cash cows in EE's BCG matrix.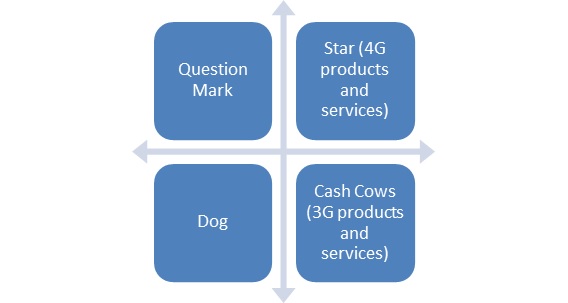 Figure 2: Product Portfolio Analysis (BCG Matrix)
Source 2: Created by author
External analysis: External analysis of EE can be explained through PESTLE and Porter's five forces.
Political Factors: UK government is careful about consistent national coverage of mobile network, though it is observed that areas that are far from urban centres face significant issues with network coverage (Shahzad Khan, 2012, p.12834). Moreover, it is observed that overall customer satisfaction regarding network coverage is almost 76% but in rural areas it goes down to 67%. UK government in collaboration with Ofcom is investing hefty amount to solve this network coverage problem.
Economic Factors: During 2008-09 UK has faced a period of decline and UK citizens are affected by governments' action plan to cope up with the financial crunch. With national benefits reduction and more vat implementation, citizens have become concerned about their expenses, this process continues and customers have become more conscious before spending (Kim and Hyun, 2011, p.430). Apart from inflation, the issue of BREXIT also makes the customer more selective about their expenditure.
Social Factors: As per the findings of socio cultural factors of UK telecom market, customers' preferences and choices vary as far as age groups are concerned. The teenagers, who use smartphones, prefer to use social network, streaming internet sites, free texting and calling through applications and offers, they prefer to share opinions and media files. The aged people have different communication needs and expectations from teenager. Again the professionals have different communication aspects (Jurisic and Azevedo, 2011, p.350).
Technological factors: By upgrading technology, telecom operators want to improve their network coverage and exceptional data services to retain its customers. To satisfy the customer needs, long term evaluation standard based 4G network was launched in UK.
Legal Factors: UK legal structure emphasises in healthy competition among telecom players. The regulator ensures that consumers can terminate their contract without giving penalties if they are not satisfied with their respective telecom operators' service regarding price rise (Edward and Sahadev, 2011, p.330).
Ecological factors: According to the UK's regulating body, telecom players should give emphasis on environmental factors while providing or promoting their services. Use of handsets, relevant infrastructure and their effect on environment must be considered prior to any development in telecom sector.
Porter's Five Forces – Competitive Analysis
Competition between major network operators in UK- high risk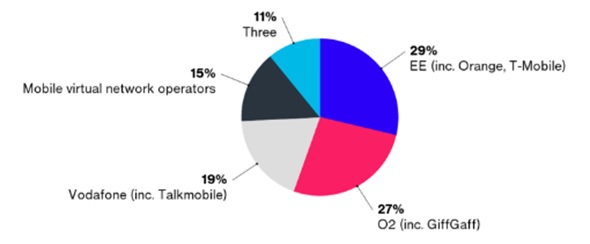 Figure 3: Mobile Network Provider Consumers Use Nov, 2016
Source 3: Noori, 2015, p.30
From the above market share scenario of major telecom players of UK it is evident that the competition is very intense and market is almost saturated and all the players have strong competitive advantage in their respective areas (Ishaya and Folarin, 2012, p.280). However EE performs best in the above ranking but there are some issues of customer dissatisfaction with this major player of UK telecom industry. It could make EE's position vulnerable as O2 is not far behind of EE (from figure 1).
Threat of new entrant- Low risk
Competition in UK telecom market is very intense and already saturated as the main players like EE, Vodafone, O2 have already established in the market with their lucrative product segregation. They all have strong customer bases with their exclusive offers and service categorization. For instance, EE is pioneer in serving 4G networking facilities with LTE advanced to its customers whereas other telecom players are focussing on standard network provision (Wu, 2013, p.370).
Buyers Bargaining Power -- Medium Risk
In UK customers have the right to change their respective network providers to get the best suitable offer, this makes the competition more intensified among telecom operators of UK. This forces the company to introduce new services and offers to retain their customers, though the number portability is not easy in UK as the customers need to inform their operators prior to cancellation of contracts, so the bargaining power of customers are low.
Suppliers Bargaining Power- High Risk
EE is the market leader in 4G market; still it is facing intense competition from its competitors. EE has upgraded its 4G network, but their double speed services are limited to restricted locations. The company needs to be consistent in its high level performance by relying on high quality technology of suppliers. The bargaining power is strong of the suppliers, so EE needs to maintain a good relationship with its suppliers to retain customer loyalty and competitive advantage in the market (Bigliardi et al. 2012, p.50).
Threat of Alternative Products and services- Medium risk
With the emergence of Skype, Viber, Whatsapp , mobile network operators have lost their exclusivity in providing voice communication and messaging services to its customers. The main advantage the mobile network operators have against these new services is interoperability. Mobile network is the simplest way for customers to interact and talk to each other (Battistella, 2014, p.67).
SWOT analysis:
Strength

Market leader in network providers industry in UK

Pioneer in 4G networking and owner of largest 4G customer base in UK

First UK operator who provides 'Lookout Mobile Security App' on smartphone to customers

Highest level of performance as far as speed is concerned

Weakness

Low level of branding (customers recognize themselves as Orange or T-mobile subscriber instead of EE)

Low value for money

Now 4G roaming facility when customers travel abroad

Poor customer service rating

Opportunity

More chances to give new packages to its huge customer base

Increase profit through post-paid connection

Penetrate through EE smart phone and tablets

Threat

Skype, Whats app, Viber offer free services

Competition from Vodafone, O2 and three who are offering advanced 4G services
Objectives:
As per the above analysis it is noticed that EE needs to focus on their customer service and retain its leadership position in the telecom market. In this regard, two objectives of the company are-
Objective 1: Increase number of satisfied customers by 40% in the next one year
Objective 2: Increase 4G subscriber by 35% within next one year
S.M.A.R.T of EE
S- Specific

Since customer service is EE's one of the main concerns so they need to focus on customer satisfaction and it is definitely specific objective

Since 4G network is EE's USP, so increasing number of subscriber will help the company to retain its leadership position

M- Measurable

Yes it is measurable as both of the objectives are data based and this could be measured from company's increase penetration in the target market

A-Achievable

These two objectives are totally achievable since company is in the leadership position in UK telecom market

R-Realistic

Yes it is realistic, as the company has a huge customer base in UK and could expand their business with improved marketing strategy

T- Time bound

These two objectives could be achieved within one year of its implementation
Strategy:
Ansoff Matrix on EE
Intensive strategies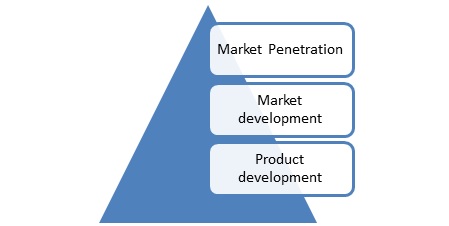 Figure 4: Ansoff Matrix of EE
Source 4: Created by author
| | |
| --- | --- |
| Market penetration | It is highly important for EE to increase its market share to increase 35% subscribers for its 4G network. Moreover the company should focus on greater marketing efforts for increase customer satisfaction |
| Market development | To increase its subscriber by 35% EE needs to penetrate new market with existing products and services |
| Product Development | To increase sale and expand its market the EE needs to improve its products and services and develop new products |
Table 2: Intensive Strategies of EE
Source 2: Created by Author
Diversification Strategies: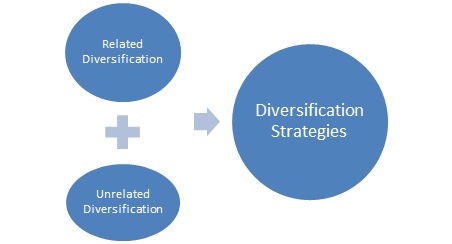 Figure 5: Diversification strategies of EE
Source: Created by Author
| | |
| --- | --- |
| Related Diversification | EE should add new related products or services to retain its customer base and attract new customers |
| Unrelated Diversification | EE could add completely new services or products to penetrate target markets to achieve its objectives |
Segmentation, targeting and positioning (STP):
Segmentation means dividing the market in small segments as per their characteristics and analyse consumer behaviours of these small segments accordingly ("American Marketing Association", 2017). After segmenting the market, EE needs to choose one or two segments as their target market with their offers. It is important to find a profitable customer group from T-mobile and Orange. To do this, EE could adopt customer lifeline value assessment proposed by Bayer. Within the chosen market EE needs to develop a positioning strategy to segregate itself from its competitors. EE could claim itself as a premium brand compared to the Vodafone and O2 who have more value for money proposition. To retain their customer base and leadership position in the market ("CIM | Qualifications, Training and Membership", 2017), EE should focus on improving its customer service quality and upgrade product quality.
Tactics & Action:
| | |
| --- | --- |
| Product | To increase customer satisfaction company needs to develop efficient complaints' management network and could give its customers an opportunity to change their handset with newest ones |
| Price | Maintain current price structure and adopt price skimming approach to protect its customers |
| Place | EE should give its customers quick access to channels and |
| Promotion | Reliable identification of customer's taste and preferences should be done.. EE should focus on PR and media relations to promote its products or services. Could give customers a more convenient navigation through its website |
| People | Company should focus in its employees, their training and upgrade them as per company standard. Customer service personnel should be well trained. |
| Process | Plans are not that user friendly and there are complaints regarding customer service management |
| Physical Evidence | Sim Card, Handsets, Digital TV services |
Budget:
Marketing Budget Plan of EE for FY17
| | | | | | |
| --- | --- | --- | --- | --- | --- |
| | 1Q 17(€) | 2Q17 (€) | 3Q17(€) | 4Q17(€) | FY17(€) |
| Television | 300 | 300 | 250 | 250 | 1100 |
| Radio | 700 | 500 | 100 | 100 | 1400 |
| Newspaper | 800 | 800 | 100 | 100 | 1800 |
| Billboards | 1500 | 1500 | 0 | 0 | 3000 |
| Buss slides | 1000 | 1000 | 0 | 0 | 2000 |
| Other | 100 | 100 | 0 | 0 | 200 |
| Total | 4400 | 4200 | 450 | 450 | 9500 |
Control:
Key Performance Indicators of EE:
| | |
| --- | --- |
| Network | Network performance or cost per unit |
| Billing | Correct procedure of billing or number of customer questions related to invoice |
| IT Systems | System reliability, uptime, cost per order processing |
| Customer Service | Time to address customer complaint, grievance related mails and phones handled in month |
| Order Delivery | Order error percentage, delivery time per order |
| Sales | New customers visited or orders received |
| Marketing | Market share positioning or net promoter score |
All the tactics and actions should be taken in tight monitoring and controlling measures to achieve maximum results. When the objectives of the organization are fulfilled then the successful achievement of objectives will be recognised.
Conclusion:
EE has many advantages compared to its competitors; still the company has few drawbacks that could become a threat for EE to retain its leadership position. With this recommended strategies and actions EE could recover its deficiency in customer service and regain its brand image by retaining customer base and penetrating new market. This will help the company to fully utilize its 4G potential and increase profit margin by maximising its efficiency.
5. Reference List:
Journal:
Al-Dmour, H., Al-Zu'bi, Z.M. and Kakeesh, D., 2013. The effect of services marketing mix elements on customer-based brand equity: An empirical study on mobile telecom service recipients in Jordan. International Journal of Business and Management, 8(11), pp.13-26.
Battistella, C., 2014. The organisation of Corporate Foresight: A multiple case study in the telecommunication industry. Technological Forecasting and Social Change, 87, pp.60-79.
Bigliardi, B., Ivo Dormio, A. and Galati, F., 2012. The adoption of open innovation within the telecommunication industry. European Journal of Innovation Management, 15(1), pp.27-54.
Edward, M. and Sahadev, S., 2011. Role of switching costs in the service quality, perceived value, customer satisfaction and customer retention linkage. Asia Pacific Journal of Marketing and Logistics, 23(3), pp.327-345.
Ishaya, T. and Folarin, M., 2012. A service oriented approach to Business Intelligence in Telecoms industry. Telematics and Informatics, 29(3), pp.273-285.
Jurisic, B. and Azevedo, A., 2011. Building customer–brand relationships in the mobile communications market: The role of brand tribalism and brand reputation. Journal of Brand Management, 18(4-5), pp.349-366.
Kim, J.H. and Hyun, Y.J., 2011. A model to investigate the influence of marketing-mix efforts and corporate image on brand equity in the IT software sector. Industrial marketing management, 40(3), pp.424-438.
Noori, B., 2015. Developing a CBR system for marketing mix planning and weighting method selection using fuzzy AHP. Applied Artificial Intelligence, 29(1), pp.1-32.
Shahzad Khan, S.A., 2012. Determinants of Customer Satisfaction in Telecom Industry; A Assignment of Telecom industry Peshawar KPK Pakistan. Journal of Basic and Applied Scientific Research, vol, 2(12), pp.12833-12840.
Wu, H.C., 2013. An empirical study of the effects of service quality, perceived value, corporate image, and customer satisfaction on behavioral intentions in the Taiwan quick service restaurant industry. Journal of Quality Assurance in Hospitality & Tourism, 14(4), pp.364-390.
Website:
American Marketing Association. (2017). Ama.org. Retrieved 17 April 2017, from https://www.ama.org/Pages/default.aspx
CIM | Qualifications, Training and Membership. (2017). Cim.co.uk. Retrieved 17 April 2017, from http://www.cim.co.uk/