Investment Journal 2 Sample Assignment
Following the baseline research made through the assessment of the financial statements of the stocks held in the portfolio, a common conclusion was drawn to not to rebalance the entire portfolio. The decision prevailed over the other decisions primarily due to the fact that the trading period under consideration was relatively small and a rebalancing exercise would not result in significant results.  For the purpose of evaluating the intrinsic value of the portfolio, a relative valuation was performed based on the P/E ratios of the companies under consideration. The assessment made in Appendix 1, whereby, the stocks under consideration were found to be overvalued, and a P/E lowering on the cards. But citing the short period of trading, I decided to hold the underlying stocks for the duration of the trading exercise. The table reflected in Appendix 2 presents an overall estimate of the returns earned by the stocks under consideration, in the period of trading. Further, Appendix 3 reflects the overall average returns of the stocks in the portfolio and the associated risks with the trades made.
The stocks BSL and LYC had the highest average returns while on the other hand, ASX had the lowest risk stock and BAL had the highest risk stock. In order to manage the overall risk of the portfolio, it was decided to let go of the stocks held for BAL (Bellamy's Australia Ltd) and BSL (BLUESCOPE FPO). The final portfolio can be assessed on the basis of the table presented in Appendix 4, which reflects the final portfolio composition which is led by the shares Lynas Corporation Ltd. (67.96%), while the others trail behind. Overall, a profit of $21.11 was observed from the final portfolio, based on the developments from the buying price to the current prices of the equities.
Appendix 1
Table 1 Intrinsic Valuation P/E Method
| | | | | | |
| --- | --- | --- | --- | --- | --- |
| Particulars | Price | EPS | P/E | Earnings Yield | Forward P/E |
| AOG | 2.58 | 0.49 | 5.29 | 18.99% | 5.27 |
| ASX | 56.74 | 2.3 | 24.66 | 4.05% | 24.67 |
| BAL | 19.22 | 143.43 | 0.13 | 746.25% | 0.13 |
| BSL | 16.91 | 1.38 | 12.3 | 8.16% | 12.25 |
| CSL | 161.75 | 3.56 | 45.47 | 2.20% | 45.44 |
| CTD | 23.74 | 0.59 | 40.24 | 2.49% | 40.24 |
| LYC | 2.59 | 0.03 | 99.62 | 1.16% | 86.33 |
| MQG | 105.88 | 7 | 15.12 | 6.61% | 15.13 |
| REA | 79.43 | 0.35 | 226.3 | 0.44% | 226.94 |
| RHC | 63.34 | NA | 27.8 | NA | NA |
| SGR | 5.22 | 27.77 | 0.19 | 531.99% | 0.19 |
| WES | 42.86 | 1.33 | 32.2 | 3.10% | 32.23 |
Appendix 2
Table 3 Portfolio Return

Appendix 3
Figure 3 Portfolio Risk and Average Returns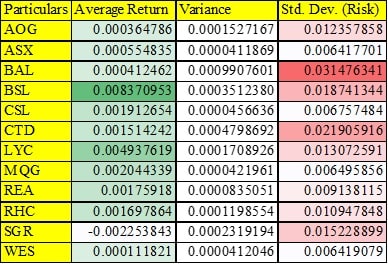 Appendix 4
Table 2 Final Portfolio