Help with Writing a Term Paper
A term paper is a detailed written assignment which is generally intended to be submitted at the end of the "term" (semester). A term paper is an in-depth essay by a student, discussing in detail about an event, concept, theory, argument etc. The student explains his own ideas and concepts about a chosen term paper topic. To write a good term paper, here some guidelines that must be followed. Keeping them in mind while working on a term paper will surely help you in getting a good grade.
1. Know the task well
Often people make a mistake to begin too early or hastily, due to which errors come up. Listen to your instructor when he/she explains about the requirements and specifications for a term paper. A term paper requires a lot of efforts, so the key to succeed is to have patience and attention while you work.
2. Choose your topic
If you are given the opportunity to choose the term paper topic on your own, do not miss the chance to show your creativity. Choose a term paper topic which holds your interest, or on which you are confident that you can gather a lot of information. The topic should hold the interest of the reader and should indulge them to read on further.
The choice of topic holds a major share of the term paper's success. You should be able to find in depth information and numerous facts related to the topic, which will give you the direction for writing an in-depth content. For example, if you thinking to write your term paper about the secret military operations in the Persian Gulf War, then you may land up in trouble. Not much is revealed about the war, and most of the statistics are estimates or kept a secret. The chances of failure increase when you have an insufficient amount of information.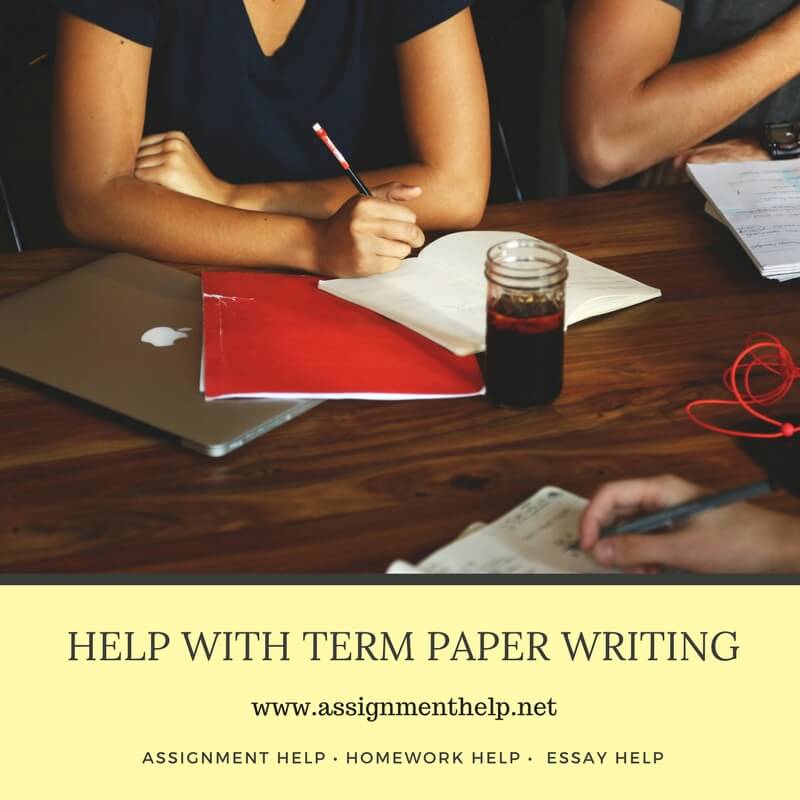 3. Carry out an intensive research
Once you freeze your topic, the next step is to research your topic well. This is the most important part of your term paper writing process. It can make or break your entire work. If one works without a solid foundation, the work will be weak and ultimately face a fall. Some tips which will help you in your term paper research are as follows:-
Begin by reading few previous research works related to your subject. Any topic which you take up will surely have some previous research literature, studies or resources related to it. Dig them out and read them. This will be the first thing to give you an idea about what all things you have to include, the length and the depth of the entire work, where all you can gather the information from etc.
Books are the key sources of information to anything. The world is there for you, waiting between the pages of a book. So, choose some good reputed books which give you an insight about the content of the topic.
The resources you take help from will have a bibliography at the end. Make sure you go through it well, as it can give more resources too.
While you do your research, make your own notes. They may not be hand written, but can be photocopies, soft copies etc. it is very important to keep notes, so as to keep your information in an organized manner, from which you can take help anytime.
4. The resources of research
You will come across a number of resources to take up for your research. The following ones can help you the best way for your research:
Reference works
The materials mentioned for reference are very valuable. They help in beginning the basic outline of the topic. You may not need anything more than the reference works, once you thoroughly read through all the works related to your topic. Journal articles, conference proceedings, articles, research papers, book reviews, e-journals, term papers all of these can help you in finding research material for your term paper.
Books
One of the most reliable and commonly used resources, books are indeed your best friend. You can find anything through e-books as well which are available on the Internet too. From the civil wars, finance, economics, music, art, history, literature, psychology to music, theatre, computer science, technology or any other industry, you can read through all of the information kept in the pages of books.
Government publications
Valuable information has been published in surveys, reports and findings of a government agency. It can be reliable as it provides information on the government actions which have happened in recent times. It may happen that accessing the government publications may not be easy, so you can ask the librarian to get some for you.
Newspapers and news magazines
Another of the reliable resources is the newspaper. If you are covering a topic, it is essential to know the day to day incidents happening which relate to it, in which the news can help a lot. Though they may not be of much help as newspapers majorly talks about the current issues happening around, yet some important information might come up from them.
Internet
At last, the place we all scroll through- Internet. You can find the online e-books here, the online government journals, the Google scholar resource works and much more. Do surf the Internet well to get the right resources for your work.
5. Working on the term paper
Outline
A good base is a must to prepare a good term paper. An outline should be made before beginning with the term paper, which will keep you in a flow and will guide about all that you have to include in your paper. It ensures that your paper is logical and well organized, and specifies every detail right from introduction to conclusion.
Parts of a term paper
There are three crucial parts to be included in a term paper- introduction, body and conclusion.
The introduction is the area which can make or break your entire work, as it is the first thing the reader will read. A good introduction should explain the topic well and give a brief on it. The thesis statement should be included in the introduction too, which explains the topic in one line.
The main body is the largest part of the term paper. It should be organized well, with all the topics relating to each other and coming up in the right flow. It is better to divide the main body further into sub headings, as it gives clarity in your work.
The conclusion should sum up your work, supporting the stress and evidence found. Since it is the last things to read, it leaves an impression on the reader's mind. The better the conclusion, the more the reader remember about your term paper.
Approach
The way you approach your work also plays a vital role. One of the commonly used organizational approaches is the chronological one. It uses the passage of time as its organizing mechanism. Whatever approach you opt to choose, a thorough analysis and research is a must to do.
6. Writing the term paper
And the moment arrives when you are trough with all the information you could gather and have scheduled the way to mention it all. What next then? Writing the paper. It is important to execute the information gathered in the right way, or else it will be a waste. While writing the term paper, kind in mind the following guidelines:
Write a draft first. If possible, write a few different versions of the term paper. Once a smooth draft is made, re-read it and find the ways you can improve it. This gives you the chance to correct your own mistakes before someone else points out.
Discuss the idea, topic and content well with an experienced person. Carry out an intense discussion on the topic, which will help you in seeing the topic from various perspectives. Often it happens that we overlook the flaws in the topic we prefer, which may be pointed out by someone else.
Keep an eye on the structure of your sentence. No one is going to read long sentences that look like a paragraph, or sentences with broken pieces with information. As mentioned above, the flow of the term paper has to be right.
The correct use of grammar is very important. Tenses, punctuation marks, verbs etc. all sum up to reflect the quality of your term paper. Poor grammar makes the reader lose his interest in your work.
Watch the length of your paragraphs too. Do not make an error or writing a full page or two in just one paragraph. Divide the main body further into sub topics and frame each of the sub topics into one paragraph accordingly. This helps in organizing the information.
Be crisp and to the point. It's not a tale telling job. A term paper should be to the point.
7. Common mistakes
To err is to human. We all make mistakes. Hence it is important to correct them too. Following things should be kept in mind while writing and re-checking your work:
Avoid spelling mistakes. Re-check your work again and again to look for the spelling errors. They give a hint of unprofessionalism.
Make sure that the subject and the verb used in your sentences agree.
Avoid the use of contractions such as can't, don't, won't etc. they are considered informal for such a work.
Re-check your work thoroughly for any grammatical errors. Try your best to write according to the grammar rules. Yet, it is important to re check the work, so that no flaws are left in your term paper.
8. Citations and references
Citations are good to use as it allows the reader to explore the topic further by counseling the works that you have used. Also, using citations helps you justify that there is no plagiarism. Use citations wherever you borrow information from a source and mention in your work. At the end of your term paper, a reference is essential which lists out all the references you have been through.
Following the guidelines well will result in an excellent term paper which can be understood easily and appreciated.
About Assignmenthelpnet's online help with term paper writing service
Need help to write the best quality term paper? Get instant online term paper writing help from AssignmentHelpNet's online tutors who can help you with choosing the right term paper topics, collect rich term paper literature, creating term paper outlines, annotated bibliography, reading drafts for term papers, providing valuable feedback on your termpapers to help you improve your writing as well as grammar, punctuation and spell-check for term paper writing.