BSBADM506 Assessment Task Sample Assignment
Task 1
Activity 1. For this activity, you will write notes to, Identify the Adept Owl Games Company's needs requirements and information technology capabilities relevant to the design and production of documents and Establish documentation standards to meet organisational requirements. To support you with this Activities, you are provided with relevant business documents and policies and procedures of Adept Owl Games Company (Attachment 1. Submit your final notes to your Assessor for summative evidence.
ADEP OWL COMPANY
Information
It is a company that was create to provide entertainment by boards games the focus of this company is give his customers the best enjoyment and entertainment with this kind of games.
Mission
Produce high quality entertaining board and games for the enjoyment of all ages.
Vision
To establish within five years the reputation like one of the most innovative and entertaining board game developers in Australia.
Values
Customer focus
Work collaboratively
Manufacturing practices sustainable
Strategic directions
Developing and improving products
Creating a high-performance organization
Technology
It is important that companies have technology because on that way the work can development quickly, this company has technology as:
Hardware
Computer
Laptops
Keyboards
Cpu
Memories
Mouse
Software programs
Microsoft windows
Microsoft Excel
Microsoft Word
Microsoft PDF reader
Power point
Virus protection
Backouts
Equipment
Every company must to have a minimum of equipment to the process development in the best way
Photocopier
Printers
Telephones
Fax machine
Electronic communication
The communication is the most important equipment for the company because it serves to receive feedback internal as external. 
Internet
Email
Phone
Mobile phone
Style guide
General Style Requirements
Page layout
Footer with the page number on the left-hand side
All the internal documents must be prepared with the relevant template.
Fonts
Heading 1 Georgia 16pt, bolt Title Case
Heading 2 Georgia 14pt, bolt Title Case
Heading 3 Georgia 12pt, bolt sentence case
Normal Georgia 11pt.
Logo
Full logo: must be used in the first instance
Icon logo only: should be used like a watermark when the full logo is already used
Only text logo: just be used when you can print the logo correctly
Language Requirements
Australian English
Formal communication
Do not use capital letters to emphasise text
Dates must be day month and year
Tables
Must be used constituently
Simple and clear
Activity 2. For this Activity, you will, design, test and amend document templates provided to you, with accordance to the Adept Owl Games Company's document standards. Submit your final letterhead template and expenses spreadsheet to your Assessor for summative evidence.
Adept Owl Games 
Company 42 Challenge Lane
RICHMOND VIC 3121
Ph: 03 #### ####
Fax: 03 #### ####
www.adeptowl.com.au
Penny Markou
18 Cool St
Melbourne Reservoir Vic 3073
Dear Markou,
Thank you for use the services from our company the last 10 November 2018, we are happy to start to provide your service every week.
We want to let you know that we supply all the staff and the chemicals necessary to do this service.
If someone of our cleaners cannot be there, or we can't provide the service we will let you know one day before to the service be provide.
We want to provide the best service for you, if you have some issue please let us know to improve our services and be better with every appointment.
Sincerely
Mac Castro
General Director
Adept Owl Games
Company 42 Challenge Lane
RICHMOND VIC 3121
Ph: 03 9234 5678
Fax: 03 9234 5679 
www.adeptowl.com.au
| | | | | | | |
| --- | --- | --- | --- | --- | --- | --- |
| Employee Name: | | | Employee id: | | | |
| DATE | DEPARTAMENT | EXPENSE TYPE | DESCRIPTION | CLIENT/ PROYECT | AMOUNT | RECEIPT ATTACHED? |
Total Reimbursement
Employee signature:
Authorised by:
Activity 3. You will now conduct a training support session for the staff of Adept Owl Games Company, to develop and implement documentation and to use standard templates and macros. You may choose the method of training and the aides that you may use at this session (your Assessor will role-play a staff at Adept Owl Games Company). Submit your final presentation and support documents to your Assessor for summative evidence For the Assessor to deem on student's ability to develop and implement documentation and to use standard templates and macros as either s Satisfactory or NS Not Satisfactory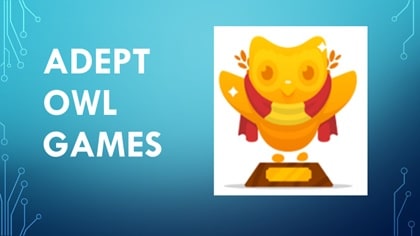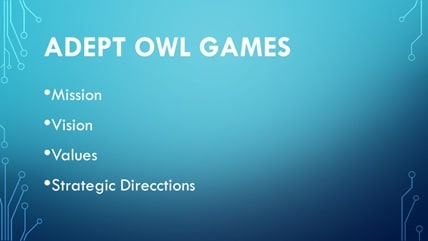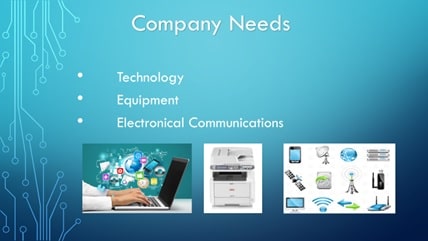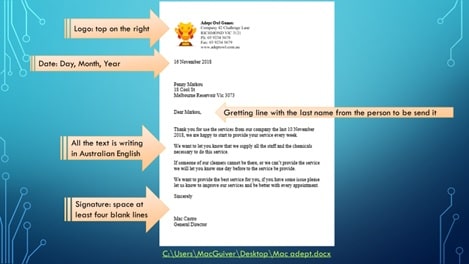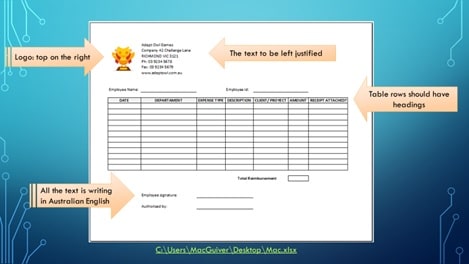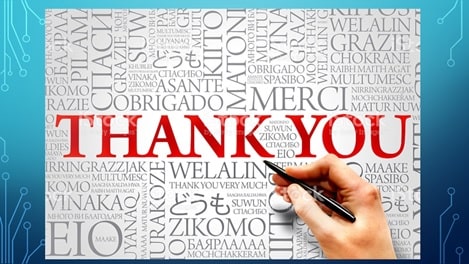 Activity 4. After completing all the above Activities, you will now write notes to monitor the implementation of standard documentation templates and macros and make improvements in line with Adept Owl Games Company's organizational requirements. Submit your final presentation and support documents to your Assessor for summative evidence. Your Assessor will use the Observable Behaviour-Assessment Task 1 -Assessor Checklist to ensure that you have completed the assessment requirements for this Assessment Task.
A well-developed style guide is an essential tool for establishing company identity. Company must let the employees know the importance that has because it is the first impress about the company.
If the style guide of company a good, people will see the company like an organisation that handle in the best way his processes.
The best way to implement a style guide in a company will be:
Let know the importance of the implement a style guide
Determine the style guide
Obtain Stakeholder Support
Communicate with Employees
Update and Revise the style guide when were necessary
After the implementation will be successful, you must monitor to make sure that all the company used the same style guide.
The best way to monitor a style guide in a company will be:
Plan and organize standards
Check or verify documents
Procedures for approval of new documents or updates to existing documents
Stop or prevent the use of another style guide
Internal audits and ongoing quality control
Establish corrective measures
Correction of faults and errors
Evaluate the use of the style guide
Version control measures and backup
Task 2
Question 1. Describe document production processes
Document production processes is an iterative process involving drafting, checking, and revising the document. It must continue until a document of acceptable quality is produced, to be acceptable depends on the document type and the potential readers of the document.
This is an example of the processes that a document has to pass to be printed:
Create initial draft
Review draft
Incorporate review comment
Re-draft document
Layout text
Review layout
Produce print masters
Print copies
Question 2. Identify costs involved with the implementation of standard documentation.
To implement a standard documentation it must considerate software designing, people who trainer the employees, equipment used and all the documents temple, it must considered time line and how much the company must pay about that.
N°

Description

QTY

Amount

Receipt

1

Software designing

5 years

3500

Yes

2

Trainers

1 Year

2000

Yes

3

Equipment

5 Years

5000

Yes

4

Documents Temple

2 Years

2000

Yes

Total

12.500
Question 3. Explain the software applications relevant to document design and development in the organization
Documentation is usually focused on the following components that make up an application: server environments, business rules, databases/files, troubleshooting, application installation, etc.
When producing required documents there can be a number of different technologies and software applications that you can use, among them we can name:
Microsoft excel
Microsoft word
Microsoft power point
Adobe pdf
Email
Drive
These will give you the technology to produce spreadsheets, databases and word documents. When these are completed you can use a number of different types of emails and internet programs to send them to the correct people.
Question 4. Identify key provisions of relevant legislation and regulations, codes and standards affecting document production
Archives Act 1983: This Act empowers the National Archives of Australia to oversee recordkeeping practices in the Australian Government and to set recordkeeping requirements
Archives Regulations: The Regulations require Australian Government agencies to provide the Archives with specified documentation or advice supporting agencies' dealings with their records, such as information for appraisal, notification or confirmation of destruction or other disposal, and notice of consent to destruction or other disposal.
Privacy Act 1988: This Act regulates the handling of personal information about individuals. This includes its collection, use, storage and disclosure.
Privacy Regulation 2013: Under the Act, agencies also need to take reasonable steps to destroy or de-identify personal information that they hold once it is no longer needed, unless an exception applies.
Freedom of Information Act 1982: This Act provides a legally enforceable right of access to government-held documents, other than exempt documents. It enables individuals to request access to documents about themselves or other documents, such as documents concerning policy development and government decision-making and to seek amendment or annotation of personal records. It applies to Australian Government ministers and most agencies. The Act specifies which agencies and categories of documents are exempt.
Freedom of Information (Charges) Regulations 1982: These Regulations set out the charges applicable for searching for and retrieving official documents.
Crimes Act 1914: This Act contains provisions relating to the protection of official information and sets out penalties for unauthorised disclosure.
Question 5. Outline organizational policies and procedures related to document production.
A staff recruitment policy could involve the following procedures.
All vacant paid positions will be advertised in local and state-wide papers.
The advertisements will have details of duties, salary range, closing date and contact details.
All interested people will be mailed job descriptions and information about the organisation.
Procedures relating to the document production
Product Order Form Template
Preparing the order form for customer to collect easily.
This form is suitable for all clients.
Prototype of cases
Enrolment form template
When some error occurs such as an aftermarket replacement product, using customer information kept in customer data base helps determining.
Brochure or flyer template
Creating wonderful brochure will increase fascinating in product, and increase client.
Question 6. List sources of expertise available externally to the organization or workgroup
Internet
Social media
TV and radio
Printed materials; magazine, book, etc.
Survey