Partial Reduction Of Alkynes Assignment Help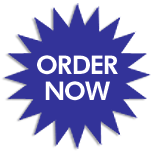 Partial Reduction Of Alkynes
Reduction of alkyne to alkene is brought about by any one of the following reducing agents.
(i) Alkali metal dissolved in liquid ammonia.
(ii) Hydrogen in presence of palladium poisoned with BaSO4 or CaCO3 along with quinoline (Lindlar's catalyst).
(iii) Hydrogen is presence of Ni2B (nickel boride).

---
Partial Reduction Of Alkynes Assignment Help By Online Tutoring and Guided Sessions at AssignmentHelp.Net
---
Alkali metal dissolved in liquid ammonia produces nearly 100% trans alkene by the following mechanism:
Na + liq NH3 ® Na+ + es (solvated electron)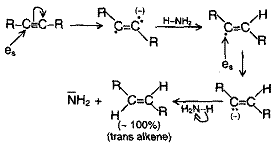 Homework Help For Partial Reduction Of Alkynes
Assignmenthelp.net provides best Online Assignment Help service in chemistry for all standards. Our Tutor provide their high quality and optimized Tutorial help to fulfill all kind of need of Students.
To submit Partial Reduction Of Alkynes assignment click here.