Imagix 4D Assignment Help
It is very helpful to developers to apprehend complexity, open source languages like C, C++ and java and their source code. It is basically used for reverse-engineering, software documentation In applications, and quality audits analysis etc. When you will using this software you will see that the speed of your development testing, maintenance and reusing will increase.
It is a type of comprehensive source code analysis software tool, it is helpful in enabling you to rapid check and observation of your software at any level such as-high level architecture to its build process, functions and classes. It is a type of graphical representation of your developed programming with the help of source code analysis.
Fundamentals of graphical display:
Imagix 4D application is used for make dependencies and control flow of system and give all information very quickly. It is easily applicable, very informative and intuitive application for many user interfaces fundamentals:
Drill Downs: It can start simple and then show maximum details with minimum clicks. It drills down through increasing views and gives more details about that specific part of software.
Abstraction: in this type corollary drilling downs occur and it is used to show information on the lower level of granular in software.
Display Scoping: When you will work with given view type, it have ability to focus on the specific part of software and enabled them.
Partitioning View: it will work with distributing information between several view types, and also displayed them side-by-side through enabling them. And it is not display single view because of overloading.
Simple Automated Transition: It has ability to follow a line of inquiry from single display to next logical step with complimenting displays. This process is very fast.
---
Imagix 4D Assignment Help By Online Tutoring and Guided Sessions at AssignmentHelp.Net
---
How to import data into projects:
Choose the data which you want to add in projects.
If data is not available then generate that data source.
And then add that data into the project.
Data sources:
In imagix 4D basically three types of information with the help of data sources:
File System: This type of information consists data about the hierarchy of all files and directories. It also consists some attributes like read/write permission and updating files etc.
Program System: In this type of information, focus on relationship between program elements, with information like quality etc.
Profiling System: In this information, focus on the loading of data source with characterizing them and their run time behavior.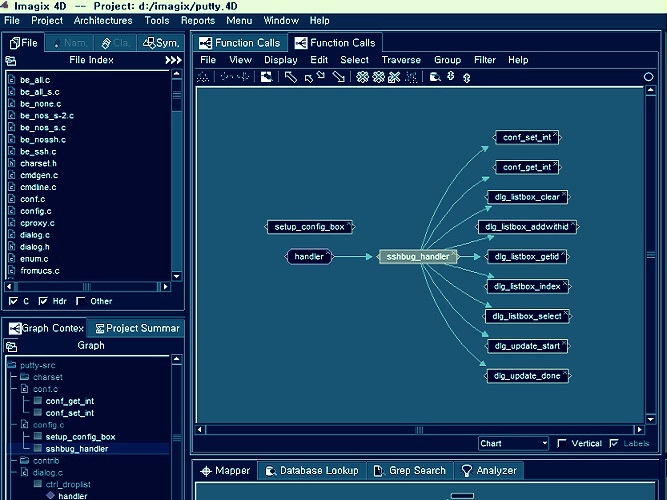 Our experts are available 24 *7 to help you in your projects, assignments, or homework, for any detail on detail or queries on UML Pad Click Here.