It is a type of modeling tool which supports UML and mind map. UML 2.x and UML 1.4 is basically use this. Here we will see how to use create mind map and UML.
Diagram Creation which conform to UML2.x: Sequential diagram, statemachine diagram, communication diagram, Activity diagram and composite structure diagram.
Diagram creation which conforms UML1.4: Like class diagram, component diagram, Usecase diagram and deployment diagram.
Others diagram creation: Such as ER diagram, flowchart, dataflow diagram and Mind Map.
Function of astah:
It can be able to multi-page and single page, and preview of print.
Class diagram generation with all details.
It can be able to import java code and skeleton of java code and c#, C++ skeleton code generation also.
It is capable of generating HTML and RTF type document.
Also export of SQL codes, and entity definition report.
Astah Assignment Help By Online Tutoring and Guided Sessions from AssignmentHelp.Net
Fundamental of Model and view elements:
In class and UseCase which elements are found called models, and elements found in diagram called view elements.
Any model can be shown view diagram in more than one diagram. You can set color and size according to your choice.
You can remove some view image from your diagram for keeping models in the project. And when you want to delete any model then it will also remove view image.
And simply you can create view image by copy-paste method in class diagram and usecase diagram and models are shared with original elements. Where as in other diagrams both are cloned.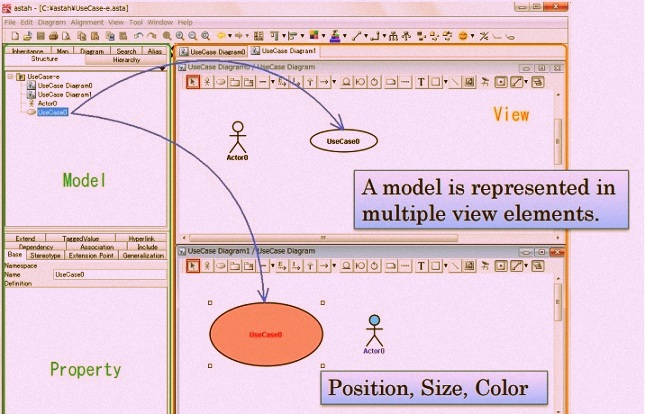 Mind-Map:
It is a representation of very special and unique graphics techniques of notes and radiant structure of visualization. It is capable to manage Minutes and brainstorming, team reflection etc. It is capable of managing any type of problem in any field. In software, it is helpful in new development, designing and requirements collection, new exploration with users wish etc. It is also helpful in promotion of conversation to customer easily etc.
Our experts are available 24 *7 to help you in your projects, assignments, or homework, for any detail on detail or queries on UML Pad Click Here.